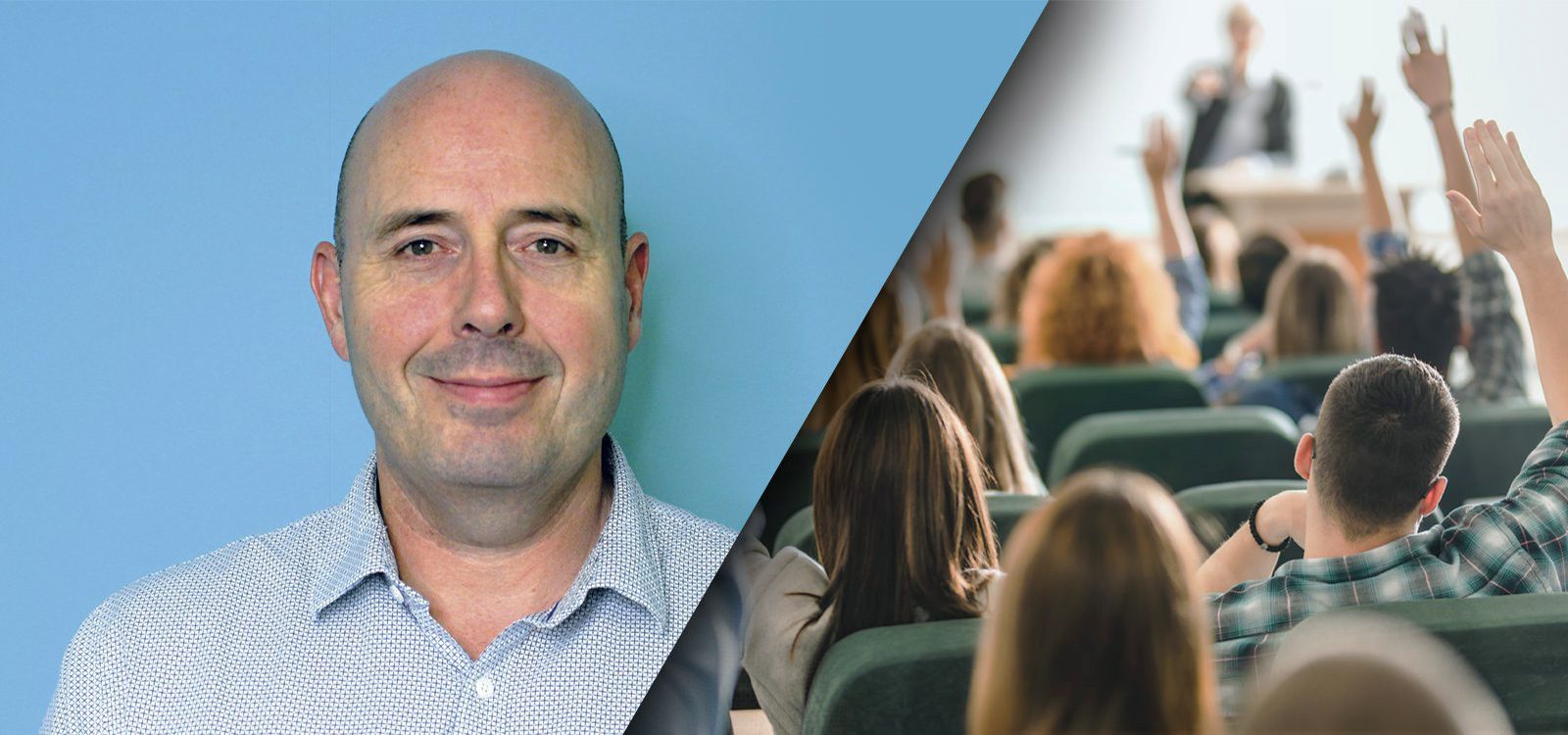 Features
"We put the student at the centre…"
Mike Callan, Executive General Manager Education, is the man driving the design and delivery of pre-qualification education for the Actuaries Institute. Here's a quick look at the work he's been doing, where he's taking Institute education – and some in-his-own words insights into what life's been like on the education frontline.
Mike was brought into the Institute in 2018, tasked with implementing the Council's landmark education review. Twelve subjects and 7,000 pages of instructional text later, he's starting to see just how far he's come.
"The Institute and the profession are where they are now because of the passion of volunteers," says Mike.
"Let's face it, they educated many of the leaders of the profession today. But it's those leaders in turn who saw that we needed to reshape the education of our soon-to-be actuaries – to make their education more consistent and coherent, more aligned to sector standards. And to put the student at the heart of the process."
Education at the Institute today mixes modern structures and technologies with the rigours that defined Institute education in the past. Students learn via an interactive Learning Management System – a 'virtual university' where the chief examiner uses Zoom to impart new content weekly. There's an Independent Examiner who assures the quality and equity of exams.
Importantly, all this tech-delivered content training is supplemented by Fellows providing tutorials on current practice. As a result, students get the theoretical training they need, but also a deep insight into how those skills and practices need to be applied in the workplace.
This layer of training also helps students think about how to analyse problems and present solutions in a way that's effective in exams – and in the office.
Driven by experts
The most visible change Mike led was that education was brought in-house, led by education professionals with the support of volunteers. Strategically, the process was driven by five key principles.
An actuarial student in Australia would be educated to the same standards as those in the US, UK, South Africa etc – to a global standard, with transferrable skills.

The Education Team worked to map Institute standards to those set by the Tertiary Education Quality and Standards Agency. Mapping to their Australian Qualification Framework (AQF) links the knowledge and skills taught by the Institute to the various degree levels (Bachelors/Masters etc).

A tighter alignment between the syllabus and the education material presented to the student and the assessment of their skills in exams.

Structuring assessments around the concept that a newly qualified Fellow has the judgment of an employee with 2-3 years' experience – not an actuary with a decade in the profession. Exams need to be set accordingly, to unearth what students know, not to pose them problems they don't have the information to solve.

Perhaps the most important principle was that a well-prepared, diligent student should pass the exam.
"It's an implicit contract," says Mike. "Students sign up knowing that if they do the work, they'll be tested and it will be hard, but they'll get a fair go."
The result of these changes is already being seen. Pass rates are up with no dilution in standards. That's going to help attract those students who might have done actuarial style subjects but were put off by some aspects of the old system. They now see a clearer pathway to qualification through the Institute. 
The Mike Callan story Mike has worked in Europe across areas as varied as product development, statutory valuations, risk management, and embedded value. He's a former Head of Actuarial, managing about 30 staff, including two Appointed Actuaries. He also worked in super and life for a Big Four consultancy in Australia and for a leading life insurer. A long-held passion for education bubbled to the surface when Mike joined Monash University to set up their Part 2 program. That led to his role at the heart of the Institute's own education revolution.

The Q&A
What will the result of your work look like in 5-10 years?
Again, I like to think of it in terms of the students. By general standards all our students are bright. But there are about 20% of our students who are super bright and they'll be fine whatever happens. For the balance, what we're doing is educating young actuaries who will have a better understanding of the issues and principles of the profession.
We'll have taught them critical thinking and judgement and they'll have to pass multiple tests that assess their ability to think through questions, interact with clients, and produce solutions. They have to demonstrate effective strategies for presenting and influencing decision-makers. We'll have trained them to adapt. And I think that will give these students the opportunity to advance more quickly. 
Plus, and I've been an employer so I get this, employers will love the actuaries that come out our doors. They'll be more reflective, better communicators, ready to work hard but to challenge their boss to help them find better ways.
What have the past three years been like for you?
Most satisfying. I wanted to move back into education to really focus the profession on the tools and techniques that we use. We've moved unbelievably fast, with a small team, and a wide range of stakeholders – but got a lot done. Don't get me wrong, we made mistakes, but we turned those into war stories that we analysed and disentangled to see what we could do better. I've loved bringing on our team and their passion for the task.
Now we're seeing the results – and in education, you really can leave a legacy.
CPD: Actuaries Institute Members can claim two CPD points for every hour of reading articles on Actuaries Digital.