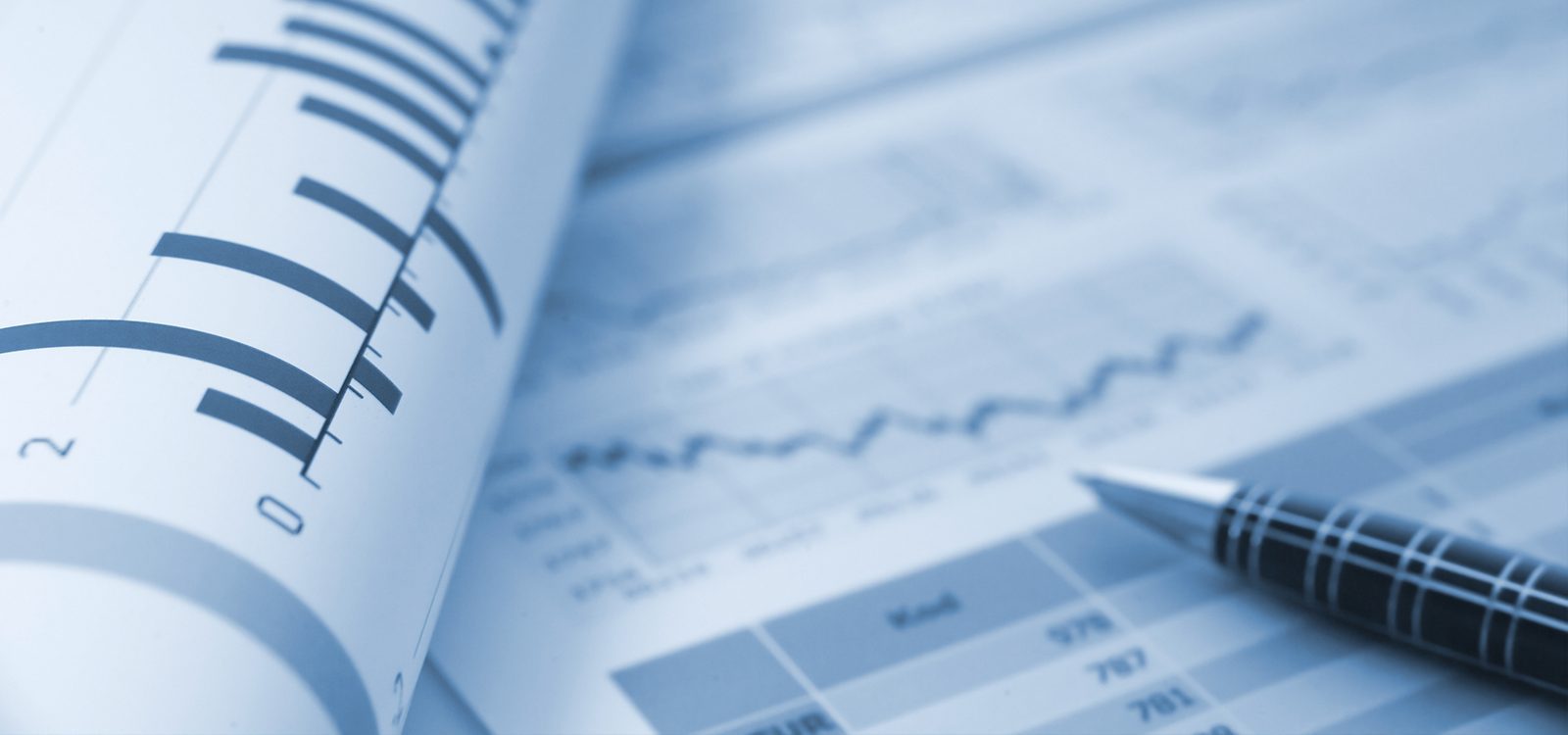 Public Policy
An overview of APRA policy priorities for 2021 and 2022
In part one of a two-part series, the Actuaries Institute's Public Policy Team delve into the Australian Prudential Regulation Authority's (APRA) policy priorities for 2021 and 2022. 
2021/22 Policy Priorities
APRA has recently updated it's policy and supervision priorities for 2021 and into 2022, aligned to APRA's long-term strategy and responding to external drivers, including changes to remuneration standards, Basel III bank capital reforms, implementation of AASB 17, supporting the Financial Accountability regime (FAR), and Your Future, Your Super reforms.
APRA will develop policies to:
maintain financial system resilience,
improve outcomes for superannuation members,
transform governance, risk culture, remuneration and accountability (GCRA) across all regulated entities, and
improve cyber resilience across the financial system. Key priorities are summarised in the figure below from APRA's Information Paper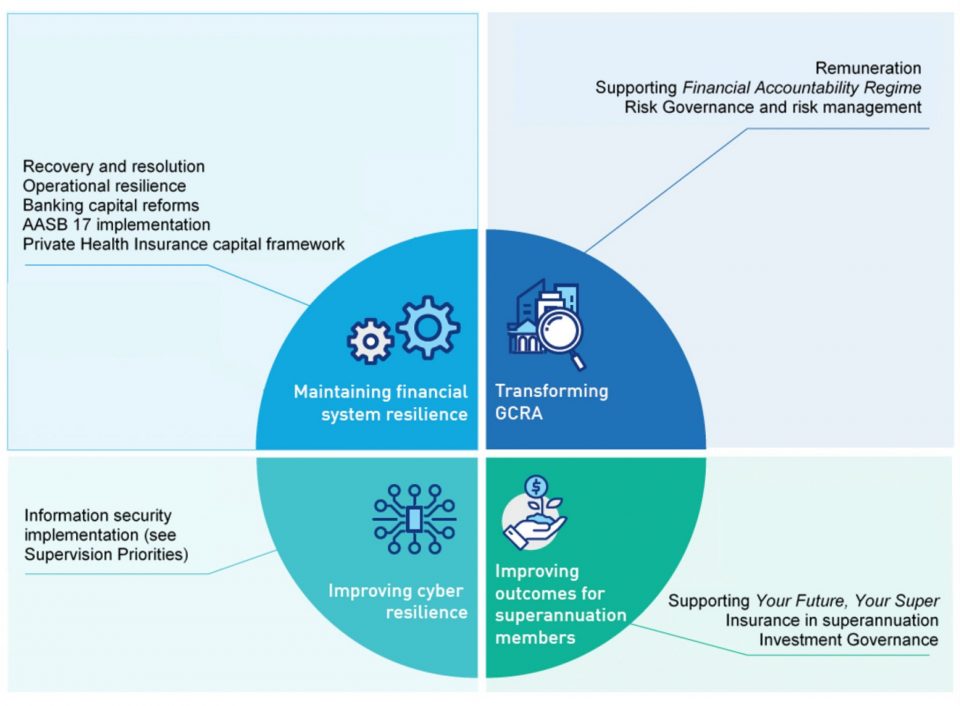 Cross Industry policy priorities for 2021
Maintain financial system resilience
APRA will continue to develop policies to strengthen an entity's preparedness for managing through periods of stress, including recovery and resolution planning, operational resilience, stress testing and climate-related financial risks. This will include a new prudential standard for recovery and resolution planning and implementation of reforms from the Financial Sector Legislation Amendment (Crisis Resolution Powers and Other Measures) Act 2018. New and revised standards will be introduced covering operational resilience, including revisions to Prudential Standard CPS 230 Outsourcing, Prudential Standard CPS 232 Business Continuity Management, and Prudential Standard CPS 234 Information Security. New guidance will be introduced around stress testing in late 2021 to assess an entity's ability to withstand a downturn. Revised guidance around climate-related financial risk will be released in the first half of 2021 and finalised by the end of the year.
Governance, culture, remuneration and accountability
Reforms will address issues identified in the Hayne Royal Commission, the CBA Prudential Inquiry, and other reviews to strengthen board governance and oversight, improve accountability, and review incentive structures to discourage poor conduct.
Governance and risk management
Consultation will commence in 2022 on revised versions of Prudential Standards CPS 510 Governance and the Risk Management Prudential Standard CPS 220 and SPS 220. These will include a review of board and senior management roles and expectations, board obligations for risk culture, balance of financial and non-financial risks, and compliance and audit requirements.
Remuneration
APRA will release the revised Prudential Standard CPS 511 Remuneration in mid-2021 for a phased implementation from 2023 to address key recommendations from the Hayne Royal Commission to improve remuneration practices and ensure appropriate consequences for poor risk management. A new prudential practice guide will be available for consultation from mid-late 2021.
Accountability
APRA continues to support Treasury in developing the Financial Accountability Regime (FAR), which was delayed in its introduction to parliament by COVID-19. Consultation on FAR legislation is likely to occur in 2021, with APRA then revising Prudential Standard CPS 520 Fit and Proper to align with legislation.
Insurance policy priorities for 2021
AASB 17 insurance contracts and LAGIC updates
The implementation of AASB 17 is expected to result in several amendments to prudential standards and will require revisions to the Life and General Insurance Capital (LAGIC) framework. The response to consultation on APRA's Quantitative Impact Study (QIS) on the integration of AASB 17 into the capital and reporting framework and draft capital and reporting standards and a full QIS will be released towards the end of 2021. The new standards are expected to commence from 1 July 2023.
Review of PHI capital framework
APRA will release a response paper and consult on draft prudential standards in the second half of 2021 to align with the LAGIC framework (where appropriate), apply the capital framework to the insurer's entire business, rather than just the health benefit fund, and integrate changes stemming from revisions to AASB 17.
Review of LPS 117 and offshore reinsurers
APRA is reviewing Prudential Standard LPS117 Capital Adequacy: Asset Concentration Risk Charge (LPS 117) to address concerns from the increased use of offshore reinsurers in the group risk market. Consultation will continue on the draft standard early in 2021 with release set for the end of 2021.
Superannuation policy priorities for 2021
Supporting the Your Future, Your Super reforms
APRA will conduct an annual performance test to address underperformance for MySuper products and update Prudential Standard SPS 515 Strategic Planning and Member Outcomes (SPS 515), associated guidance in Prudential Practice Guide SPG 515 Strategic and Business Planning (SPG 515), and Prudential Practice Guide SPG 516 Business Performance Review (SPG 516).
Enhancing the superannuation prudential framework
APRA will strengthen several prudential requirements, including life insurance in superannuation, board appointment processes, and management of conflicts of interest. APRA intends to finalise revisions to Prudential Standards SPS 250 Insurance in Superannuation and Prudential Practice Guide SPG 250 Insurance in Superannuation in mid-2021 following re-drafting and consultation. APRA will release a consultation package in the first half of 2021 on Prudential Standard SPS 530 Investment Governance which will include a revised standard and guidance note. Enhancements to Prudential Standard SPS 231 Outsourcing (SPS 231) will occur in the second half of 2021. In 2022, APRA will commence review of Prudential Standard SPS 220 Risk Management (SPS 220).
Further enhancements to the governance framework will commence in 2022 with a discussion paper released covering Prudential Standard SPS 510 Governance (SPS 510), Prudential Standard SPS 521 Conflicts of interest (SPS 521), and Prudential Standard SPS 520 Fit and Proper (SPS 520).
APRA will continue to consider necessary changes to standards and guidance notes following legislative changes responding to the Royal Commission.
Banking policy priorities for 2021
APRA's banking priorities for 2021 are focused on the key areas of capital and credit, revisions to the approach to licensing for new authorised deposit-taking institutions. Further detail on APRA's banking policy priorities can be found here.
The complete paper of APRA's Policy Priorities can be found on APRA's website.
Pre-Supervision Priorities publication
A further Actuaries Digital article will be published next week reviewing APRA's Supervision Priorities.
CPD: Actuaries Institute Members can claim two CPD points for every hour of reading articles on Actuaries Digital.