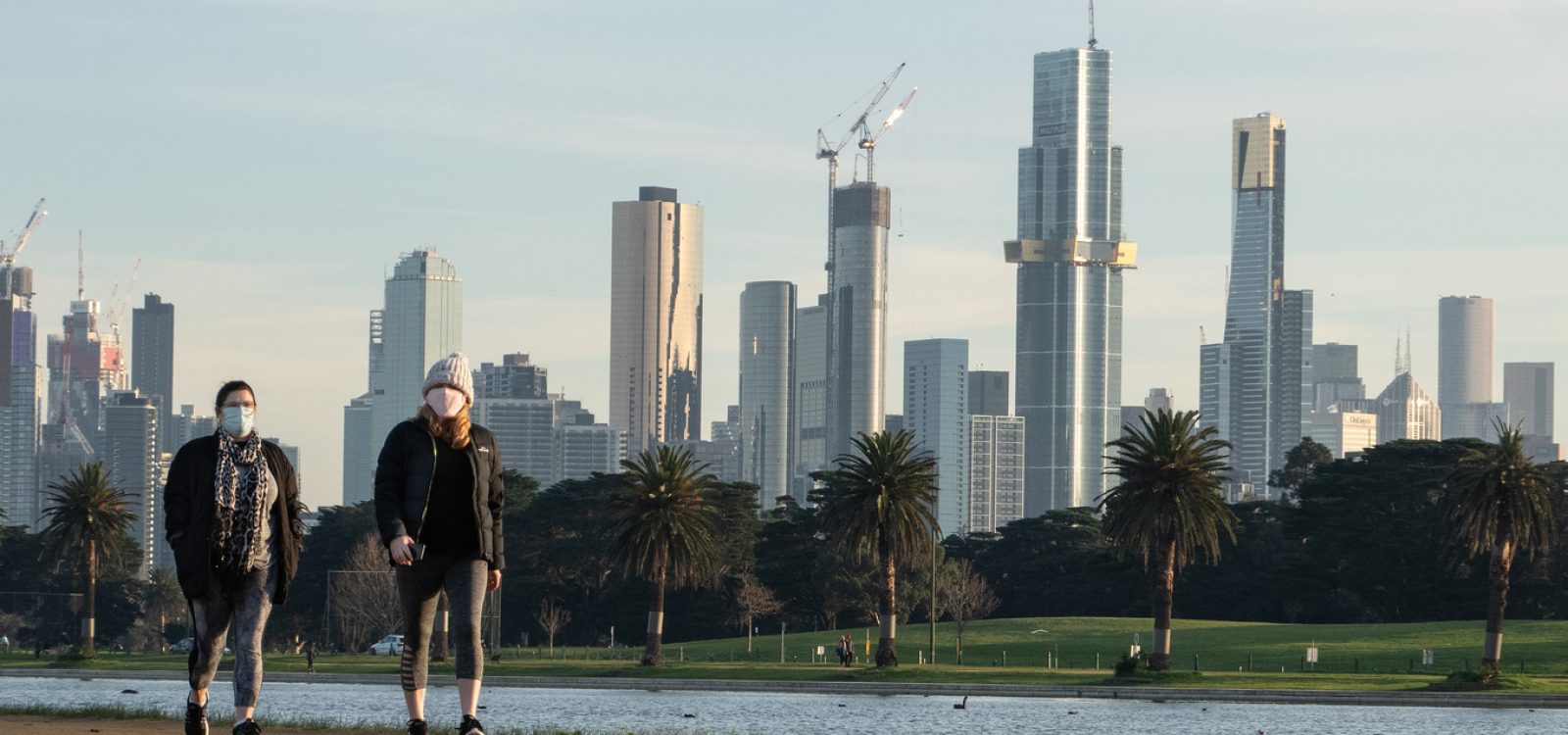 Covid-19 Blog
COVID-19 Monday Roundup 28 September 2020
COVID-19 deaths set to pass a sobering one million globally this week. Australia recorded just 142 new cases in the last week.  The unemployment rate fell from 7.5% to 6.8% in August, despite an increase in Victoria. With schools looking to re-open in the US, a study has shown that almost two-thirds of cases were in adults aged 20-49 compared to 1.2% from children aged 0-9. And Cancer Australia publishes a review confirming what has been seen internationally in that there has been significant reduction in cancer screenings this year.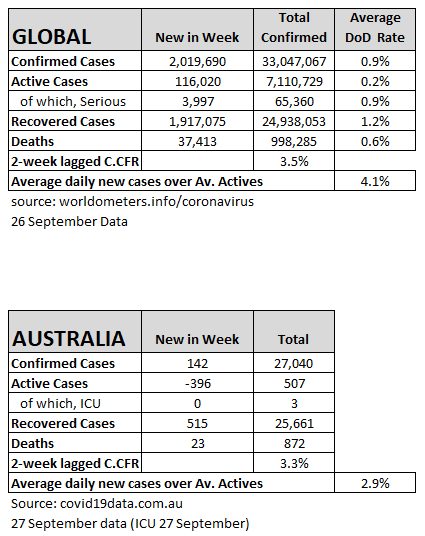 World Summary – 26 September
After a pause in new case growth for all of August, new cases grew again each week during September as cases grew in India, progress reversed in the USA and the Middle East and opening up in Europe led to new surges. But it is possible this may have come to an end as this week there was a very modest increase in new cases. Importantly:
new cases in India peaked on 16 September and have been falling modestly;
new case growth in the USA reduced substantially, and;
new cases fell in South America.
Against this, new cases rose substantially in Europe and in the Middle East.
Cases increased in many countries across all of Europe, some quite substantially, but only a few are threatening to break out of control, and while deaths have been increasing, they are much lower than when new case numbers were similar in the early stages of the first Western European surges. Further, most countries are taking actions to bring back control, and Spain appears to be well on the way to re-establishing control.
Deaths were one of the lowest in months at 37,413, and there have been two weeks of deaths to two-week-lagged new cases of under 2.00%
The European experience, especially in Western Europe, points to the challenges of living with COVID while opening up society and economies, but, in general, there are more successes than intractable problems.
Likewise, the New Zealand experience illustrates how pernicious is COVID and how hard it is to eliminate. Eight weeks after it re-appeared in New Zealand, there is still not a definitive identification of how it arrived back, there were 20 new cases in the week, about half of which were locally acquired, and there are 61 active cases.
Again, in world terms, Australia (and Victoria) looks a strong success story, with new cases running at just 4% of the early August peak.
Australia Summary – 27 September
Australia recorded just 142 new cases this week, taking total case numbers to 27,040. 
As is expected, Victoria dominated numbers with 108 cases in the week. For perspective, at their peak, Victoria had average daily cases of over 450. The vast majority of cases are from traced sources. Victoria will now enter the hard slog territory that NSW and Queensland have been through of chasing down the final pockets of transmission and isolating them.
NSW had 18 cases in the week, just one of unknown source.
Key market update
New COVID-19 research
Inflight infection. Genetic evidence strongly suggests that a passenger flying from the US to Hong Kong in March infected two flight attendants during the trip, while in China, transmission on a bus trip is likely to have occurred. That hasn't stopped people in Brunei, Taiwan, Japan and Australia booking 'flights to nowhere' that depart and land in the same place.
Viral spread in social settings caused more infections than spread within family households in Hong Kong. Multiple superspreaders were identified including musicians who performed at four Hong Kong bars and an asymptomatic monk.
Almost two-thirds of cases in the US originated from adults aged 20-49, and just 1.2% from children aged 0-9. As schools re-open, targeting adults aged 20-49 will be critical.
Herd immunity? This pre-print article suggests the Brazilian Amazon city of Manaus may have reached herd immunity, with blood donor samples suggesting up to two-thirds of the population may have been infected.
Some 40 vaccines are currently in clinical evaluation, including nine in Phase 3 trials. This podcast explores the practicalities of delivering vaccines some which require storage at minus 70 degrees. Johnson & Johnson launched the phase 3 trial of its one-dose vaccine (other vaccines in phase 3 trials require 2 doses). The AstraZeneca / Oxford University vaccine candidate has in fact been temporarily halted not once but twice to investigate possible adverse reactions, which may explain why the US Food & Drug Administration is yet to give approval to recommence trials.
Long COVID describes the long-term after-effects of COVID-19, ranging from fatigue through to permanent heart, lung and brain damage. This paper from the UK COVID Actuaries Group summarises the evidence so far.
Thispre-print paper uses historical data on coughs and fevers to estimate that testing capacity in the UK may be inadequate to meet winter demand. The UK government recently admitted capacity was likely inadequate.
Pandemic Preparedness. Countries with a strong pandemic plan and primary health care system have not necessarily experienced lower COVID-19 mortality than less-prepared countries. What mattered most in this study is when the plan was implemented and how primary health care was mobilised to respond.
Leading Australian epidemiologists have called for PPE guidelines for health care workers to be strengthened in light of mounting evidence of airborne transmission. The US Centers for Disease Control and Prevention quietly introduced — and then quickly withdrew — guidance on its website acknowledging that the virus is transmitted mainly through the air.
Risk factors. This pre-print article from Wales suggests large nursing homes were significantly more likely to experience a COVID outbreak than small ones after receiving a hospital-discharge.
Disabled people in the UK comprised 59% of all UK COVID deaths between March and July and had mortality which was 2 (males) to 2.4 (females) times higher than non-disabled people after adjusting for other factors.
Cancer Australia has published a review of the impact of COVID-19 on cancer screening for skin, breast and colorectal cancers in the 6 months to June 2020, confirming what has been observed internationally as a reduction in screenings during the pandemic.
CPD: Actuaries Institute Members can claim two CPD points for every hour of reading articles on Actuaries Digital.