Covid-19 Blog
COVID-19 Monday Roundup 29 June 2020
Global cases reached 10 million today, and global deaths 500,000, so it's little surprise that the IMF's global economic outlook deteriorated. Australia was one of few countries to improve in the IMF forecasts, despite record falls in job vacancies and predicted retail spend. A testing blitz is underway in Victoria's outbreak hotspots, while research suggests bald men should be particularly vigilant to avoid COVID-19.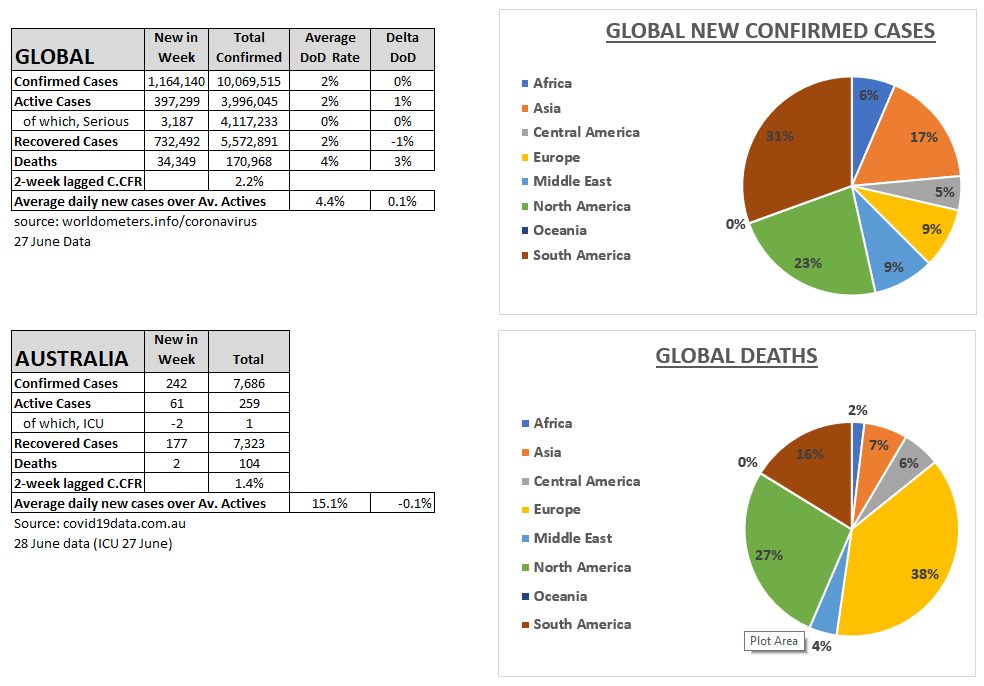 World Summary – 27 June
The pandemic accelerated again with new cases growing 11% to pass 1.1 million new cases this week. 44% were in just two countries, USA and Brazil, with a further 9% in India. The US outbreak materially accelerated with over a quarter of a million new cases, up 40% from the prior week. Florida and Texas have reimposed some restrictions to address the surge in those States.
Deaths eased back slightly to the 7th highest weekly tally in the pandemic.
19 (+1, South Africa) countries have outbreaks of 100,000+. India's outbreak passed half a million, the UK passed 300,000.
Southern Africa is the fastest growing regional outbreak with a growth rate of 11%, completely dominated by South Africa.
Australia Summary – 28 June
Total new cases increased to 242. 85% of these (206) were in the well-reported Victoria local outbreaks.  While Victoria is re-imposing restrictions amidst a surge in cases, Health authorities say the response is going as planned.
NSW had 32 (+10) new cases. WA had 3 (+1) and Queensland had 1 (+0). Only four of the NSW cases were not overseas acquired infections, but it does appear that a low level of the virus remains circulating in Sydney.
Daily testing has risen substantially with ~50,000 tests on five of the last seven days. Discovery rates have risen slightly, again, to 0.07%.
Provisional mortality data released by the ABS for Q1, shows some indication of excess mortality in Australia.
Key market update
New COVID-19 research this week
New on the Actuaries Institute website this week.
CPD: Actuaries Institute Members can claim two CPD points for every hour of reading articles on Actuaries Digital.