Covid-19 Blog
COVID-19 Monday Roundup 22 June 2020
The pandemic accelerated this week with more than one million new cases globally. One million Melbourne residents have been asked not to travel outside known hotspots, while the Grattan Institute backs State border closures. The global insurance sector has remained resilient during the pandemic, but weather forecast quality has declined. Early results for the drug dexamethasone bring some hope.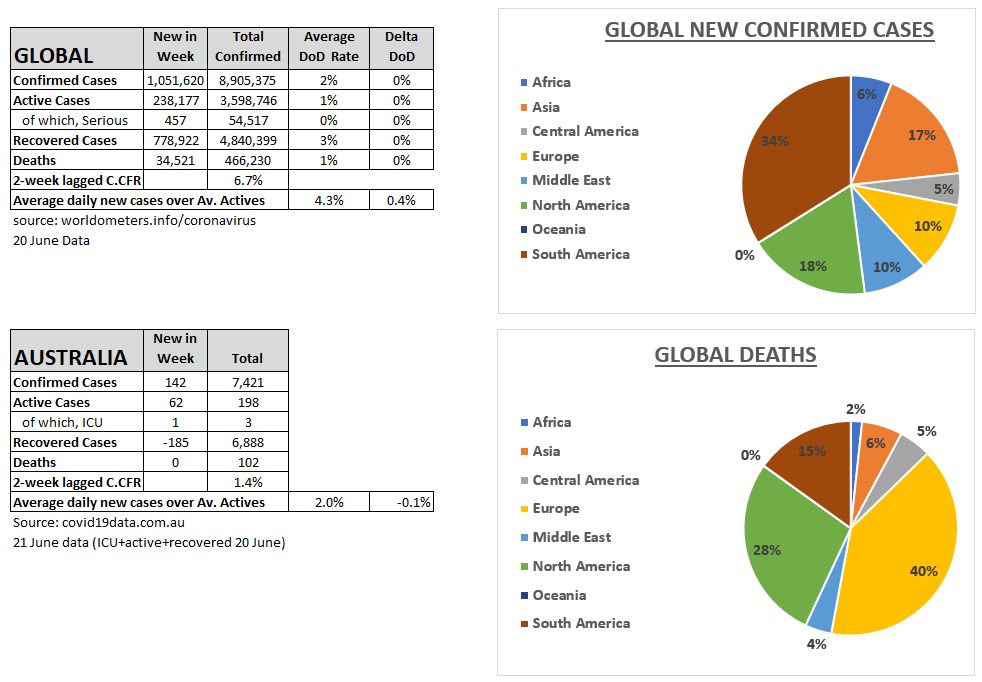 World Summary – 20 June
The pandemic accelerated this week with new cases growing 18%. There were more than one million new cases this week. 40% of new cases are from Brazil and USA.
Deaths grew to the 6th highest weekly tally in the pandemic, and the highest since 9 May. New deaths in Brazil were 160% of new deaths in the US while new deaths in India and Mexico were 90% of those in the US.
Brazil's outbreak passed one million. Russia's is half a million.
18 (+2, Bangladesh, Canada) countries have outbreaks of 100,000+ and a further 46 (+5, Guatemala, Azerbaijan, Cameroon, Honduras, Czechia) countries have outbreaks of 10,000+.
Central America Mainland and Southern Africa remain the fastest growing regional outbreaks with growth rates of over 10%. In these regions, the pandemic is becoming much more widespread.
New Zealand is no longer virus-free, after two women arriving from the UK and released early from quarantine on compassionate grounds tested positive.
Australia Summary – 21 June
New cases more than doubled this week to 142. Over 80% of these were in Victoria, principally from pockets of family transmission. More than one million Melbourne residents have been asked not to travel outside six local hotspots, and further restrictions may be announced with Victorian school holidays starting this weekend.
NSW had 22 (-2) new cases, of which 21 were returned travellers in hotel quarantine. Queensland had 1 (-2) new case and WA had 2 (+1).  SA, ACT, Tasmania and  NT had no new cases.
Average daily tests have risen substantially to between 25,000 and 30,000, and discovery rates have risen slightly to 0.06%.
According to Citimapper's mobility index (20 June), mobility in Sydney leapt to 48% of pre-lockdown levels and Melbourne rose to 37%. This makes Sydney the 5th and Melbourne the 14th most mobile cities tracked.
Key market updates
New COVID-19 research this week
New on the Actuaries Institute website this week.
CPD: Actuaries Institute Members can claim two CPD points for every hour of reading articles on Actuaries Digital.