Inside Asia
Under the Spotlight – Asia Series – Keri Lee
Keri Lee is a successful Fellow and Vice President at Marsh Risk Analytics (Asia), based in Singapore. Read about Keri's inspirations and her professional journey.
Summarise yourself in one sentence… Fun-loving, adventure-seeking and strong-willed.
My interesting/quirky hobbies… You'll find me glued to the TV most Friday nights watching MMA (mixed martial arts) fights. When I lived in Sydney I followed UFC and now in Singapore I've become a fan of ONE Championship. Both organisations have highly skilled, disciplined fighters, but there is a greater culture of respect in ONE.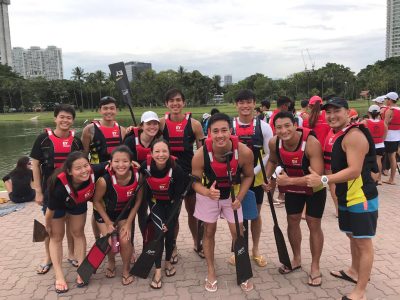 My favourite energetic pursuit… I tried dragonboating after moving to Singapore and was hooked straight away. Although it's often seen as a brute strength, physical sport for top-heavy men, dragonboat actually requires a great deal of technique and teamwork. The team aspect is by far what I enjoy the most.
What gets my goat… People who talk loudly and incessantly in open plan offices. Get a room or go to the breakout area!
Not many people know this but I… Will be a new mum at around the time this goes to print.
Short description of career… I was lucky to start as an intern at PwC Actuarial in Sydney and spent an amazing four years there after graduating. My projects centred on Workers' Compensation and covered the entire range of the actuarial control cycle. Thereafter I had the privilege of being part of the Finity family for almost three years, gaining exposure to other lines of business and clients in New Zealand and Papua New Guinea.
When I moved to Singapore three years ago I joined EY's South East Asia regional team and was lucky to work on several actuarial M&A due diligence assignments, one of the largest general insurance bancassurance deals in recent years in Asia, and got up to speed quickly on the actuarial regulations in each of the region's markets.
My current role at Marsh is a fantastic and interesting shift away from traditional actuarial work. I still use my actuarial skills to optimise insurance programs. But as I'm now in a broking environment and my clients generally have a limited understanding of insurance and actuarial concepts, communication has become much more key and my typical work day more varied.
Where I studied to become an actuary and qualifications obtained… Macquarie University, B Com – Actuarial Studies and B-AppFin, FIAA, FSAS.
What I find most interesting about my current role… My regional role sees me working and travelling frequently across our 12 markets in South East Asia and North Asia. I love the different dynamics of each market, and understanding and adapting to the slight subtleties and sensitivities in culture. As the business needs and challenges faced within the region are so diverse, I'm also constantly learning and challenged. It's fantastic.
My role's greatest challenges… As much as I relish it, the constant travel. My husband's job also sees him travelling frequently so this means we often only see each other on the weekends or not at all, for weeks or months at a time.
My proudest career achievement to date is … Qualifying before my husband. I'll have that over him forever.
10 years from now, I will be… I have no idea! But fingers crossed still in a great marriage and a mother, in great health and in a job I'll bounce out of bed in the morning for.
Who has been the biggest influence on my career (and why)… My high school maths teacher. He told me I could never be an Actuary and that was enough to make sure I did.
The most valuable skill an actuary can possess is… Curiosity and stubborness.
At least once in their life, every actuary should… Consider working abroad or in a regional role. The learnings gained through the varying types of projects and interacting with people from different backgrounds are unique and unparalleled.
My best advice for younger actuaries… Find a job you love.
If I could travel back in time I would… Spend more time with my dad. He passed away from pancreatic cancer in early 2015. It's easy to believe that the people you love (or even you) will be around for a long time, or that there will always be time to say goodbyes, but life is more fragile than we'd like.
My vision on Asia… Asia is becoming and will soon be impossible to ignore as a global force and financial hub. The pace of growth and adoption of technology is difficult to comprehend and in many ways already more advanced to countries perceived to be advanced in the west, including Australia.
My view on cultural differences is… Embrace them to make everyone's lives easier.
What advice I would give actuaries planning on working in Asia… Just do it, you'll be all the richer for the experience(s) and opportunities that will come your way.
CPD: Actuaries Institute Members can claim two CPD points for every hour of reading articles on Actuaries Digital.