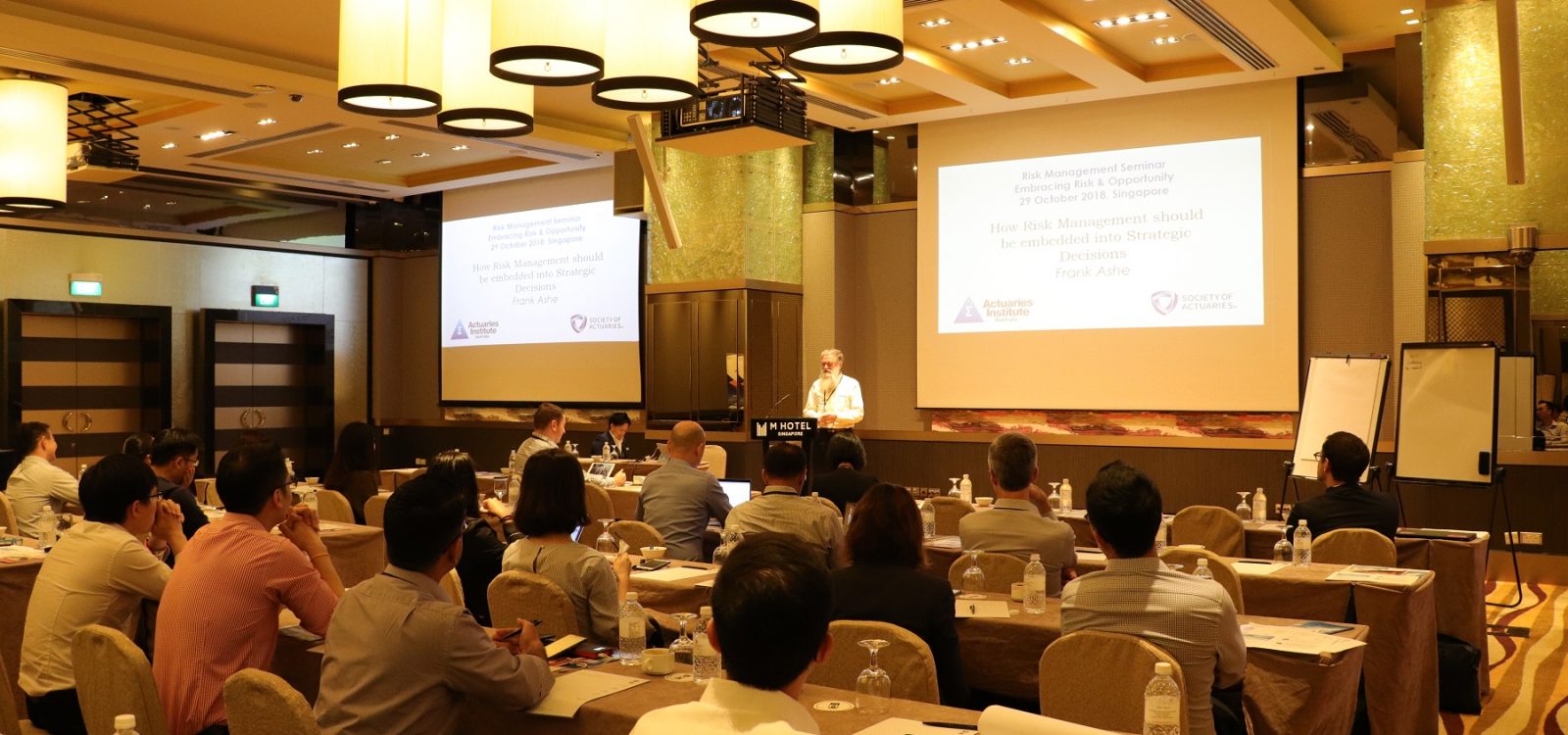 Inside Asia
Embracing Risk and Opportunity
The Actuaries Institute teamed up with the Society of Actuaries to deliver the first Risk Management Seminar in Asia. The first trial of the combined forces achieved a 'synergistic' result!
This Seminar was held on 29 October 2018 at Singapore, the busy regional hub sitting in the centre of Asia. Actuaries and practitioners of all levels (Analyst, Assistant Manager, Regional Head, Director and CFO) from Canada, Vietnam, Thailand, Hong Kong and Singapore gathered together to examine the challenges we face in the Risk Management space in the region.
The program
The program consisted of seven sessions presented by influential speakers from the Monetary Authority of Singapore, consulting firms, reinsurance and senior industry leaders. This Seminar showcased how actuaries contribute to and play vital roles in risk management, including daily operation, risk formulation, reinsurance arrangement, capital management, strategic decision making, regulatory responsibilities and many other aspects.
The contents of the Seminar were valuable to many delegates. The Q&A session was very interactive, Yan Sun, the Moderator managed to facilitate a few rounds of engaging discussion between the speaker and the audience.
The Risk Culture topic, "Making Culture & Conduct Count", presented by Pierre Santolini was one of the highlights from the program and was very well received by the delegates. This would be explained by the importance and recurrence of Risk Culture at the Seminar, which is intertwined into different presentations.
"Risk culture is a firm's collective attitudes, perceptions, beliefs and behaviours that impact risk and affect outcomes. It influences business strategy, its execution, risk governance and ultimately a firm's outcomes."
The detail program of this seminar can be found here
Some personal thoughts about this Seminar
Elayne Grace, CEO, Actuaries Institute Australia
'The Australian profession has been active in the Asian region. With the significant growth of the actuarial profession in Asia, the Actuaries Institute is keen to establish a closer relationship with the local associations and build a stronger network between the Asian and Australian actuarial communities.  I would like to thank the Society of Actuaries in co-hosting this first-ever Risk Management Seminar in Asia. Special thanks to the organising committee for their great support in creating an exceptional program with speakers from the regulator, industry leaders and practice experts.'
Ann Henstrand, Senior Global Strategy Advisor, Society of Actuaries
'The SOA was very glad to collaborate with the Actuaries Institute of Australia and spend a day with Singapore actuaries community members discussing so many angles of enterprise risk management. There's nothing more fundamental to an actuary's toolkit than risk, and that's true everywhere in the world. Regulatory attention to how companies manage risk is mirrored in the board room – and actuaries are key to understanding how that happens -and making their observations clear and useful for all stakeholders.'
Pierre Santolini, Director Advisory Services, EY – Speaker
'I think it was the right time to have such a dedicated session on Risk Culture – a topic which was touched upon in a few other sessions. I had the feeling during the presentation that this topic was definitely resonating with a lot of participants. This was my first time attending such a joint-event but I thought the mix of experiences was fruitful. In my view the Australian market is more mature in terms of risk management due to APRA's pressure, hence definitely valuable to the Asian attendees. Conversely, I think this is valuable for Australian attendees to understand what's happening in that part of the world – usually where their companies are getting their growth from!'
Joshua Tan, Regional Head, Capital Management, Allianz Asia Pacific – Delegate
'I was very glad that the Institute organised this conference. Compared to other disciplines, Risk Management is a relative newcomer, and this is even more pronounced in Asia where financial KPIs have long been predominant. It was good to listen in on the broad range of topics and I am certainly looking forward to the next one (in Asia again) where we delve deeper into best practice specifics that can then be appropriated in the workplace.
On a side note, it was nice to meet up with a (largely) fun-loving bunch of actuaries – which probably makes this a Black Swan event.'
Aaron Abraham, Financial Risk Management, Prudential BSN Takaful Berhad – Delegate
'I found the Seminar is helpful, with some very interesting topics and presenters. Definitely a few of the topics were quite useful towards my daily FRM work. I would like to see more events from SOA and Actuaries Institute in the future and would definitely consider attending more of these joint-event.'
Thank you to our presenters and fellow members of the Organising Committee; this Seminar would not have happened without your contribution and support!
The speakers:
Yan Sun, Business Development Director, APAC, AXA Life & Health Reinsurance
Wai Yi Lee, Director & Head of Supervisory Analytics Division at Monetary Authority of Singapore
Dr Frank Ashe, Quantitative Strategies
Weihao Choo, Head of Enterprise Risk Management, Munich Re
Pierre Santolini, Director, EY Advisory Services
Shannon Lin, Actuary, Life and Health, Asia Pacific, Partner Re
Michael Zheng, Corporate Development Manager, Partner Re
Marco Hoogendijk, Managing Director, Ortec Finance Asia Ltd
Jeff Cook, Head of Underwriting, Claims, Product Development and SEA Marketing, Pacific Life Re, Singapore
The dedicated committee members:
William Song, Chief Risk Officer, MSIG Holdings (Asia) Pte Ltd
Verne Baker, Director, Head of Asian Markets, KPMG Actuarial
Navarat Kriausakul, Head of Pricing, Singapore at RGA
Wai Ling Yung, Asia-Pacific Lead, Society of Actuaries
David Schraub, Staff Fellow, Risk Management, Society of Actuaries
If you would like to find out more about the event program in Asia or participate as a speaker, please contact Kitty Chan.
CPD: Actuaries Institute Members can claim two CPD points for every hour of reading articles on Actuaries Digital.