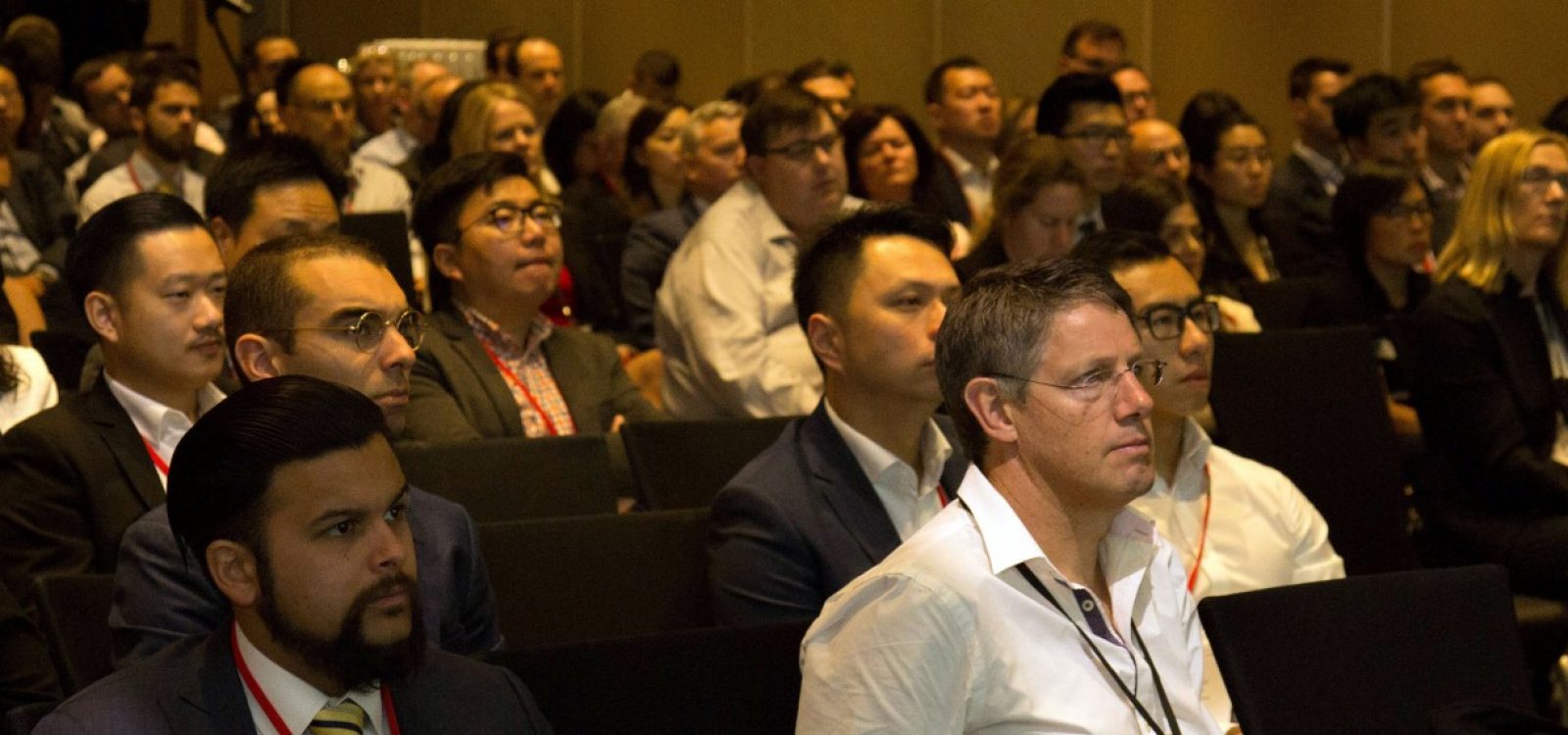 Event Reports
2018 General Insurance Seminar Event Report – Day One
More than 230 delegates gathered at the Sofitel in Sydney for the 2018 General Insurance Seminar. The event set out to inspire attendees to "Transform the Future" of the industry with Day One Plenary sessions on Consumer Trust, Mental Health and Data Led-Innovations in the Insurance Value Chain.
The Opening Keynote Speaker Ross Dawson set the tone of the day, inviting delegates to 'Embrace the Future'.
Starting with a brief history lesson on technology and the explosion of AI including AI winters and the manipulation of data, Ross went on to illustrate the environment of opportunities actuaries can take advantage of.
"Change means risk but it also means opportunity… finite players play within boundaries; infinite players play with boundaries."
As consumer trust becomes a rising issue in the world of big data and AI, Ross highlighted that the future of the actuarial profession is bringing creativity and relationships together with their expertise.
Trust and the Consumer – Power to the People
Carrying over the theme of consumer trust, Michelle Innis, Ian Laughlin, Vaughan Chandler and Bettina Pidcock delivered the first plenary, Trust and the Consumer – Power to the People.
Senior Consultant of P&L Corporate, Michelle stressed the importance of consumer trust and the effects distrust can have on financial institutions. Referring to the Royal Commission, she stated "Fines and refunds could cost the big four banks $4.83 billion over the next three years".
"I once worked closely with the CEO of a major listed Australian company, his test was 'would we want to see this on the front page of the fin review?… Opinion and feelings often trump facts," said Michelle.
Vaughan and Bettina, although in difference industries, both spoke about using customer data to create change.
"As actuaries… you have the best position to understand the long-term effects and lesser known impacts. There's a step up that can be taken as an actuary to understand more about the customer because that's the long-term valuation of a business. The role of voicing customer feedback is crucial," said Vaughan.
2018 Actuary of the Year and author of The Dialogue paper on Social Risk, Ian Laughlin spoke about the effort businesses need to invest to gain and maintain trust.
"I know I get annoyed when I find I could get a better price just by challenging my existing provider…The damage they (unhappy customers) can do to your business is enormous."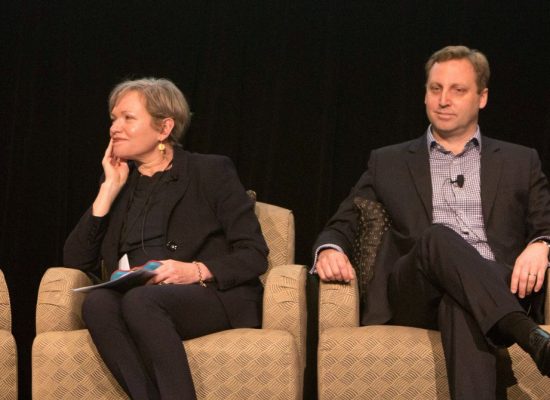 Mental Health Matters
The Seminar's chosen Supported Charity for 2018 was batyr, a 'for purpose' preventative mental health organisation, created and driven by young people, to smash the stigma around mental ill-health. batyr's Head of Partnerships Jono Peatfield, addressed the Seminar, drawing attention to the fact that suicide is the leading cause of death for Australians between 15 and 44 years of age[1].
Insuring mental ill-health is an area the profession is keen to better understand and the Institute's latest Green Paper explored the difficulties around subjectivity in diagnosis, lack of reliable data, ineffective regulatory frameworks, and how to improve underwriting and claims management.
In the first mental health plenary at GIS, Nick Glozier, clinical psychiatrist at the Brain and Mind Research Institute, Data Scientist and social entrepreneur Michael Allwright and CSIRO Neuroscientist Dana Bradford spoke about the various ways we can leverage data, technology and analysis to help those with mental health issues.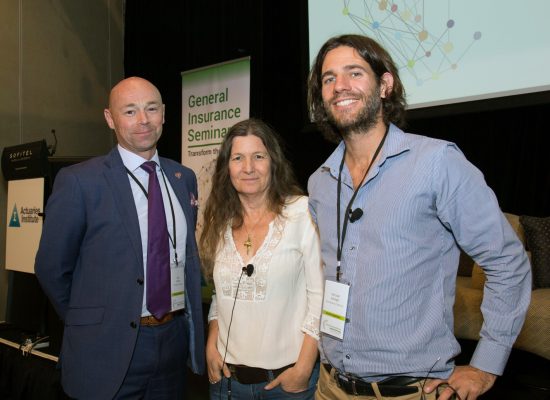 "Actuaries, the world is your oyster, you can help create meaning and change through the myriad of mental health data (biometric and social media data) that is being collected", said Michael.
Nick stressed the importance of evidence-based approaches (using all types of available data – including banking and transactional) to inform treatment and insurance, noting our mental health and sleep have not deteriorated over the years, but there are more and more claims.
Dana spoke about the current research around apps and chatbots, and the importance of vitamin D and genomics to the future of understanding mental health.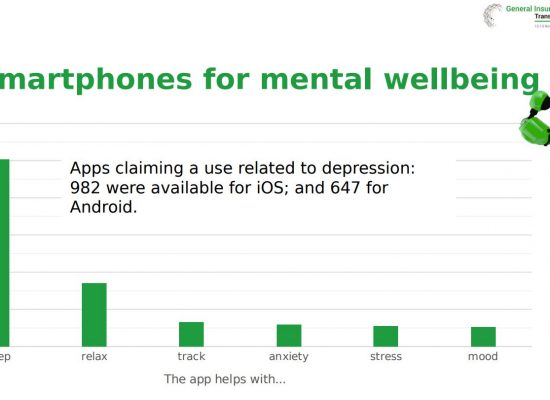 Dana left the audience with a question:
If insurance companies notice a trend in their mental health data, do they have a responsibility to fund research into gaining greater insight into that trend?
A full report Mental Health Matters at 2018 GIS covers the mental health related (Plenary and Concurrent) sessions at GIS in more detail.
The Australian Actuaries Climate Index launch
In the Climate Change plenary, Tim Andrews introduced the highly anticipated Australian Actuaries Climate Index (AACI). Although not the first climate index to be produced, Tim explains the AACI is different to the North American index in that it has a more contemporary baseline period, and focuses more on extreme points of wind, temperature and rain rather than the mean, in order to help better assess risk. 
"I think this will be one of the best metrics that will be useful to assess climate risk for their organisations… Over time we will see measures like the AACI used to inform decisions on how to price insurance," said Tim, who collated the Index.
He also spoke with Peter Ryan on ABC Radio about how the Index measures weather extremes to help organisation's better assess risk. That report is here.
The Index "is the first step in a multi-year project aimed at developing indices for extreme weather and resultant risks to human health, property and the natural environment" writes Ben Potter from the AFR in this article: "Climate change: Actuaries sound extreme weather alarm for insurers."
In our latest podcast, Tim expands on why the index is needed, how actuaries and the insurance industry can utilise the different components and how it differs from the American index. Listen to the podcast here.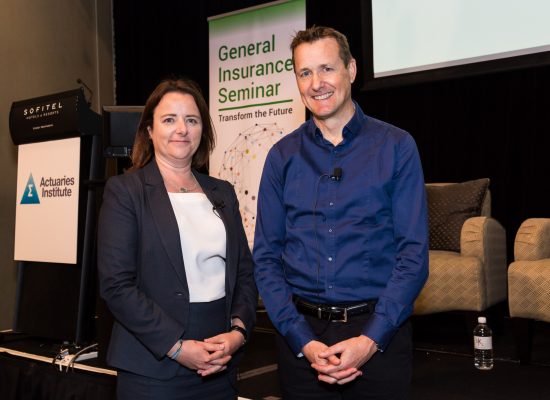 Data Led-Innovations in the Insurance Value Chain
The first data analytics plenary saw Andy Huang answer the question, "How do machines learn?" explaining image recognition and a machine learned model.
The final plenary of Day 1 was focused on Data Led-Innovations in the Insurance Value Chain. David Wilheim (Consultant at Finity), Daniel Cooper (Head of Consulting and Research at Lorica Health) and Mary Maini (Executive Director of Motor Accident Insurance Regulation) all spoke about opportunities within their organisations that have involved the manipulation of data.
At Finity, David saw an opportunity in the motor repair process to develop consistent performance measures and benchmarks to drive increased value for customers repairers and the RAA.
The new tool has improved the environment for repairs as the repairers can focus on their own quality and service, customers are able to receive great suggestions and the RAA can have sight of the industry including cost and quality.
"This tool is not that innovative, but it is a way we are using data to improve processes and value. We aren't there yet – we're never there because there is always more data and always more space for innovation," said David.
Mary Maini delivered a regulatory perspective from SIRA, highlighting that they are working with the data analytics centre and machine learning.
"We need to look at the future and what regulation will look like… Regulators will need to have a stronger capability in data analysis."
"There is a need for a focus on insights – look at patterns, trends and changes to make change. This is a common focus for actuaries and regulators"
Daniel Cooper presented on an opportunity Lorica Health saw in the industry. The business sells software products to healthcare payers that address fraud abuse waste and errors. Daniel also mentioned Lorica has always needed an actuary to build bridges between disciplines.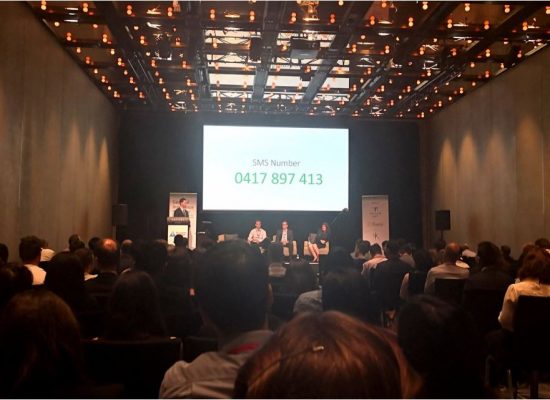 The Gala Dinner
The Gala Dinner was a chance to relax and share experiences from busy day of conferencing. On a beautiful spring evening at Jones Bay Wharf, delegates sipped and mingled on an open-air deck overlooking the harbour at Pyrmont.
Inside Doltone House, the James Bond styled room awaited. A 3-course meal was interluded by a dazzling light performance by robotic dancers and the presentation of some Awards.
The 2018 Actuary of the Year was officially presented to Ian Laughlin, chairman of OnePath Life, OnePath General Insurance and ANZ Lenders Mortgage Insurance, the Advisory Board of Blackhall & Pearl, and former Actuaries Institute Council member.
Ian reflected on his distinguished career, including that his first job after university he worked not in an actuarial department but in a job dealing directly with customers. He considered this had given him a great advantage in that he was always conscious that whatever work he was doing ultimately there was an impact on customers in some way.  He then drew a parallel with the critical need for the profession to place great importance on its duty to the community, particularly in the context of the Royal Commission.
Greg Taylor, Alan Xian, Benjamin Avanzi and Bernard Wong were awarded the Taylor Fry Silver Prize for their paper, judged independently as significantly advancing the profession's knowledge.
Thank you to our generous sponsors (Taylor Fry, Finity and SKL Actuarial) and the Organising Committee who worked so hard to ensure a fantastic GI conference for 2018!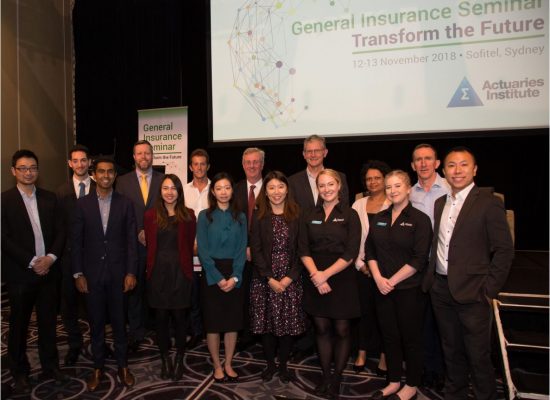 CPD: Actuaries Institute Members can claim two CPD points for every hour of reading articles on Actuaries Digital.