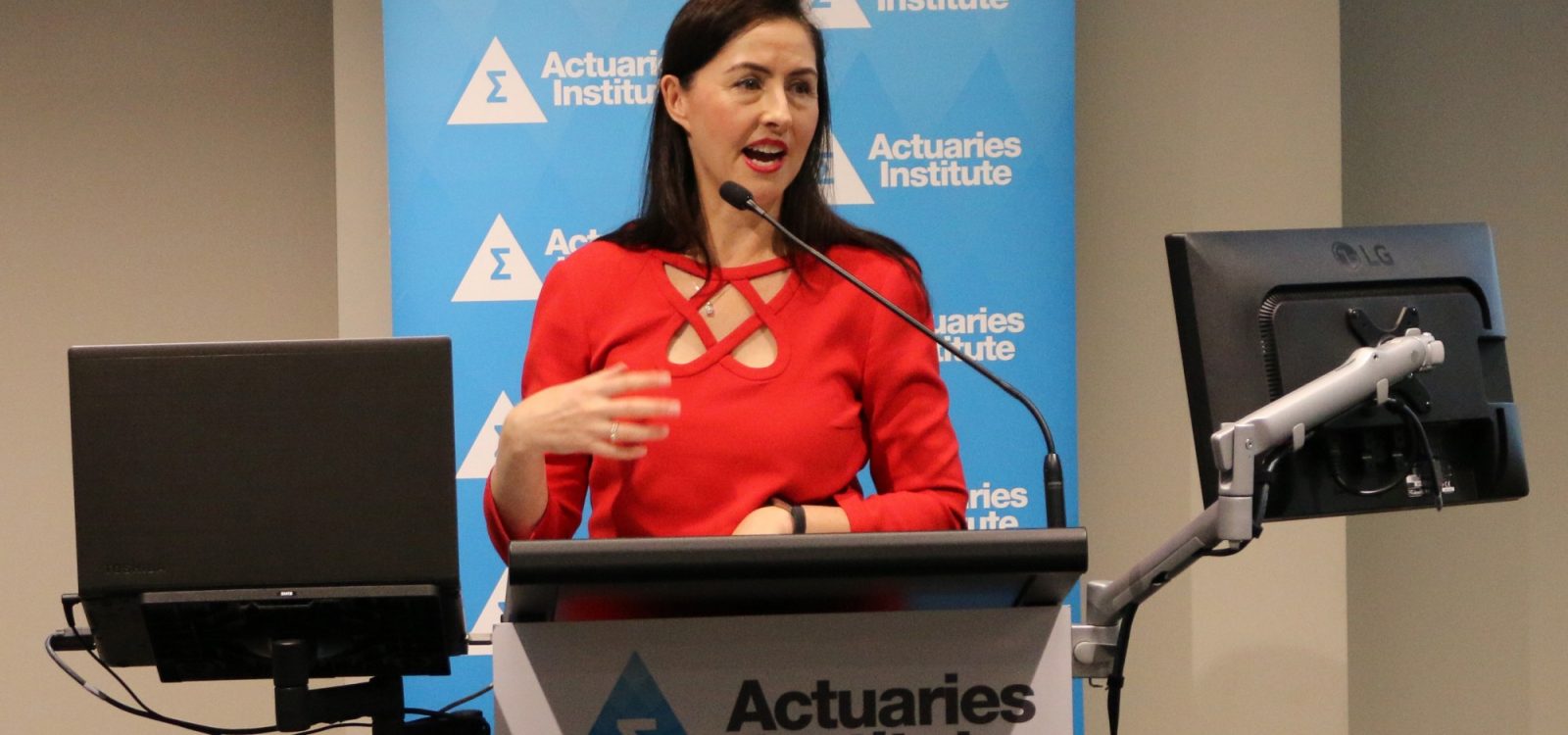 Interviews
Under the Spotlight – Annette King (Councillor)
Councillor Annette King describes herself as a leader, future-focussed, client and people-centred, change agent, energetic and authentic. Read about how all these qualities are reflected in her professional and personal journey as an actuary. 
My interesting/quirky hobbies… Travel, I love my exercise, I'm currently focussed on doing achieving the gymnastics/ballet "splits" again
My favourite energetic pursuit… Walking/hiking (I recently did a 35km charity walk), pilates, gym – I exercise a lot!
What gets my goat… Complainers: things do go wrong and/or can be improved – stand up and do something constructive and positive to make things better
I'd like to be brave enough to… Get a dog.  My kids have lived their whole lives in apartments in Singapore and HK, and they are so keen to get a dog now we are in Australia with a house and back garden! But I know who will end up caring for our pet…
In my life I'm planning to change... My house.  I lived overseas for 14 years, left with a baby in my arms and now have moved back to the same house with 3 big kids – so we need more room.
Not many people know this but… My family emigrated to Australia in the early 1800s via China, so my extended family's favourite game that all the Kings play when we get together is Mahjong! When I moved to Asia, this was a great point of connection.
I became an actuary because… It sounded like a good career, bringing my love of maths into the business world … and it also helped a lot that I had a scholarship with Colonial!
Where I studied to become an actuary and qualifications obtained… Macquarie Uni BEc, FIAA, FAICD
I am most passionate about… Making a difference.  Improving the quality of lives. Making things fairer.
What I find most interesting about my current role… I have a portfolio career.  It mostly focusses on designing and building future business models and everything that encompasses: including the client-centric proposition, profitability, the impact on the future of working, use of technology, crossing industry boundaries and cross-border opportunities.  I live in the innovation and strategy space, and I love it!
My role's greatest challenges… In my non-exec director roles, the governance challenges vary; but as a Director I am always conscious to ask questions or make comments in the right way, that gets to the heart of the issue, supporting management and yet challenging issues of concern. It's not easy and I learn every day. In my startup business, the current focus is to launch and rapidly expand the client base.
My proudest career achievement to date is… I am lucky to have many proud moments! I am very proud of my business results in all of my roles. But I am equally proud of the staff and ex-staff who push themselves and achieve more than they dreamed. And I have done some very interesting things for the community, such as creating a very large sponsorship program for the Angkor Wat half marathon, which 10,000 people from 80 countries run in … and whose charity is a hospital in Siem Reap.
10 years from now I will be… Mentoring young business leaders with insights about the journey of change that reinvented the insurance and wealth industry over the last 10 years.
Who has been the biggest influence on my career (and why)… The boss who gave me the opportunity to run my first P&L business at the age of 28. I was the youngest consultant in a team of 60, and I managed to turn around a 14-year loss into profitable business. I also have a mentor who used to be a peer to me, became a staff member of mine and for many years has given me good counsel on my career and life happiness. The actuary who has had the biggest impact on my career is Richard Shermon, an actuary from the UK who has been my boss in 3 jobs in 2 countries and is now my friend.
Why I'm proud to be an actuary… We do an important role for societal issues and business.  We make a difference. We are independent and have integrity.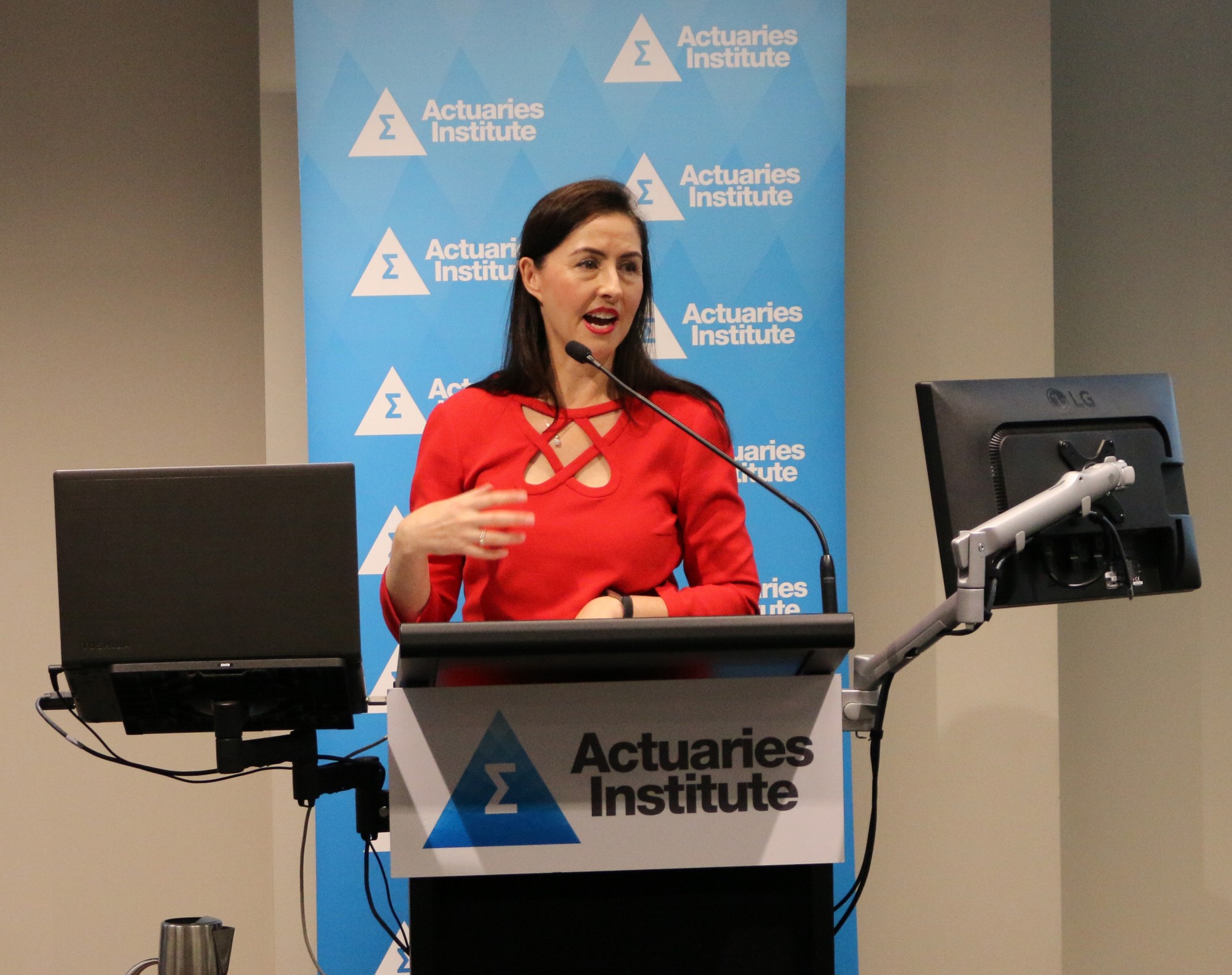 The most valuable skill an actuary can possess is… Communication skills.
If I were President of the Institute, one thing I would improve is… Promote actuarial skills to business and government, and to grow opportunities such as data analytics,
At least once in their life every actuary should… Go bungy-jumping! Only kidding (although I have done it).  I think every actuary should speak with their real end clients or users of their work.  It always bring amazing insights.
My best advice for younger actuaries… Work in as many different areas as possible.  That way you gain broader perspective (which you can apply in any role) and you also have the opportunity to work out what kind of work you love.
If I could travel back in time, I would… Go to my sister's wedding, which I missed.
When I retire, my legacy will be… Bringing insurance to hundreds of millions of people who don't have access to it today, who need and will benefit from it.
Actuarial capabilities I use in my current job… The actuarial control cycle, in wide business applications and especially in the innovation space.
Skills actuaries should enhance to become more effective in my field of work… Communication skills.
One of the most creative applications of actuarial capabilities that I have used in my career… Setting up Galileo Platforms, the insurtech business. It can really have a big impact by enabling better client experiences and connecting everyone in the insurance ecosystem. At the end of the day, we hope it will provide insurance to more people who need it.
The most interesting or valuable job or project I have worked on in my career and why… Growing the Manulife Singapore business. Driving a massive client centricity culture change program and client-centred strategy across 11 countries. Establishing Galileo Platforms.
How my skillset evolved over my career… I like the analytical and financial aspects of business, but I also love the creative element of design and innovation; and the people of aspects of business, with clients and staff.  So my career has focussed either on business leadership or client experience/marketing. It's always underpinned by the financials, but I do love creating new businesses or transformational change management.  Both require a lot of people skills.
The most challenging job or project I have worked on and why…     Turn-around situations are hard, but rewarding at the end. You can analyse why and create plans for what needs to be done .. but at the end of the day, you need to motivate people in a new direction. In a turn-around, you're usually starting from a negative position with demotivated or overworked staff.  So you need to energise them and bring them on the journey of change, celebrate the minor successes and keep building on that.  Putting energy into new creations is fantastic, and that's where I spend most of my time now … creating new business models and collaborations.
The advice I would give aspiring actuaries to be able to do my job..   Be creative. Be brave.
CPD: Actuaries Institute Members can claim two CPD points for every hour of reading articles on Actuaries Digital.