Read­ing time:
2
mins
Sarah Johnson, Scheme Actuary for the NDIS and the 2016 Actuary of the Year, explains what defines financial sustainability in the NDIS insurance model and the role of actuaries in maintaining it.
It was great to see so many in the audi­ence (66 at the Actu­ar­ies Insti­tute HQ and 80 join­ing us via webi­nar) on Wednes­day 22 March, to hear about the Insur­ance Prin­ci­ples of the NDIS.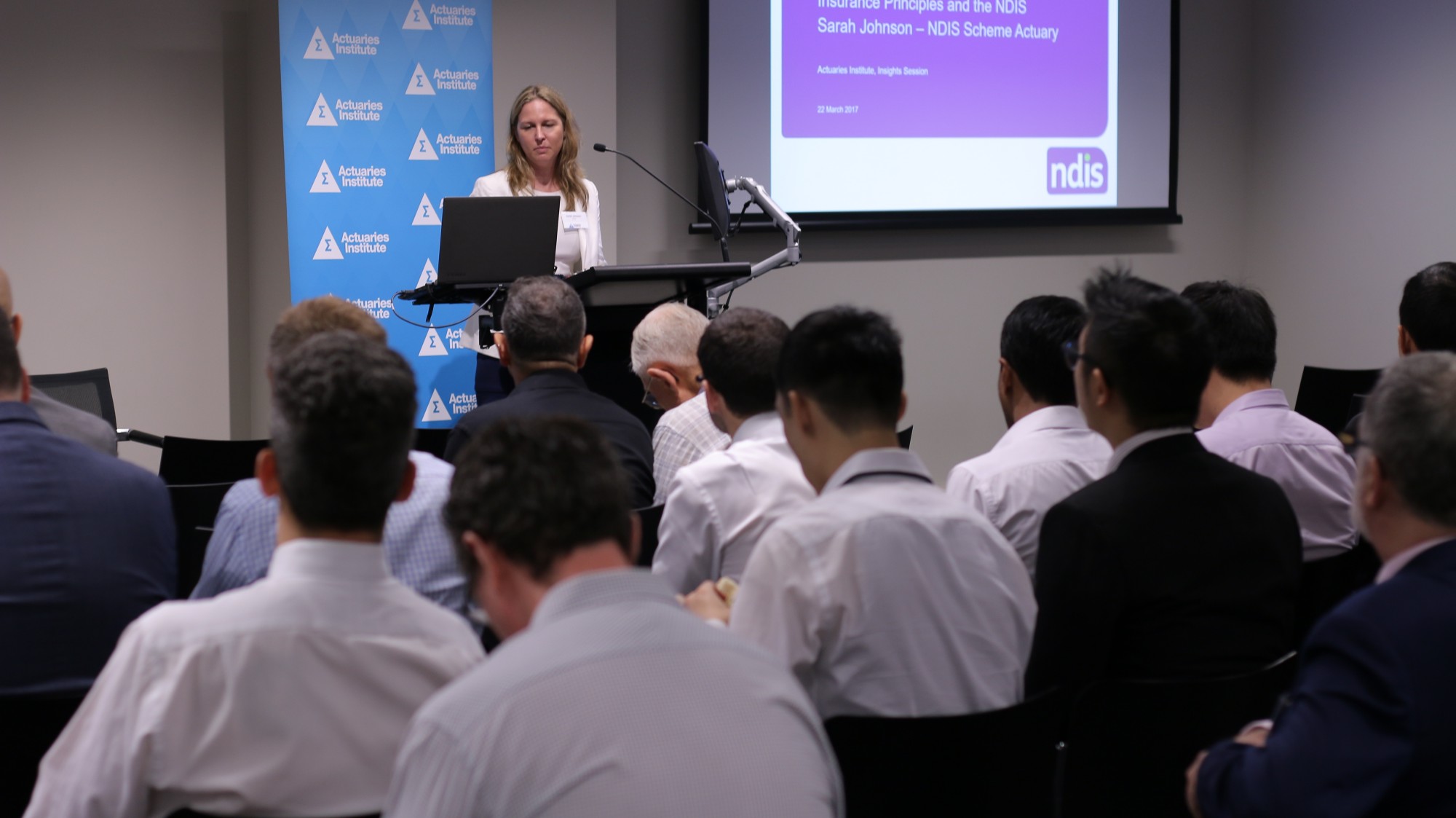 The NDIS is focused on life­time val­ue for scheme par­tic­i­pants, and seeks to max­imise oppor­tu­ni­ties for inde­pen­dence, and social & eco­nom­ic par­tic­i­pa­tion with the most cost-effec­tive allo­ca­tion of resources.
How­ev­er, to achieve its ambi­tious social mis­sion, and to con­tin­ue to be offered to par­tic­i­pants, the NDIS must remain finan­cial­ly sus­tain­able.
Finan­cial sus­tain­abil­i­ty for the NDIS is defined as the scheme being suc­cess­ful across a range of mea­sures, includ­ing:
eco­nom­ic and social par­tic­i­pa­tion of par­tic­i­pants
inde­pen­dence of par­tic­i­pants
par­tic­i­pants access­ing enough mon­ey to buy goods and ser­vices that allow them rea­son­able access to life oppor­tu­ni­ties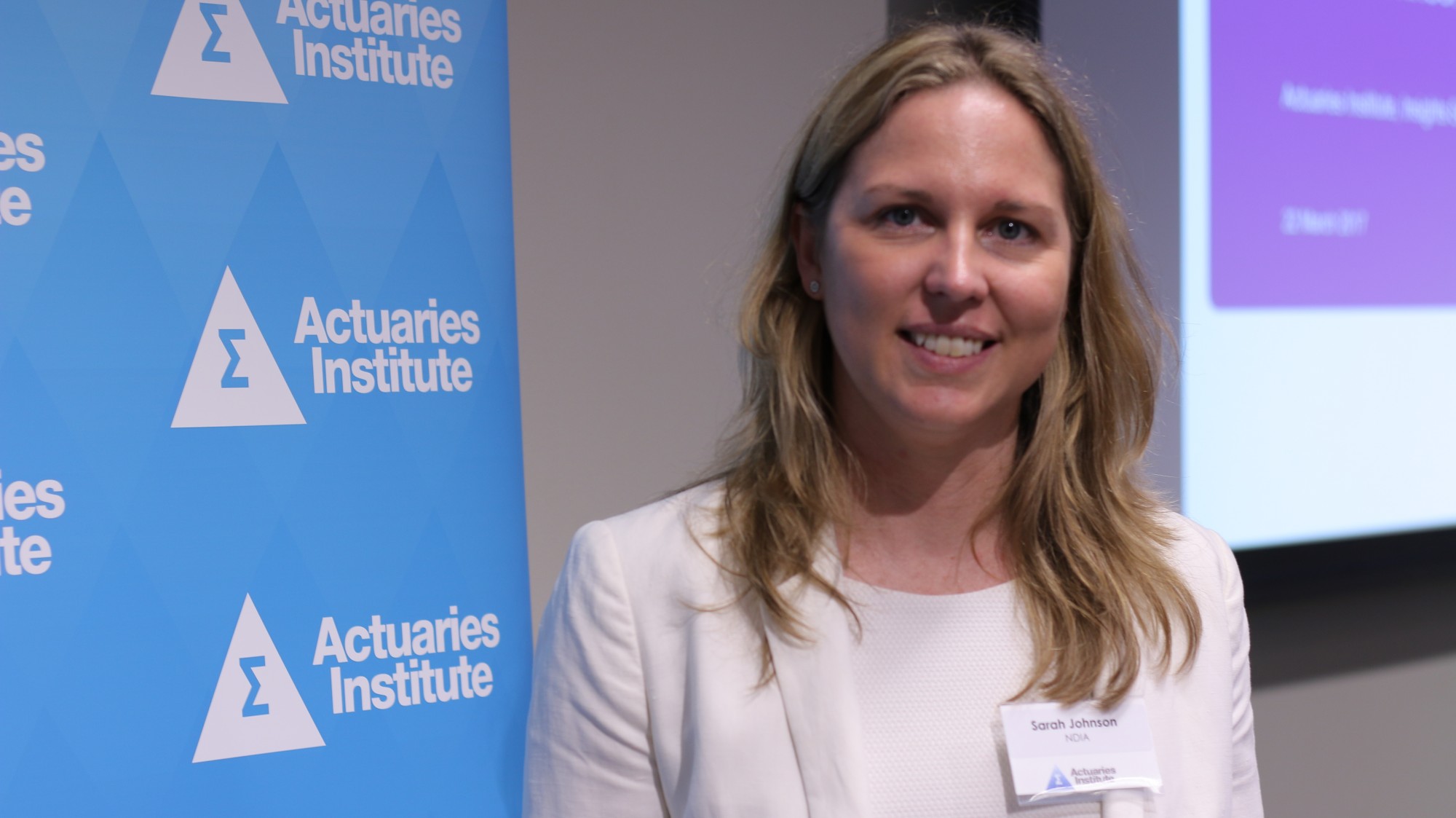 Finan­cial sus­tain­abil­i­ty also requires con­trib­u­tors to con­firm that the scheme is:
afford­able
under con­trol
rep­re­sents val­ue for mon­ey and that, there­fore, they remain will­ing to con­tribute
The Tri­al Scheme, which ran from 1 July 2013 to 30 June 2016, saw 30,281 par­tic­i­pants with an approved plan and $2.4 bil­lion com­mit­ted in plans.
The rev­enue received dur­ing the tri­al (from both the Com­mon­wealth and State/Territory gov­ern­ments) and the amount of sup­port used by par­tic­i­pants, result­ed in a small sur­plus (approx­i­mate­ly 1.5%) over the three years.
There are var­i­ous cost pres­sures on the scheme includ­ing:
High­er than expect­ed num­bers of chil­dren enter­ing the scheme
Increas­ing pack­age costs over and above the impacts of infla­tion and age­ing ("super-imposed" infla­tion)
Poten­tial par­tic­i­pants con­tin­u­ing to approach the scheme
Low­er than expect­ed par­tic­i­pants exit­ing the scheme
A mis­match between bench­mark pack­age costs and actu­al pack­age costs.
In response to this, man­age­ment have imple­ment­ed two spe­cif­ic ini­tia­tives; the Ear­ly Child­hood Ear­ly Inter­ven­tion (ECEI) approach and the ref­er­ence pack­age and first plan approach.
The ECEI approach is being pro­gres­sive­ly rolled out. The ECEI approach pro­vides a gate­way to the NDIS for chil­dren 0 – 6 years, which aims to ensure only chil­dren meet­ing the eli­gi­bly cri­te­ria for the NDIS enter as a par­tic­i­pant. The gate­way also pro­vides sup­port for chil­dren to access main­stream and com­mu­ni­ty ser­vices when they do not meet the cri­te­ria, but need some sup­port to access these ser­vices.
The ref­er­ence pack­age and first plan process is a method for bet­ter align­ing the lev­el of func­tion and need with sup­port pack­ages for par­tic­i­pants when they first enter the scheme.
The NDIS is pro­ject­ed to cost around 1% of GDP in the long term, for under 65 year olds.
The role of Actuaries
The aggre­gate annu­al fund­ing require­ment for the NDIS is esti­mat­ed by the Scheme Actuary's analy­sis of rea­son­able and nec­es­sary sup­port need.

The aggre­gate fund­ing require­ment com­pris­es equi­table resource allo­ca­tion at an indi­vid­ual and sub­group lev­el, and is con­tin­u­al­ly test­ed against emerg­ing expe­ri­ence.
This work is licensed under a
Creative Commons Attribution-NonCommercial-No Derivatives CC BY-NC-ND Version 3.0 (CC Australia ported licence)
.
CPD Actuaries Institute Members can claim two CPD points for every hour of reading articles on Actuaries Digital.