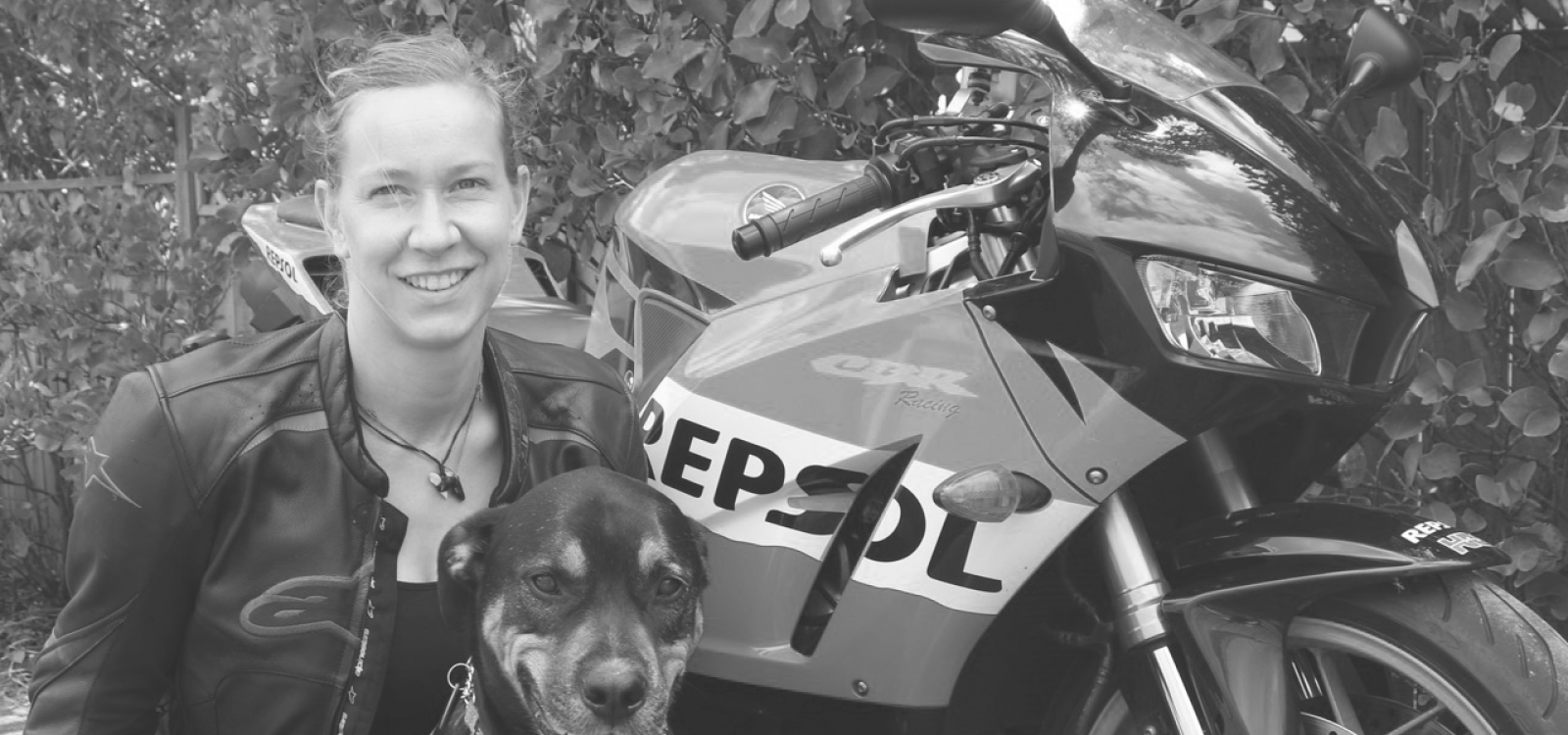 I am an actuary
I am an Actuary – March 2017
Actuaries come from all walks of life and the decision to study actuarial science comes at the most unexpected times. Martin Mulcare has prepared the most recent instalment of the I am an Actuary series following the Professionalism Course. Read about six actuaries who each have a unique story about how and when they decided to become an actuary.
Andrea Fuehrer 

Having grown up in East Germany by the sea I could never see myself tucked behind a desk in an air conditioned office all day. Yet, here I am and to my surprise it's not that bad. I was always good at science in school so it was a natural fit when I decided to study biomathematics at Greifswald University. This field of study combines mathematics, computer science and biology and I became very interested in the analysis of big biological datasets.
My Master's thesis took me to another university where I greatly improved my knowledge in the applications of mathematical algorithms and processes to biological questions, in particular in the analysis of genome evolution. The opportunities combining computer science and biology fascinated me and I ended up undertaking a PhD in Bioinformatics in Vienna, one of the most beautiful cities in the world.
After finishing my studies, I decided to give it a break and travel. Almost 10 years ago I arrived in New Zealand with a one-way ticket, 15kg backpack, no plans, foot loose and fancy free. I spent two years travelling New Zealand, working with horses, on farms and vineyards and managing a bar.
Eventually it was time to find something more befitting of my skill set and I started working as an Actuarial Analyst at Vero Insurance New Zealand with no idea what was about to hit me. Numerous exams with quite a few unsuccessful attempts later I feel very proud to have made it this far and soon to be an Associate Actuary.
I never fitted the 'typical actuary' character and I don't think this is likely to change. My passion is still with big data and data analytics which I try to apply in my daily job in pricing.
Cindy Vuong 
Ever since I was young, I wanted to do modelling. And that's exactly what I got from studying and working in an actuarial career.
For the past six years, I have been studying conscientiously with the goal of becoming an actuary. It's been a long journey with numerous challenges, but I have learnt a lot along the way and I am fortunate enough to have made many lifelong friends. I like how transferable the actuarial skillset is, especially when it is applied in meaningful ways to make large societal impacts.
Currently, I am working as a consultant at Deloitte. The work is project based and I often work on multiple projects concurrently. The work is interesting as it is often based on topical issues which you can often read in the newspaper about. Two examples are gathering feedback from stakeholders on a proposed biodiversity offsetting calculator and undertaking research on the potential societal impacts of Big Data. As a consultant, there in an emphasis on developing both my technical and soft skills. I am also fortunate to work closely with and learn from the more experienced senior members of the team.  
The future is exciting for actuaries, especially in the role we play in the dynamic data analytics industry. In my spare time, I am learning machine learning techniques which can help produce better solutions for clients.
After the exams, I look forward to having a long holiday this year in South America, as an unofficial initiation process to be a Fellow of the Institute of actuaries!
Daniel Beom Joo Lee 
After attending the professionalism course in Sydney recently, I guess I can now officially call myself an Actuary. Looking back, I think that I am quite lucky to be in this position.
As many others coming out of high school, I didn't really know what I wanted to do and had no clue what an actuary did. At the time of my placing my university preferences, I was obsessed with legal dramas such as 'Law and Order' and 'The Practice' and thought it would be a rewarding career – maybe I was struck by the glamour of TV. At the same time, there was an actuary I played soccer with who gave some insights into what an actuary did. Whilst most of what he told me went over my head and didn't seem as exciting as taking down a criminal mastermind, he made it sound interesting and the apparent respect for the profession drew me in. Fortunately, I didn't have to choose and I was able to study both at university.
I have had opportunities to experience a variety of roles already in my career thanks to this background. From volunteering at a legal centre, to assisting in drafting policy advice on superannuation for the Prime Minister, to my current position – working in pricing group life insurance at Hannover Re – I have been lucky to be exposed to a range of interesting projects.
In all of these roles, my actuarial and legal skills have both been valuable and I realise that great actuaries are not so different from those lawyers I idolised on TV. Maybe one day there will even be a TV series about exciting actuarial dramas. 
Eunice Ku 
My actuarial journey so far has taken some non-traditional turns. I completed a Commerce and Law double degree at University of New South Wales. When choosing my major, I was particularly drawn towards Actuarial Studies because I loved numbers (a typical reason) and the problem solving vigour. Let's just say it was a lot of hard work to complete both degrees with semi decent grades. Whilst at university, I worked as a paralegal for Avant Mutual Group, focusing on professional conduct claims, but I decided against pursuing a legal career.
After graduation, I joined the ANZ Bank Wealth graduate program, rotating across ANZ Private Bank and OnePath's superannuation and life insurance businesses. Whilst this wasn't an actuarial graduate program, it helped hone my communication, project management, business and strategic development skills.
I now work in Avant Mutual Group's actuarial team working on a claims coding project, developing a framework to capture and analyse medico-legal risk, claim outcomes and clinical data on medical indemnity claims. The project aims to generate insights and research into characteristics or risks in medical practice that give rise to claims, which will feedback into actions that help our doctor members practice more safely. As medical indemnity claims can operate within various legal systems and processes nationally, I utilise both my legal and actuarial training in the role, which is rather unexpected. I guess I can say I work in medico-legal analytics within general insurance – or just plainly say "I am an Actuary".
Kajal Pandya 
My entry to the actuarial field was not immediately after the HSC like manly other actuaries. I come from an engineering background. After finishing my bachelor degree in engineering and post graduate diploma in business management, I chose to build my career in life insurance. Further studies were not on my agenda until I reached a point when I felt that if I wanted to have a meaningful career, it had to involve something I always enjoyed: Numbers.
I found my passion for the actuarial field when I started working with actuaries on a specific task. I learnt that actuarial work was much more interesting than mine and if I wanted to enjoy my work, actuarial was the field to be in. I did not study relevant subjects in the past, which meant I was unable to get any exemptions. This was the biggest deterrent which was overcome when I compared it to a future that did not involve numbers or brainstorming. Understanding complex actuarial subjects was definitely challenging but it's amazing what you can achieve when you put in your best efforts. My willingness to explore my potential won over any obstacles that came along the way. After spending most of my working career in group insurance pricing, today I can confidently say that my seven years' investment in actuarial studies proved to be the best decision!
Finally some motivational thoughts for those still studying: Happiness keeps you Sweet, Trials keep you Strong, Sorrows keep you Human, Failures keep you Humble, Success keeps you Glowing, but only Faith keeps you Going! So have faith in yourself.
Sarah Park
If someone asked 'who or what inspired you to become an actuary?', my response would have to be 'Barbie'. After completing maths and finance degrees I had a choice between a role with an actuarial consultancy and a role with a toy company. The allure of the glitzy pink employment contract that arrived at my front door complete with a Barbie doll inside made Mattel the clear winner.
A year later when our Barbie contractor pulled out of a 'meet Barbie' event we were hosting, colleagues decided my blonde hair made me the best alternative. As exciting as it sounds, reading stories to 5 year olds in a shopping mall while dressed up as Barbie, it was in this moment that I realised that I missed the number crunching and wanted to continue the pursuit to become an actuary.
This, along with a desire to travel, saw me jump on a plane and head to Northern Ireland. Here I worked for Mercer completing pension valuations for UK, Swiss and Japanese schemes. Upon returning to New Zealand I made the switch into general insurance pricing and spent the last 5 years working for Suncorp. More recently my role was heavily focused on catastrophe modeling and earthquake pricing, an area I have since become quite passionate about. I have recently moved into a new role managing the pricing for Tower Insurance.
I had always thought of becoming an actuary as the end goal. However I have since realised it is only the beginning. I believe our biggest challenge as actuaries will be to continually stay relevant in an evolving environment.
CPD: Actuaries Institute Members can claim two CPD points for every hour of reading articles on Actuaries Digital.