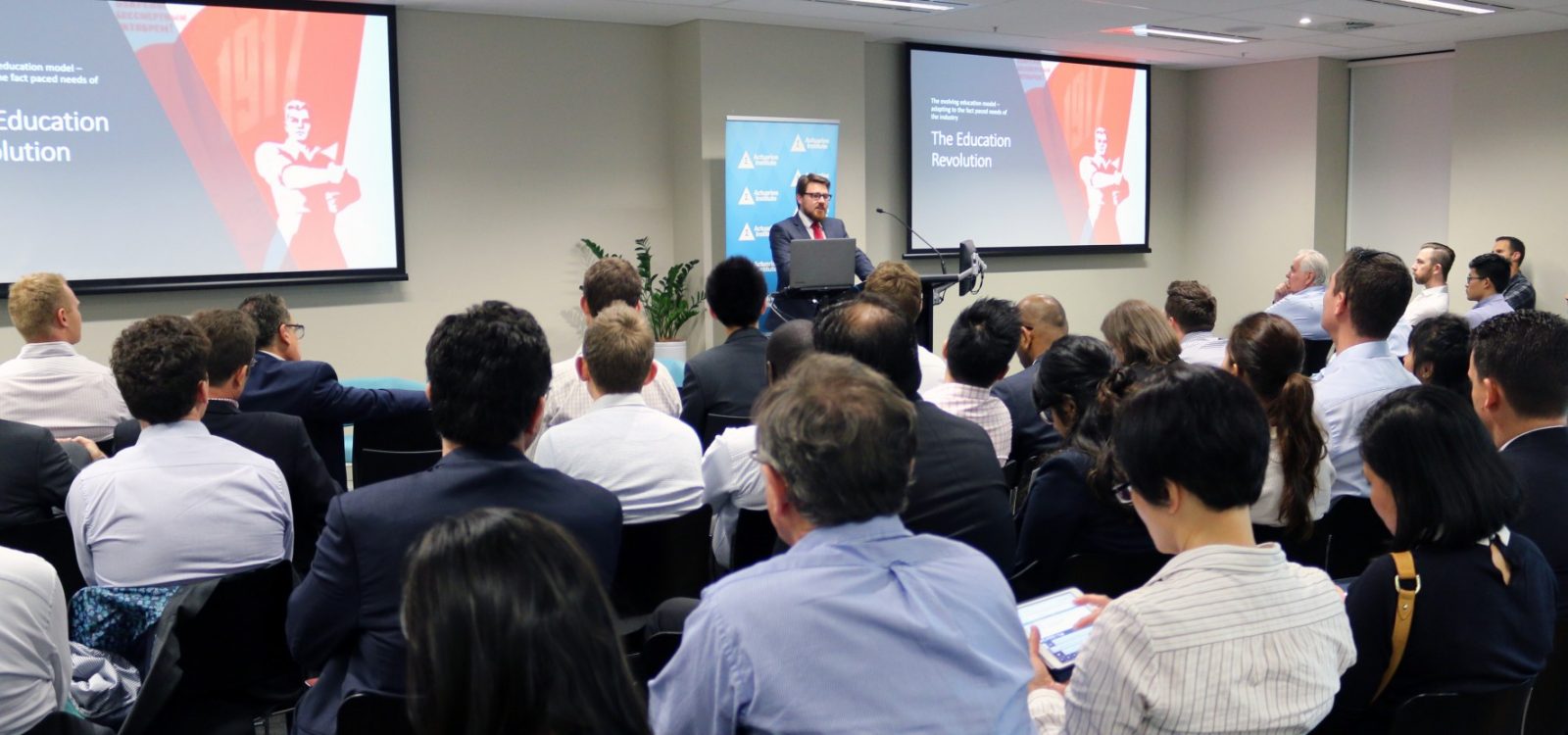 Event Reports
Data Analytics powers NRL plays, health reform and research – 2017 Data Analytics Seminar report
From determining game-changing NRL plays, to detecting fraud in Australia's $1 billion health care system, data analytics is a powerful force. At the recent Actuaries Institute Data Analytics Seminar, attendees were challenged to think "beyond the data science bubble" and find ways to harness their existing skills in the exciting world of analytics. Michael Storozhev reports.
Two Plenaries at the Institute's sold out 2017 Data Analytics Seminar  showed that actuaries need to be open to ideas and push themselves to stay relevant through continuous self-directed learning.
One of the most exciting prospects for actuaries is how far analytics has come in the last few years. Plenary Three introduced happenings in other industries, and looked to them to show where actuaries can expand their horizons when looking for new techniques and career prospects, outside the financial services industries.
NRL DataJam
Tatia Rashid from Quantium gave an account of Quantium's recent foray into the NRL DataJam held earlier this year. The DataJam was a competition run by the NRL that pitted 10 of Australia's leading analytics teams against each other to solve actual on and off-field problems using the huge game data lake available. It was the first  time in NRL's history that this data had been opened to such scrutiny.
I was genuinely surprised to hear the teams were presented with a dataset of 10,000 events for each match, and expected to provide insights that same day. Tatia described the problems tackled by the Quantium team, including game strategy, recruitment optimisation and fan engagement.
From an actuarial standpoint, it was encouraging to see the techniques for recruitment optimisation were closely aligned to insurance pricing, with very similar GLM techniques utilised to compare players. However, Tatia also discussed techniques developed for American Football that modelled in-game strategy for the DataJam. Using a "next best action" EPA model, the Quantium team proposed strategies to handle fifth tackle decisions, explaining why a well-timed 40-20 kick can be a game changer.
Overall, Tatia gave great insights into how to adapt existing techniques and models for new uses, and well done to Quantium for gaining second place in a tightly contested day!
Data detecting fraud in $100 billion health sector
Plenary Three continued with Lorica Health's Chief Executive Officer, Dr Paul Nicolarakis, outlining how big data and analytics are transforming the world of health care. Dr Nicolarakis explained the history of research and innovation that underpins Lorica Health, allowing it to utilise automation to detect fraud, waste and errors in Australia's $100 billion health sector. It was fascinating to learn about the unique partnership model between Lorica Health, the Government, Universities and Industry that provides PhD students access to industry expertise,with an aim to solve social problems. This research allows Lorica Health to pin-point where cost savings could occur, what unnecessary procedures and medication exist, and how lax risk management costs the industry.
"I was shocked to learn the industry acknowledges that over 20% of surgeons do not wash their hands between procedures on different patients."
A key takeaway for actuaries was that most of the students working with Dr Nicolarakis had a strong technical background, but were also exposed to domain knowledge through interaction with the industry. Such an insight is important as it provides confidence to actuaries, that we will always find ways of using our existing skills and training.
The Education Revolution
Actuaries seem to have a steadfast question about how different data science techniques can apply to their own experience and skills. Plenary Four looked to answer this question by considering how education can keep up and stay relevant with the needs of the industry in such a fast-paced field.
I kicked off the Plenary with a  view on how much the analytics space has changed in the last five years. Through new industries, challenger brands and a greater focus on finding value in data, there has been vast growth in the demand for technical data capabilities.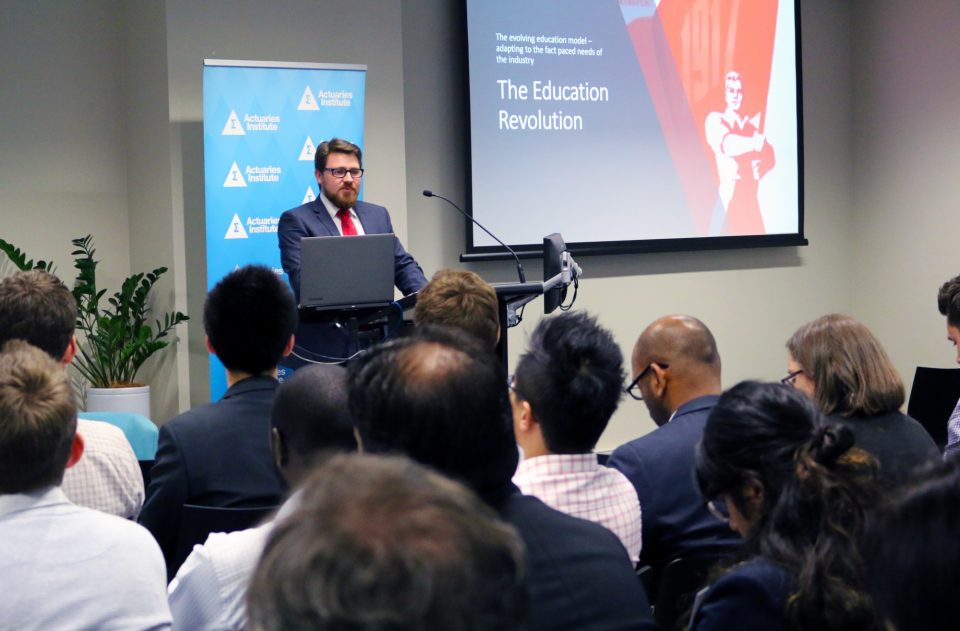 A shortfall of nearly 1.5m million jobs globally in this area, is forecast next year. Excitingly, this provides excellent opportunities for actuaries who already have the technical expertise the industry is seeking.
The formal education sector has evolved to try to meet industry demand with almost 100 different degree options created for post-graduate data science study in Australia, yet neither universities or the industry seem to know what they are looking for from a 'Data Scientist'. In my presentation, I  stressed the need for more self-directed learning through individuals utilising the huge eco-system of online courses, tutorials and resources available, to bridge the skills gap.
Door open to research students
Dr Doron Samuels continued the Plenary, explaining the growing collaboration between universities and both public and private sectors. Such collaboration is essential to ensure academic research is relevant to industry and university graduates can hit the ground running.
Dr Samuels, already an industry leader in behavioural science, also explained his current research project at the University of Sydney, where he is the eldest PhD student. His research looks to bring behavioural economics into insurance, using personality factors in underwriting in travel and life insurance, the impact of legislative change on the CTP scheme, and quantitative models for mental health underwriting. Dr Samuel's perspective was extremely valuable for actuaries looking to engage universities to undertake collaborative research. Confidentiality, IP, and ethical issues are all easily resolved, and companies get access to doctoral students that are usually the youngest and brightest in the country to solve some of the industry's hardest and pressing questions.
The Plenary sessions I've discussed in this article should bring confidence to actuaries looking to expand their career in data analytics. New and exciting data techniques being used in a wide range of industries can often easily be adapted to the finance and insurance companies, where actuaries primarily work.
With such a strong technical skill-base, actuaries will always bring value to the wider analytics profession. However, it is up to all of us individually and as a profession, to learn to translate our actuarial terminology and techniques to the data science industry and be open to knowledge and exposure in different fields.
CPD: Actuaries Institute Members can claim two CPD points for every hour of reading articles on Actuaries Digital.