Puzzles (The Critical Line)
The Critical Line – Volume 35
Go in the running to win a $50 book voucher in the first volume of 'The Critical Line' for 2021!

The Black Squares
By solving the actuarially-themed cryptic clues and arranging them in the grid, correctly identify the extra black squares needed to complete the crossword.
Guidelines
Clues are unordered but categorised by direction (across/down)
The solution to (a)-Across spans from A1-O1
Not every clue solution is specifically actuarially themed
Problem
Clues
Across
A. Fabricated FBI fees intended predetermined payments (7,8)
B. Monitors what (l)-Across does? (9)
C. Sweatier substitution, so to speak (2,2,4)
D. Brown Gaussian leader has zest (4)
E. Random. Saint love lightspeed has endless tick (10)
F. Directionless Aus is a precious metal (4)
G. Bananas bare iron is like COVID transmission? (8)
H. A former President starts hackathon outdoor affairs with some builders (3,3)
I. Hammered Herculean shin at Medicare (6,9)
J. Bill butcher bet 500 (4)
K. The most stylish I established after rating (9)
L. Authority of scrap rations (abbrev.) (4)
M. Imagine I eat inside delta and epsilon (6)
N. Molybdenum houses troubled torn lace simulation (5,5)
Down
A. Premium heart at hothead such as algebra, calculus etc. (4)
B. The Institute of even piñatas (abbrev.) (3)
C. Tin team leader greeting eye corners (6)
D. Half the finances left the end (5)
E. We are after an endless module. Like | z | (7)
F. Target date of French time. Such as x=y (8)
G. North-East rising register to enroll (6)
H. I left receipt with the French after current container (10)
I. Superannuation Guarantee in tatters. What a Fellow can do? (4)
J. Loud wind is 50/50 (4)
K. Online education holds a necessity (4)
L. At present, back after immense, large sets (3,4)
M. The Author deals dreadfully (5)
N. Ominous oar is a return on asset (abbrev.) (3)
O. About a 5 and 2.71828… To plunder (5)
P. Population studies massaged mode and chart with an unknown quantity (10)
Q. Spurious sense sec cores (8)
R. Each Thursday in quarantine dining? (3,2)
General Cryptic Crossword Conditions
Crossword grids are 180 degrees symmetrical

I.e. if there is a 6-letter down word from A1-A6 there is a corresponding 6-letter down word from O10-O15

Unless on the edge of the grid, there is a black square before/after the first/last letters of each word

I.e. A7 and O9 would be black squares in the first example

Clues are twofold: Either the first/last part is a synonym of the solution, and the remaining words make up the solution in some other cryptic way

E.g. Clue: Former broken lied is outcast. Solution: EXILED. Reasoning: "Outcast" is the synonym. "Former" means "ex", and "broken" infers to rearrange "lied" which together gives "exiled".
Sample Crossword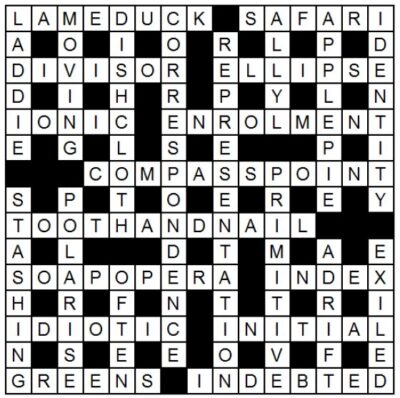 CPD: Actuaries Institute Members can claim two CPD points for every hour of reading articles on Actuaries Digital.