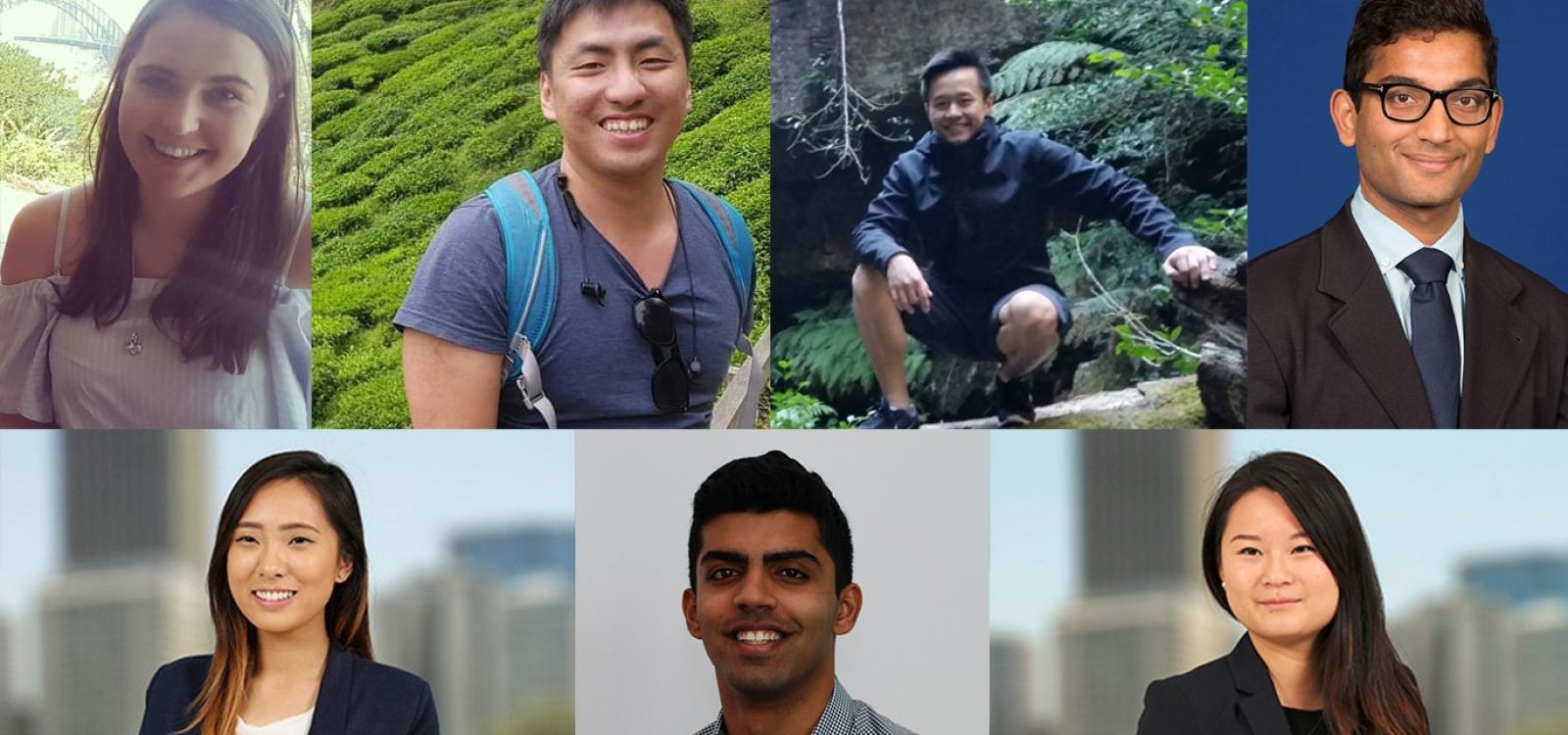 I am an actuary
I am an Actuary – February 2019
Actuaries continue to work in various different fields, delivering valuable insights for businesses and society. Here are the short stories of seven young actuaries who are inspired by their roles and community.
Alex O'Connor
Explaining what I do to family and friends is always a struggle. People are suitably impressed when I say I'm an Actuary, but quickly follow up with the question "so – what do you actually do?" My Mum thought of it as a form of specialised Accounting and continued to ask me up until a few months ago, "what happens if you don't pass your exams? Can you still qualify as a normal Accountant?" Thankfully she finally understands they're different professions. (I think…)
I'm fortunate enough to work in the Government and Public Sector (GPS) Actuarial team at EY. The application of Actuarial skills in so-called non-traditional areas is becoming far more common, with the reputation and awareness of our profession improving over time. We still need to continue to work to challenge the perception of an Actuary's role – there are so many fields and problems where we can add value, it's all about increasing understanding of our skillset.
In GPS I've had the opportunity to work with a range of Local, State and Federal

agencies and departments across Australia and overseas. With experience across Health, Human Services and Justice, I gain personal fulfilment knowing that I can use my technical abilities to improve outcomes and experiences for some of the most vulnerable in our society.
In my spare time I love to travel and my meagre leave balance sure does reflect that. For four of my Part III subjects, I was overseas less than a month before the final exam (three times in Europe, once in the Middle East for work). I still managed to pass all four exams, so my advice for those still going through it is…. it's all about balance!
David Tran
I was five years old, sitting on my porch on a nice breezy day. I still clearly remember the pure excitement I felt as I disassembled my little brother's broken Transformer toy and fixed it. While other kids enjoyed playing in the sandbox, I had an uncanny curiosity for exploring how things worked.
As I got older, I explored a broad range of activities such as Maths Olympiads, debating and even created my own little app which allowed classmates to IM. Naturally, my curiosity for new concepts and ideas in the logic space grew.
Unfortunately, my awareness for available careers didn't grow as fast. Having no clue what I was going to do, I asked my career adviser what was the most challenging course. Ignoring all her very valid cautionary advice, I started my journey as an Actuary.
I quickly learnt the importance of patience and perseverance to succeed in exams and

realised how relevant it is in all other aspects of life.
After the trenches of University, I was fortunate enough to land a graduate role at KPMG. Being involved in a variety of projects, I had the opportunity to explore recommendations and clearly communicate this to clients to solve their real-life problems.
Outside of work, I am an avid board gamer and I like to keep active at the gym. I enjoy travelling and seeing what the world has to offer, which requires a balance which I've been lucky to have.
As I proceed further in my actuarial career and continue to meet and learn from those in the profession, I am pleased to say that I feel privileged to be part of such a distinguished profession and community.
Doris Kong
From a very early age I knew mathematics was clearly one of my strengths. Not only would I be able to solve complex numerical problems but I would actually enjoy it. So when it was time to decide on my university degree, my career counsellor didn't hesitate to recommend the Actuarial Degree at UNSW.
A majority of my work so far has been in a wide range of non-traditional actuarial areas. During my penultimate year I secured a vacation role at Westpac and then a graduate position at Deloitte. I've been involved in building retail credit risk models, various trail commission valuations, a retirement pension payment scheme for an overseas government, the development of the in-kind program at NDIA, a data analytics project to extract and transform the telematics data from several logistic transport companies, and recently, a large-scale Successor Fund Transfer implementation project.
What I have found valuable throughout these projects is being able to consistently apply the actuarial professional principles to deconstruct any uncertain financial/non-financial problem into manageable tasks and solutions. They may not have all required traditional actuarial calculations but I would find myself applying the Actuarial Control Cycle and the Code of Conduct in many of these situations.
Outside of work I've been bitten by the travel bug and love a good hike/camping trip – Laos (volunteering), Nepal (Everest Base Camp), Peru (Inca trail), Argentina (Patagonia trek), Mt Kozzie (hike), New Zealand (Roys Peak, Tasman Glacier hike). It is just a matter of time before I combine both of my passions and pack up my bags to work as an Actuary overseas. Hopefully I can tick this off in the next two years….
Samantha Li
In high school, my unspoken dreams were to open a cake shop or become a translator. I just assumed my maths genes were a natural gift from my parents and never considered it for use in a career path. However, it was what I eventually landed with.
Before I started the Actuarial course at university, I was worried that I would be surrounded by 'geeks' and be rejecting my more creative /outgoing side. Now, six years from that time, I have finished my tertiary degree in Actuarial Studies and I am studying for ERM – my last subject before qualifying.
Needless to say, going through the study pathway was a big commitment but what made the journey worthwhile was the friends that I have made along the way. I have also appreciated the amazing support and inspiration from mentors, colleagues and managers at work which may be harder to find in other professions.
I started my graduate position at Deloitte and I have since moved to Group Pricing at AIA. It's an interesting time with all of the Royal Commission and Budget changes. Currently, I am a member of the team tendering for one of our big Group clients. It's rewarding to be a part of these large-scale projects which require co-operation from many business functions. Most of all, it's insightful to see the actuarial profession play a core role in the project. This helps me to gauge what kind of professional I want to be in the future.
Finally, if you're wondering, YES, I still do bake but not for the general public. It's solely to satisfy my sudden cravings (and yours if we are friends!).
Saurav Acharya
Like most actuaries, growing up I knew I loved numbers. The process of working away to arrive at a final solution compared to the relative ambiguity that was present in humanities subjects cultivated my strong passion for mathematics. After discovering in high school that I did not enjoy physics and that I had an aversion to blood, engineering or medicine were ruled out as viable career options. My inspiring year nine maths teacher was the first person to recommend pursuing a career as an actuary and I never looked back.
I completed a Bachelor of Commerce, majoring in Actuarial Studies, at the University of Melbourne and was lucky enough to get an internship at Quantium. I took up a graduate position there and, four years later, I'm still at Quantium working in the Banking and Wealth team. My role involves providing insights into customer behaviour and delving into various predictive modelling cases in acquisition and risk.
Although I primarily work in data analytics and I have never done any traditional

actuarial work, studying actuarial was the best decision I could have made. One of the earliest definitions I heard was that actuaries combine technical rigour with commercial acumen to help businesses assess the financial impact of risk. This is exactly what I do on a day-to-day basis and I think moving forward there will be a lot of demand for professionals who can combine the skill sets of an actuary and a data analyst.
I'm excited by the possibilities in the future as companies around the world increasingly turn to data to drive outcomes for their business – and for society in general.
Zhi Feng
The first time I heard the word 'actuary' I was in high school when our maths teacher brought her daughter's old university workbooks for us to use as scrap paper. The maths on it was incomprehensible to us but it did pique my interest, at least until she told us how her daughter had to go through gruelling eight hour exams… Still, years later I would do the same myself and eventually prevail. I would also find out what a small world the actuarial profession is – her daughter turns out to be the Scheme Actuary of NDIA!
I joined EY as a vacationer and I have been working as a consultant in the general insurance team since graduation. I enjoy the challenge and the variety of projects I am exposed to as a consultant, from government scheme reforms to valuations for large corporate insurers. I have also gained experience in a range of non-traditional work such as data analytics and visualisation.
Outside the office I've taken up solo backpacking to take my mind off work and studies. It was very difficult at first – think street food, cheap hostels and rural villages off the beaten path with no tour guides. It also meant living out of a carry-on sized backpack, but now I can't imagine travelling any other way. After finishing my exams I'm taking a couple months off to backpack all around South East Asia and I've started a YouTube channel to document my adventures (I have just come back from Myanmar). Please check it out and subscribe if you're curious about travel in Asia: https://www.youtube.com/c/poormansbackpack
CPD: Actuaries Institute Members can claim two CPD points for every hour of reading articles on Actuaries Digital.