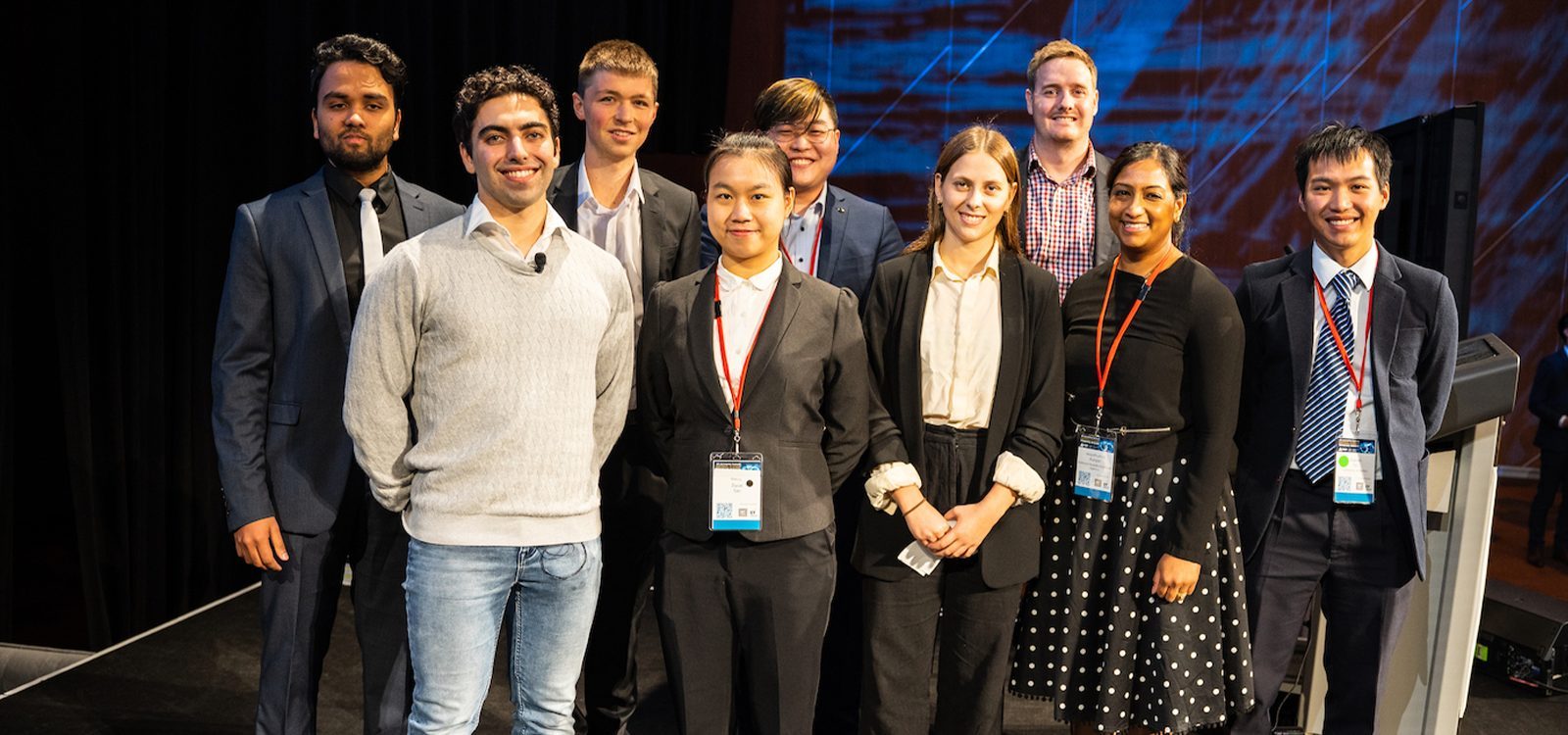 2022 All-Actuaries Summit
How profound ideas and radical actuaries can save the world
Five teams of young actuaries competed for the title of the most radical actuary at this year's All-Actuaries Summit. Not only did actuaries present compelling ideas, but showcased the amazing talent among our younger generation.
We like to idolise those who truly make a difference in society. Whether they make a positive change in the world, prevent disaster, or show bravery in the face of immense challenges, they all deserve the title of hero. But many times, we tend to forget those not on the frontlines who are making a difference through their own unique talents.
It's something Deloitte Actuarial Analyst Ruby Smith has been thinking about for some time. Presenting at the Summit's Radical actuaries and how they'd save the world plenary session, Ruby made a compelling and convincing argument as to how everyday actuarial stars can make a difference towards climate change.
It was such a compelling idea that it won over audiences and landed her the title of the profession's most 'Radical Actuary'.
How can actuaries help prevent climate change?
Ruby kicked off her presentation with a simple idea: you don't need to be a superhero to make a change.
"Not all superheroes wear capes," she said. "Some wear suits in a tie and sit behind a computer screen for eight hours a day," she said.
"Collectively using our skill-sets and putting our brains together we have so much power to contribute to solving one of the most complex and alarming problems of our time climate change."
Ruby proved actuaries can make a difference by outlining her global solutions to tackle climate change.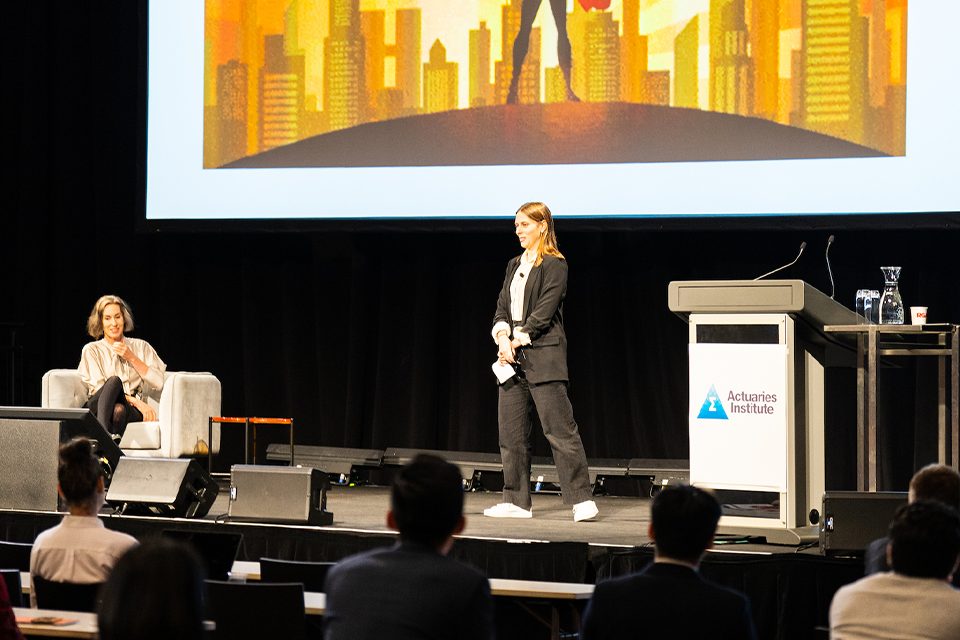 This included a more sustained effort in preserving coral reefs. Ruby said actuaries can use their unique skills to predict damaging weather events such as cyclones which are becoming more severe due to climate change.
"Coral reefs naturally protect the coasts from tropical cyclones. As global temperatures rise coral reefs are bleaching and dying, and as such cyclones are becoming more and more severe," she said.
"Instead of using our skill set to model or you know assess the increasing severity of cyclones over time…let's also use our skill set to measure the impact of preserving that coral reef."
Ruby also suggests helping the energy sector in an orderly transition to renewables. But she said there is still uncertainty about the success of batteries and Australia also doesn't have the transmission line infrastructure to supply the energy across the country.
Despite those challenges, actuaries can still play a role in assisting energy providers.
"Actuaries can assist here in managing these risks and uncertainties as well as assist in modelling an efficient transmission line network that will minimise power losses and also costs," she said.
But where actuaries can uniquely add value is through investments.
With the upfront costs associated with the transition to renewables prohibiting and expensive, energy providers are struggling to provide green solutions. Ruby said superannuation funds can create new options that focus on investing in renewable energy investments.
"Actuaries can assist in creating an investment option within super funds where a member can allocate a portion of their portfolio to the start-up costs of renewables," she said.
Ruby said those who invest their super will be able to track their investment and feel like they are truly making a difference.
"It will also be really beneficial for funds as they are trying to tackle the problem of ESG at the moment," she said.
"Limiting the effects of climate change will reduce the cost of living as prices rise immediately after a natural disaster hits. Limiting the effects of climate change is necessary to achieve sustainable development and equity."
Ruby was announced the winner by Naomi Edwards and Jeffrey Chan after an audience poll.
Radical ideas and persuasive arguments
While Ruby clinched the win, four other teams provided compelling ideas that could dramatically disrupt we way we think and learn.
This included team 'Actuaries Assemble' from the Australian National University Actuarial Society which showcased their app InsureGig. The app can calculate superannuation and insurance products which will benefit the huge number of gig economy workers who are poised to outnumber traditional full-time workers.
The product provides a user-friendly interface to policyholders and allows them to contribute towards their superannuation and paid leave insurance through the app.
The app also included product insurance for lost or stolen goods that gig economy drivers would normally have to compensate out of their own pocket.
Their idea was presented at the recent Innovation Challenge where they were crowned 2022 winners.
The team included Nagulan Gnanavel, Suvitti Deo, Nancy Ziyue Tan, Soohoon Lee and Cameron Fidge.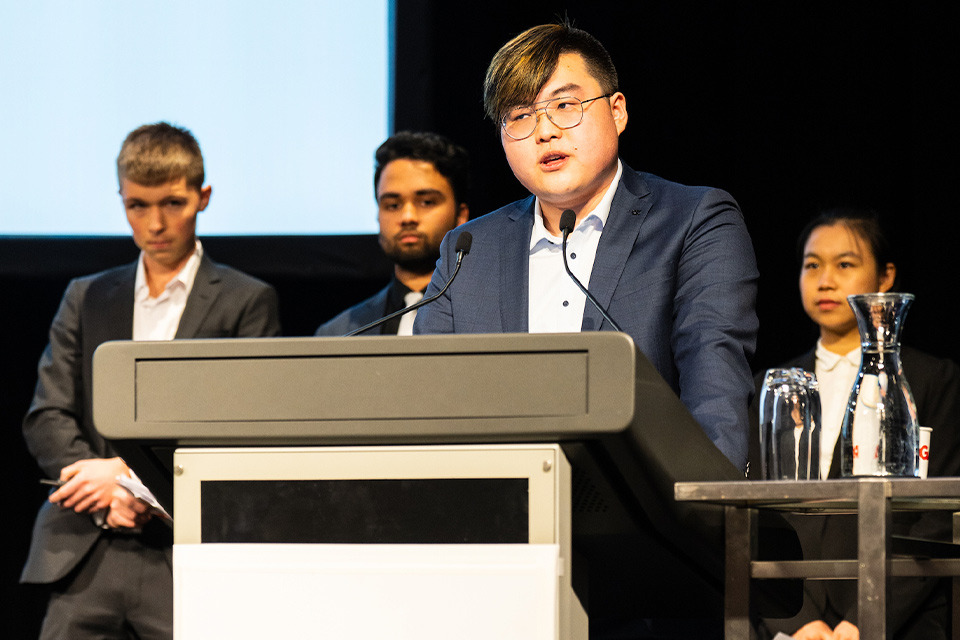 Duncan Clarke and Maathu Ranjan from the National Disability Insurance Agency (NDIS) then pitched their 'Radical Government Policy' idea which showcased a 'whole of life approach to government service provision'.
Their solution included building a 'gigantic, colossal model on government service provision' aimed to help the most vulnerable members of society without inflating the cost-of-service delivery.
This model can provide a clear map of the interconnectivity between different government services at all levels of government. It can also allow agencies to understand, capture and then predict the expected support needs of every individual in the country from cradle to grave.
Garvin Tso continued the pitches with his idea of taking on superannuation and pensions via the use of salary sacrifice. 
As the Australian superannuation system undergoes reform and greater regulation as a result of the royal commission, many funds are looking at ways to ensure they remain compliant while also providing their members with better investment outcomes.
Garvin proposes screening and cost optimisation tools that allow funds to see how their marketing campaigns and member engagement activities can be optimised to provide the best ROI for members.
For the final pitch, actuary Marcus Stavrakis presented his idea 'Space! The new frontier for society.'
In a very colourful presentation, Marcus outlined how space debris may one day prevent us from leaving earth. His plan to avoid crashing into space junk? Actuaries would be responsible for pricing a new satellite through a cost or tax that can be divested into a fund specifically designed to fund research and development in removing debris.
Marcus said actuaries can also calculate risk premiums, correlation risks as well as the distribution of potential costs by funding industries that are specifically designed to prevent more space debris to be generated.
CPD: Actuaries Institute Members can claim two CPD points for every hour of reading articles on Actuaries Digital.