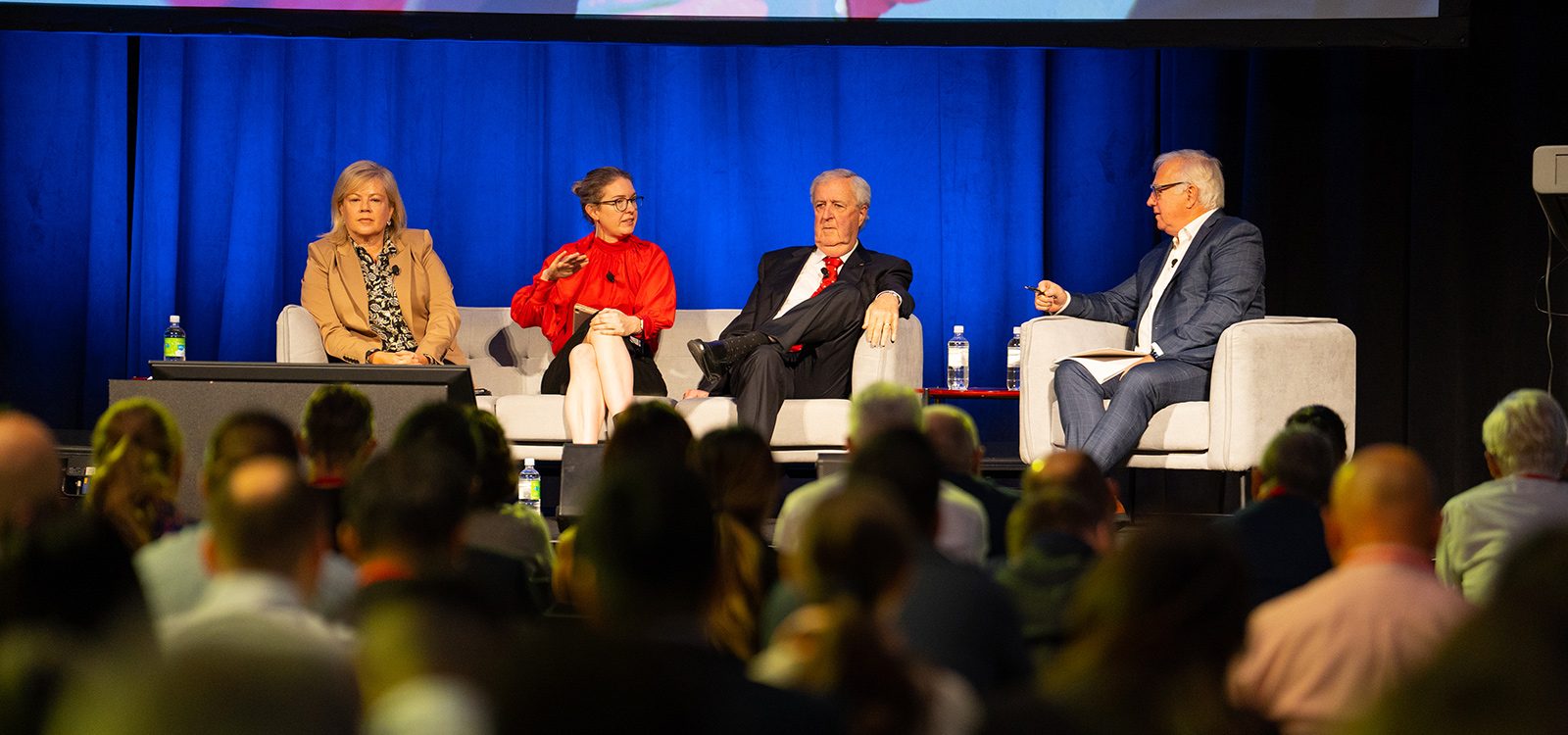 2022 All-Actuaries Summit
Inequality, sustainability, activism: Why capitalism may be failing us
In the first week of May 2022, the Actuaries Institute welcomed hundreds of its Members, guests, and speakers to share their ideas and insights at the All-Actuaries Summit in Melbourne. The Summit's opening plenary primed audiences with a rousing discussion on a very big, complicated, and divisive topic: what has capitalism done for everyone lately?
Since its inception and adoption, capitalism has brought about unmatched growth and wealth across almost every developed country. Not only has it brought prosperity but is a key promulgator of democracy – a much fairer and sustainable system of government.
But in recent decades, the cracks have begun to show. Environmental degradation, inequality, tech monopolies, and corporate short-termism are beginning to dominate the narrative. Coupled with corporate activism and the public's distrust of powerful institutions, many are wondering how can it have gone so wrong?
To delve into the heart of the question, a panel of some of the most forward-thinking experts in the economic space shared the stage to discuss this topic to open the Summit.
The Institute assembled a star-studded panel for the opening plenary to root out the causes, challenges, and potential solutions to help fix what was once believed to be a truly dynamic and fair system. The panel included:
Chair: Alan Kohler, Australian financial journalist

Ian Macfarlane, Australian Economist and Central Banker

Sir Paul Collier, Economist & Professor of Economics at Oxford

Danielle Wood, CEO, Grattan Institute

Rebecca McGrath, Chair, OZ Minerals.
The following is an overview of the session speakers, including the opening address and welcome to country ceremony that opened the Summit.
Welcome to country and opening Presidential Address
The sessions began with an extraordinary welcome to country ceremony and was followed up by Actuaries Institute President Annette King, who officially opened the 2022 All-Actuaries Summit.
In her address, Annette called on delegates to seize opportunities, have courage and use data for good. She urged everyone to do this not just as a one-off, but every day.
"How we add value is this: actuaries use data for good," she said.
"In your role, in your daily lives, you may see an opportunity worth grabbing or something that could be done better you might see an unmet customer need or something that a business needs to solve."
Annette went on to encourage actuaries to pursue all avenues of industry and find those new opportunities.
"We simply need actuaries in all facets…to be heard, to seek out new opportunities confidently, and to talk with pride about being an actuary wherever you are in your career and to talk about using data for good," Annette said.
"We need you to bring your fearless best to every interaction, every engagement, and every decision. Now is our time let's have the courage to extend ourselves individually and as a profession the age of data is the age of the actuary let's have the courage to grow."
Annette passed it on to Summit Organising Committee member Nicolette Rubinsztein, who introduced the panel and an opening video address by British economist and Professor of Economics at Oxford, Sir Paul Collier.
Collier: Professions must take responsibility for the behaviour of the profession
Paul began his address by asking: what are the signs of capitalism not working?
He referred to the war in Ukraine as shining a light on Russian billionaire oligarchs and their relationship with the London banking system as a sign of capitalism's failings.
"Putin's invasion of Ukraine has pushed up moral choices to the very top of the agenda," he said. "The signs (of capitalism failing) are now pretty comic, like Russian superyachts being impounded all over the world."
"There are signs of capitalism not working in what's called the 'London laundromat'. The London laundromat is this total disgrace of a series of professions serving international crooks, most obviously the Russian billionaires."
Paul said professionals from various disciplines in some of the world's leading and respected financial institutions have "prostituted themselves" in Britain. Professionals such as lawyers, bankers, and real estate agents are at the epicentre of the London laundromat and they're now facing tough questions.
While he said failures of this kind have happened in economic history, social media and the internet have exacerbated the problems we see in capitalism today.
"The one difference between then and now is social media and the internet that has, to one extent, made the western world fall off a cliff," he said.
Paul said to avoid these problems, professions must take responsibility for the behaviour of those in the profession.
"I'm proud to be speaking to the actuaries because internationally the actuaries have led the way in realising that the profession has to become what it once was: a globally respected profession. You have to be able to look your teenagers in the eye and be proud of what you're doing."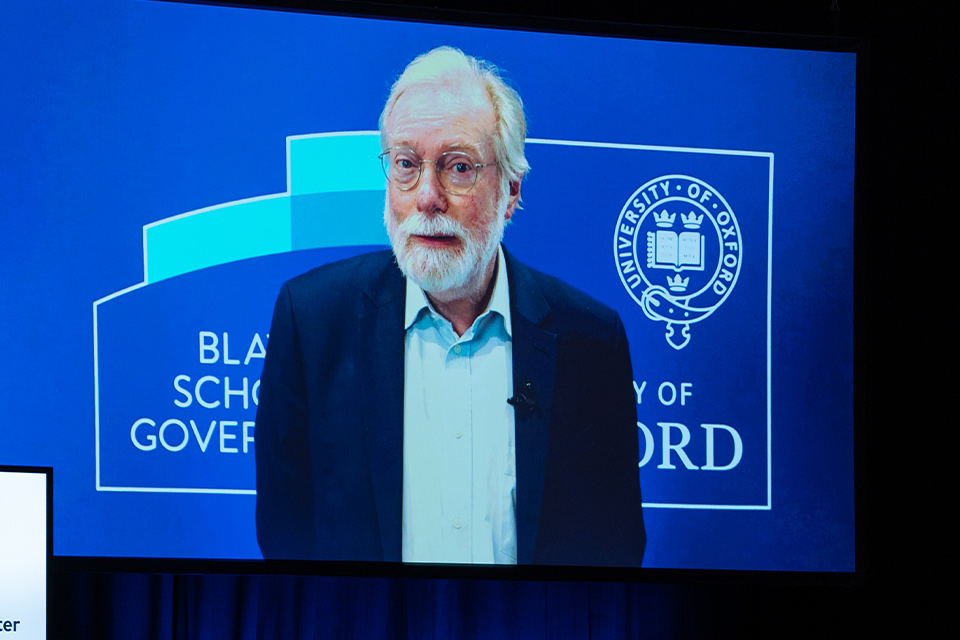 Is capitalism still working compared to how it is used to?
Australian Economist and Central Banker Ian Macfarlane followed up the discussion with this thought experiment: is capitalism still working the way it used to? Has it gone too far? Why are we seeing such a widespread increase in inequality in capitalist countries compared with 50 years ago?
Ian briefly ran through the key milestones of capitalism's relatively short history, with the high degree of inequality in 1900 and the rise of more equality between the 1950s -1980s.
"If I'd been asked to evaluate capitalism over the past 250 years, which is its lifespan, I'd have to say it's done a pretty good job," he said.
"It's the only system that we've found that has produced sustainable economic growth … it's also the only system that has underpinned democracy. I can't point to a functioning democracy anywhere in the world other than in capitalist countries."
But in recent years, capitalism has led to "deteriorating performance". Ian said two factors have played in this deterioration: globalisation and the acceleration in labour-saving technology.
"In developed countries like ours it has had a big shift in reducing the bargaining power of labour against capital and essentially the labour movement's been more concerned with simply saving their jobs than competing for higher wages," he said.
"The labour share of GDP has fallen, and the capital share has risen."
Where this failure is clear is in the US where inequality exceeds that in all other capitalist countries, which has widened over the last four decades.
"While incomes in the top 1% have risen sharply, the average wage earner in the working and middle classes has received no increase in real terms for four decades," he said.
"It's so extreme that it's recently been demonstrated or that life expectancy for male workers in the age between the age of 44 and 55 is actually declining."
And with all these problems, capitalism in the US is failing to lift economic growth.
"There's something wrong fundamentally wrong there that means we can't grow as fast as we used to.
Ian then wrapped up his speech by going back to the central question: what has capitalism done for me lately?
"I think it depends on who you are and where you live. I think if you are older and the possessor of wealth or have rare entrepreneurial ability you have to say 'quite a lot'. If you're the younger generation don't have any inherited wealth and don't possess very rare entrepreneurial ability, I'd I think you'd have to say, 'it hasn't done much for me at all, probably nothing.'"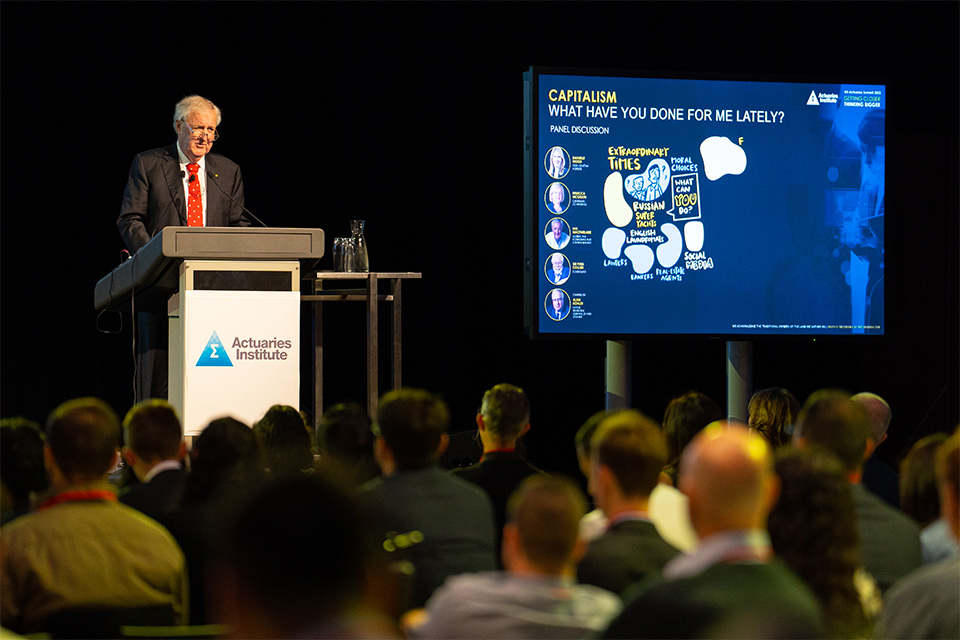 "Effective government is the yin to capitalism's yang"
CEO of the Grattan Institute Danielle Wood began with a more optimistic view of capitalism. Using historical data, Danielle painted a picture of a flourishing Australia.
Incomes have almost doubled in a short amount of time, income distribution for the bottom 10 Australians has risen about two a year in real terms, and government spending on health per person in Australia since the early 1980s has helped improve life expectancy.
While there are many benefits of capitalism, Danielle said the system can't exist in a vacuum. Capitalism needs good government to provide services such as "education and healthcare to ensure that people can flourish and contribute to economic activity."
"Strong, effective government is the yin to capitalism's yang. If capitalism and government were a married couple, capitalism would be the simple dependable one. Government is complex, high maintenance but somehow makes it all work," she said.
"When I look at Australia's major challenges, I largely don't see failures of capitalism…I largely see failures of government. I don't pretend government has an easy job, but I think there is clearly some cases where it has not done as well as it could in recent times."
Danielle points to the privatisation of aged care and vocational education and training by government as having a "fundamental lack of thought" on the questions around downsides and risks.
She said outsourcing services such as aged care, where it is difficult to specify the product and difficult to enforce service quality, meant that "capitalism did what it always does: it looks for profit and opportunity".
"But it was government that made the flawed decision to let the market rip and walk down on our most vulnerable without profit oversight. We can do better."
Danielle also pointed to government failings around climate change, where in the past 20 years 10 policies have been "introduced, scrapped or seriously contemplated but falling over at the last hurdle".
Danielle said that despite the clear evidence and costs of climate change, we are once again seeing scare campaigns on our TVs and phones during the election.
Danielle said governments and markets need to function once again as a "well-functioning couple".
"We need to rediscover our policy mojo. Our national policymakers have struggled to get out of first gear for the best part of 20 years," she said.
"We should and can demand better policymaking from our governments and hold businesses to higher standards of behaviour so that we can continue to thrive."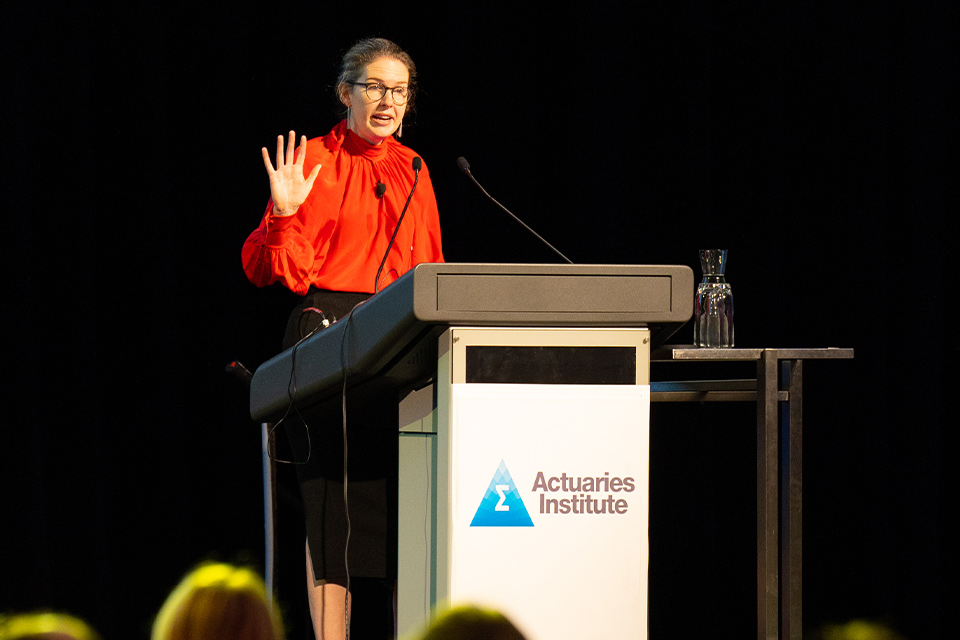 Embracing sustainable capitalism to create value
In the final address for the session, Chairman of OZ Minerals Rebecca McGrath took the podium to share her thoughts on the question.
Rebecca mentioned the past decade has seen increased scepticism and reduced confidence from the public in how businesses are creating value in the capitalist system.
She is also seeing rising concerns on the other side of the business, with shareholders, owners and employees increasingly concerned about issues in the workplace from diversity and equity to remote work and mental and physical safety.
"In parallel with these changes in expectations, investors are increasingly aware that a focus on short-term performance, particularly earnings per share rather than on the creation of value over the medium and long term, ultimately puts both shareholder value and stakeholder interest at risk," she said.
Rebecca said this paradigm shift shows that when value is created for all stakeholders' better outcomes are achieved.
Rebecca shared with the audience Oz Minerals' purpose framework titled 'The OzWay', as an example of how businesses can create value for all stakeholders.
"This is the lens through which we view our activities and it's embedded in our governance framework, our policies, our process standards, our work methodologies, and this ensures that every part of the business every decision made is guided by creating value for stakeholders," she said.
This framework has helped develop long term value creation propositions, attracted long-term investors as well as appealing to ethical investors.
"By demonstrating the value creation from a wider variety of stakeholders, we're able to deter activist attacks more accurately assess company evaluation and provide strategic clarity and address stakeholder concerns," she said.
Beyond stakeholder engagement, Rebecca said they have undertaken a number of initiatives including building partnering agreements with the Kokatha Aboriginal Corporation, creating more inclusive and positive work environments for employees, and leveraging new technologies to dramatically reduce their emissions.
"We ascribe our success to our culture and our strategy of value creation for all our stakeholders. Changing expectations is a challenge we embrace, and sustainable capitalism is the way we are pursuing it," she said.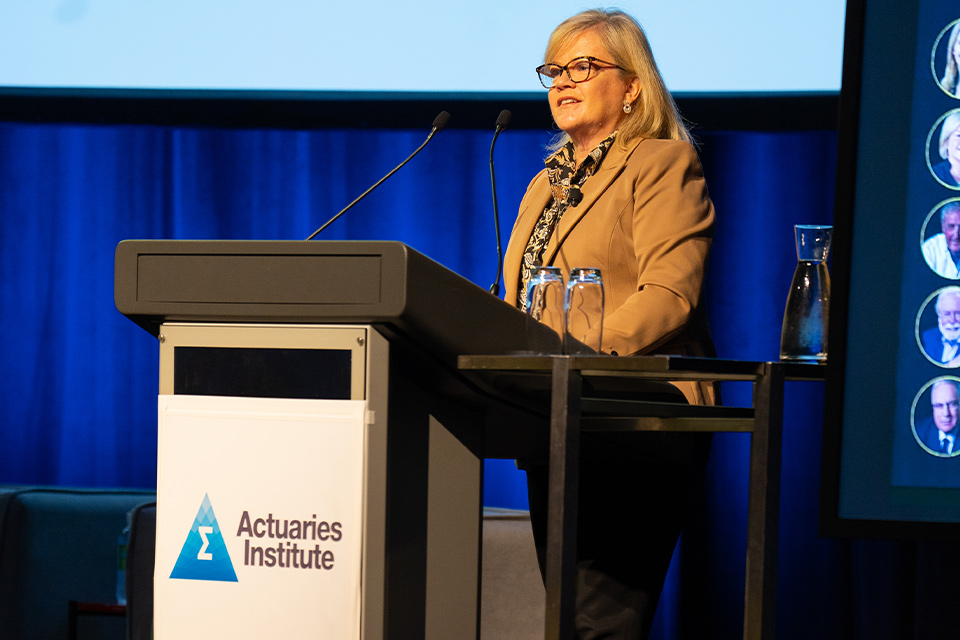 Watch below for a creative summary of the plenary session!
CPD: Actuaries Institute Members can claim two CPD points for every hour of reading articles on Actuaries Digital.