Public Policy
A narrow escape? The 2021 Australian Actuaries Intergenerational Equity Index update
The Index, which was released on Monday 17 May, represents an important contribution to public debate and policy development across generations. It revealed that the impact of the COVID-19 pandemic has broken a seven-year streak of growing inequity between Australia's young and old generations.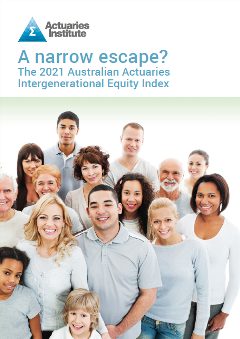 The index, first launched last year, investigates 24 indicators across six domains of economic, housing, social, health, education and the environment.
Social and health domains made the largest contributions to the narrowing of the inequity gap. While the equity gap is still close to record levels, outcomes for the oldest cohort of 65 to 74 years have worsened markedly, with rising rates of homelessness. The end of temporary ban evictions may have accelerated this trend. This group has also seen significant increases in the estimated poverty rate since 2016.
Economically, a pandemic-related unemployment spike disproportionately affected the younger cohort, offset by the JobKeeper and JobSeeker government payments. It appears that the recent employment recovery has also benefited younger Australians.
In the housing domain, many first home buyers have entered the market as a result of extremely low interest rates, pausing a long-term decline in home ownership for younger generations. However, this has also been accompanied by pressure on house prices, and net wealth estimates between older and younger age groups have continued to widen as a result of that, and positive sharemarket returns.
Education indicators have continued to increase across all age cohorts.
Environmental measures continue to contribute heavily to the gap between younger and older age cohorts. The four indicators of carbon emissions, temperate anomalies, rain anomalies, and the number of extinct threatened or endangered species have all continued to worsen over the past two years.
Those aged 30 years old would have seen a temperature anomaly of +1.17 degrees celsius, compared to a 0.0 degree celsius anomaly when those now aged 70 were 30 years old.
Readers of the latest index are cautioned not to draw conclusions as to the permanence of this shift. Actuary Dr Hugh Miller, who helped author the Index with Drs Ramona Meyricke and Laura Dixie, said the results are likely to be temporary.
"2020 was a year like no other for everyone," Dr Miller said. "The Index shows, perhaps surprisingly, younger people doing slightly better than they have previously, closing what had been a record gap between generations. But the change is likely to be temporary. It reflects, among other things, government support directed towards young people through Jobkeeper and Jobseeker payments, which ended in March this year."
Looking ahead and beyond the timeframe of this Index update are the measures included in the 2021 Federal Budget. Many of these will potentially improve wealth and wellbeing across areas such as employment (extensions of funding for wage subsidies and training) and health (new money for suicide prevention programs). However, the growing net debt position forecast over the next decade and the continuation of longer-term trends of increasing spending for older Australians (including the welcome $18 billion of additional aged care funding) highlight that intergenerational concerns remain.
The relatively large inequity gaps between those aged either 25-34 or 45-54 and those aged 65-74 in 2020 compared with the gaps at the turn of the century, further underscore the importance of ongoing consideration of policy through an intergenerational lens.
CPD: Actuaries Institute Members can claim two CPD points for every hour of reading articles on Actuaries Digital.