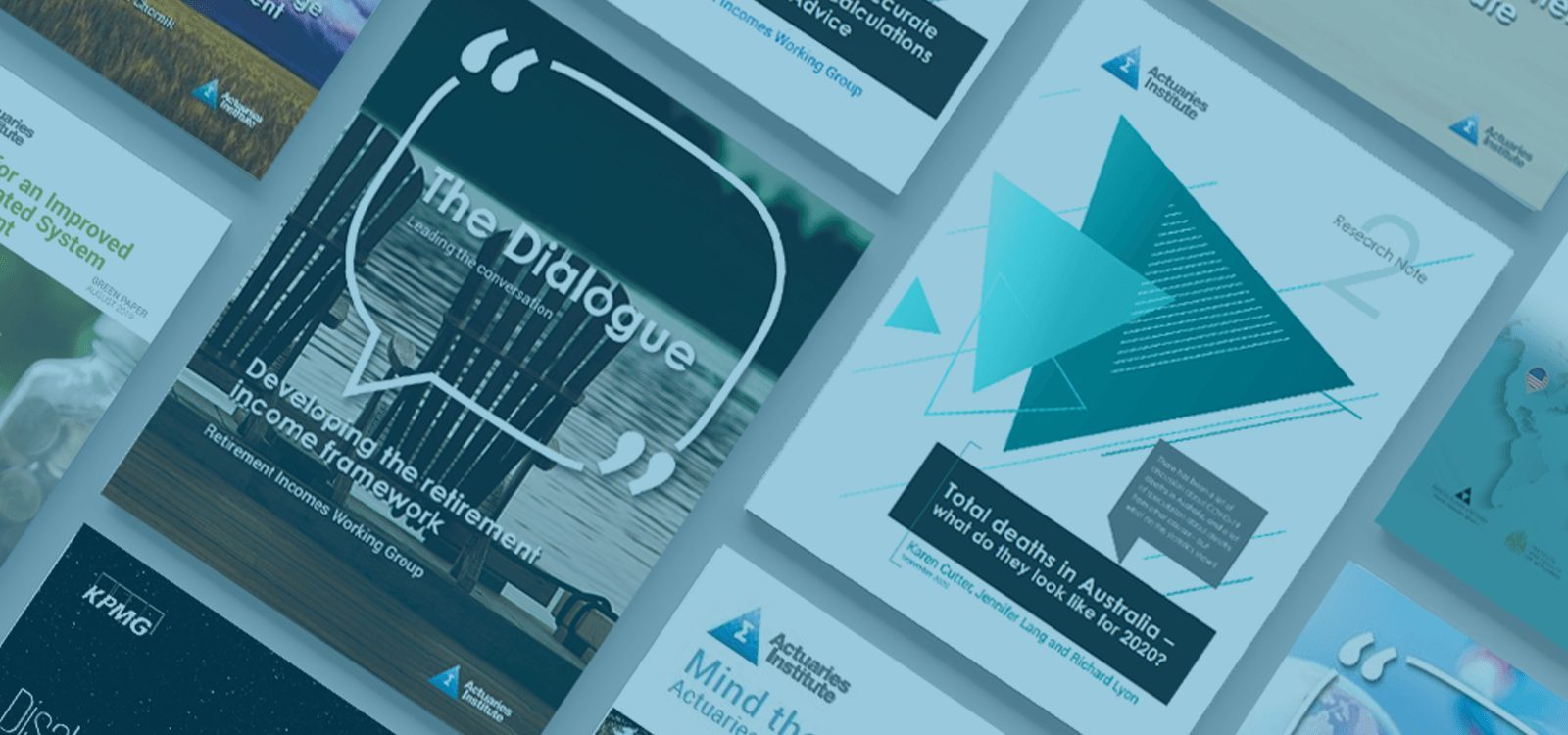 Public Policy
A Reflection on Public Policy and Practice Excellence across the Institute in 2020
Vanessa Beenders and Clare Hughes, of the Actuaries Institute's Public Policy Team, recap the strong output of high-quality Thought Leadership content produced throughout 2020. 
While the term has been over-used, 2020 was an unprecedented year. The year began with the devastating bushfires of the 2019/20 Summer reaching their peak, and many stakeholders stating expectations of extreme weather conditions that would continue to impact Australian communities.
As the year unfolded, the 2020 President of the Actuaries Institute, Hoa Bui, commented that globalisation was advancing change and requiring increased risk management from the actuarial profession. By March 2020, Australia had pivoted to a work from home regime in response to the COVID-19 pandemic, and the world faced of a period of uncertainty as we adapted to COVID-normal conditions.
We were pleased to be able to continue much of our engagement with members in 2020, moving committee and working group meetings to a virtual format. During the year, more than 215 committee and working group meetings took place, continuing to drive public policy, promote our industry's expertise, and help Actuaries perform at their best. We thank members for volunteering throughout 2020 and participating in these critical discussions.
Thought Leadership
The Institute's Public Policy & Practice Excellence team supported a wide range of high-quality Thought Leadership pieces through the year. There was significant media interest ranging from the financial press to broader media, including ABC local and national radio and the Institute's first significant coverage on the ABC's national Triple J network. Our Thought Leadership publications generated more than 200 media mentions over the year, and we continued to receive support from government departments and regulators for our engagement activities. 
Green Papers
Two Green Papers were published, beginning in August 2020 with the publication of Mind the Gap – The Australian Actuaries Intergenerational Equity Index. The Australian Actuaries Intergenerational Equity Index, commissioned by the Institute and prepared by Taylor Fry, measures 24 indicators across six broad domains that relate to wealth and wellbeing (economic & fiscal, housing, health & disability, social, education and environment). This report detailed the trends and indicators to inform policy improvements in intergenerational equity. It noted we need not live in a country where most people believe their children will be worse off; such a system is not sustainable.
In December 2020 The Rise of the Gig Economy and its impact on the Australian workforce Green Paper was published. Using non-traditional data sources and innovative data analytics, the authoring team at Quantium reported on one of the largest studies undertaking to date of the gig economy in Australia. It found the gig economy, as it relates to private transport and food delivery services intermediated through a digital platform, grew nine-fold in the five years to 2019 and to involve as many as 250,000 workers. The paper highlighted the need for a more granular understanding of the workforce to analyse the opportunities and risks and policy implications.
Research Papers and Notes
Two Research Papers were published in 2020. Disability Income – An International Comparison, a research paper commissioned from KPMG in consultation with the Institute's Disability Insurance Task Force, looks at the structure and recent experience of disability income in key global markets. Property Insurance Affordability: Challenges and Potential Solutions Research Paper, prepared by the General Insurance Affordability Working Group on behalf of the Institute, aims to help policymakers better understand the 'protection gap', where inadequate or no insurance is held, and potential solutions to minimise the gap.
A Research Note, Total deaths in Australia – what do they look like for 2020, by Karen Cutter, Jennifer Lang and Richard Lyon, was published in September 2020. Overall, apart from the spike in deaths in the early lockdown period that are likely COVID-19 related but cannot be verified due to lower testing rates then, they found no evidence that total deaths in 2020 were significantly higher or lower than would be expected in a normal year. The effects of deferred medical checks and treatment due to lockdowns may, however, show in data in the next year or two.
Consultation Papers
Informed by the above-mentioned Research Paper, The Disability Insurance Task Force, which draws together over 50 volunteers, published three consultation papers in September 2020, offering recommendations to the retail disability income insurance market to ensure the long-term sustainability of the product and to promote closer alignment between customers and providers of insurance. The Task Force is looking to publish its final recommendations shortly once it completes the consultation process.
'The Dialogue'
Two more papers were published in this series: Spending in retirement and the taper rate by Andrew Boal in June 2020 and Developing the retirement income framework by Anthony Asher in July 2020. These important Dialogue papers discuss areas in which Australia's retirement income system could be improved to promote equity and living standards, with a common element being improved longevity protection.
Pandemic Research Centre
The Institute formed a COVID-19 Working Group in the first quarter of 2020, chaired by Jenifer Lang, with more than 80 actuaries to assist our members, the public and policymakers better understand the potential implications of the pandemic.
Through the group, the Pandemic Resource Centre was created as a repository for timely, relevant material to assist actuaries in their workplace to manage and mitigate the impacts of the pandemic. Seven virtual pandemic briefings were held in 2020 and 16 pandemic briefing notes were published across many practice areas, including target capital and ICAAPs, scenario and stress testing, various general insurance lines, Workers Compensation, private health insurance, a check list for Defined Benefit funds, Death and Disability Benefits in superannuation, and risk management considerations (including non-financial risks).
Climate-related research
The Institute's Australian Actuaries Climate Index (AACI) continued to be published quarterly. The devastating bushfires of the 2019/20 were clearly visible in the Index and underlying components of warm temperature and consecutive dry days. Throughout the year, the Index remained at high levels compared with the historical reference period of 1980-2010, indicating extreme weather conditions and rising sea levels continued.
An updated Climate Change Public Policy Statement was released in September 2020. It includes a statement that the Institute supports the goal of 2015 Paris Agreement to achieve net-zero emissions of greenhouse gases by the second half of the 21st Century. It outlines activities the Institute is undertaking to help ensure there is an informed understanding of the risks and options to mitigate climate change.
Submissions
The Institute made 20 submissions across a wide range of topics and practice areas, including:
substantial contributions to the Royal Commission into National Natural Disaster Arrangements (including an appearance before the Royal Commission as part of an expert panel);
Treasury on various superannuation and retirement income issues, including the Retirement Income Review, Hayne Royal Commission related reforms and FASEA;
APRA on superannuation issues, disability income insurance, and private health insurance capital standards;
ASIC on Design & Distribution Obligations;
the Productivity Commission on Mental Health; and
the Australian Human Rights Commission on Technology Rights.
Professional material
Two important Information Notes were issued during the year, Automated Decision-Making Systems in October and Climate Change for Appointed Actuaries in November. These are great examples of how the thought leadership developed through practice committees and working groups develops into tailored support for the profession.
The Melville prize winning paper Actuaries and Discrimination, by the Anti-Discrimination Working Group, is also notable. It delivers a true advancement in the profession's understanding of, and approach to, data-based discrimination across all practice areas. 
Concluding words
The huge effort of our passionate volunteer network is evident through these many insightful publications. Institute HQ acknowledges all those involved.
We take this opportunity to again acknowledge the leadership provided by Convenors who handed over their role in 2020 to others, namely Ilan Leas, Jeremy Waite, Sharanjit Paddam and Susan Looi who handed over to Anton Kapel, Win-Li Toh, Rade Musulin and Elizabeth Baker respectively.
We are grateful for the continued support and involvement from the members of the Public Policy Council Committee (PPCC) – Anthony Lowe (Convenor), Andrew Boal, Nathan Bonarius, Brett Clark, Naomi Edwards, Christa Marjoribanks and Hugh Miller, and extend our thanks to Stephen Lee, who after several years stepped down from PPCC at the end of 2020.
On a personal note, the team and members farewelled John McLenghan, Head of Public policy, who retired at the end of the year. We know he will be missed by many!
Looking ahead, we encourage all young members to consider the Young Actuaries Public Policy Essay Competition for 2021, which closes on 26 February, and look forward to another very productive and engaging year with all members. Please reach out to either of us if you would like to discuss an idea for a thought leadership publication.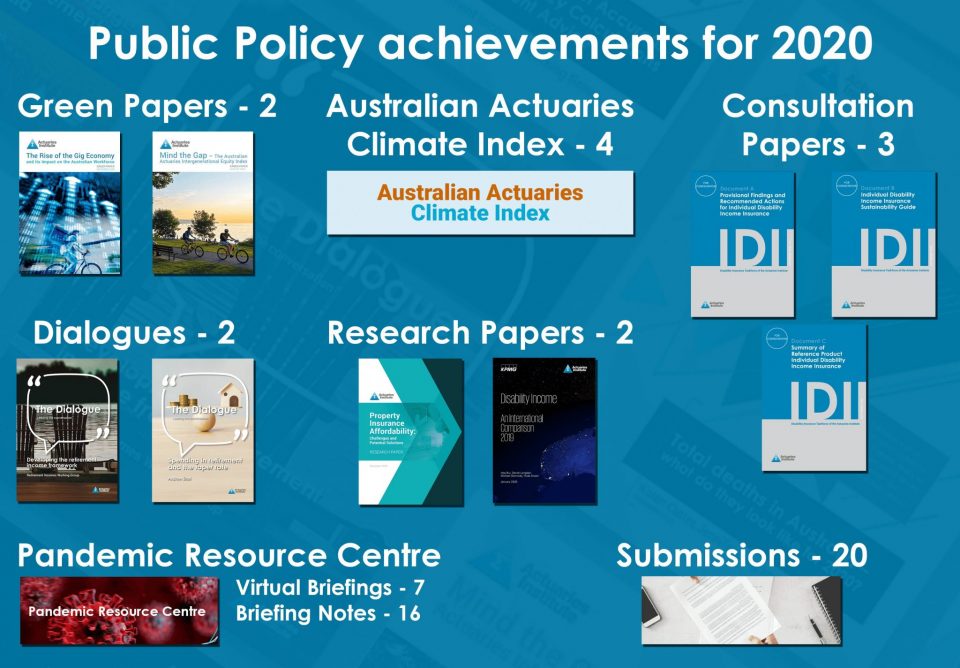 CPD: Actuaries Institute Members can claim two CPD points for every hour of reading articles on Actuaries Digital.