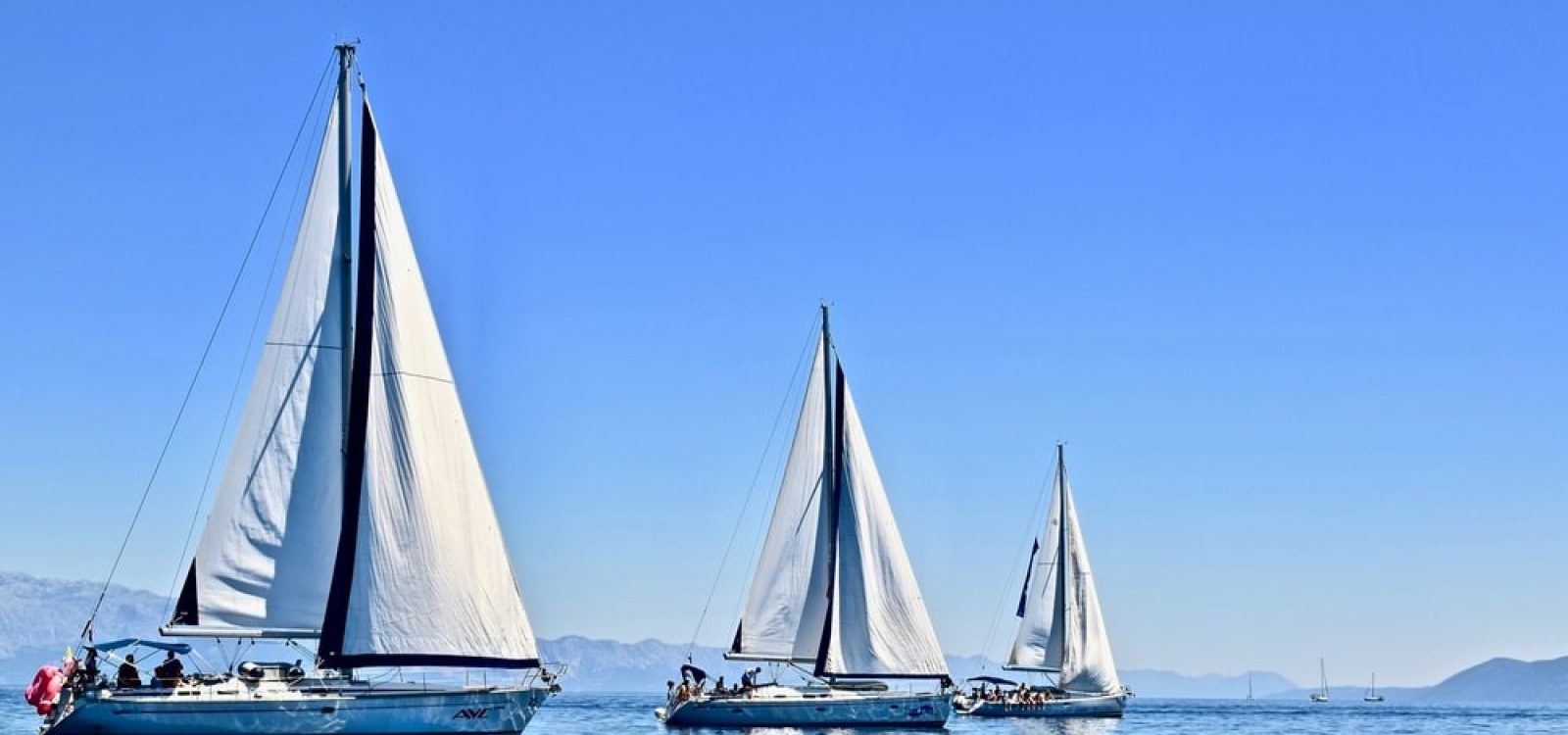 Report
Changes to insurance laws that will become effective in 2021 and 2022
The Australian insurance industry will sail through a wind of change during 2021 and 2022, as changes to insurance laws recommended by the Hayne Royal Commission come into effect.
The Hayne Royal Commission made a number of recommendations that are expected to change insurance laws and impact the operations of Australian insurers. The intention is largely to minimise the potential for detriment to, and increase value for, consumers of insurance products. This has wide ranging implications for actuaries working across the insurance value chain from underwriting and distribution, product and pricing, to claims management.
Some of these recommendations have already been granted assent to become an Act of Parliament including:
Unfair Contract Terms (UCT) which becomes effective from 5 April 2021. This impacts the entire insurance value chain. Programs of work are in place across the market to review and potentially change product cover wordings in the context of consumer needs and to assess whether any insurance contract terms may be considered unfair. If term(s) are deemed unfair this may increase claims costs and there may be pricing considerations for actuaries.

Design and Distribution Obligations (DDO) which becomes effective from 5 October 2021. DDO requires each product has a clear target market that it is intended to be sold to, with a number of reporting, monitoring and other requirements to support this. Note that ASIC's Product Intervention Powers (PIP), which provides ASIC with powers to regulate the DDO are already effective as of 6 April 2019 and have been used.
The Financial Sector Reform (Hayne Royal Commission Response) Bill 2020 was introduced into Parliament on 12 November 2020. Parliamentary sessions are expected to continue to at least December 2020 before being passed and ultimately granted formal assent. This includes:
Duty of disclosure changes to a duty to take reasonable care not to make a misrepresentation. This will impact underwriting processes with the onus of proof around misrepresentations shifting towards the insurer. Depending on how this change ultimately impacts claims experience, there may be pricing considerations for actuaries.

A deferred sales model for add-on insurance. This largely impacts sales and distribution practices and is not likely to significantly impact actuaries. Note also there is an exemption for car insurance.

Caps on commissions for add-on risk products supplied in connection with motor vehicles. Actuaries may need to consider these changes in pricing.

Provisions around hawking of financial products via measures to prohibit unsolicited meetings and calls. This will largely impact sales and distribution practices and is not likely to significantly impact the work of most actuaries.

Claims handling and settling services will be considered a 'financial service' under the Corporations Act 2001. Claim services will come under ASIC scrutiny, which will likely impact operations including resourcing, compliance obligations, and specifically the ability to or process of insurers offering cash settlement for claims. This will likely have ramifications for actuaries working in both pricing and reserving.

Changes to breach reporting and remediation. Actuaries may become involved in assessing the likelihood and potential impact to consumers of a reportable breach, as well as potential follow on remediation exercises.
The following image provides a timeline of effective (or likely effective) commencement dates for the various new or changing insurance laws. It also includes other changes on the horizon such as the Financial Accountability Regime (FAR), which is an extension of the Banking Executive Accountability Regime (BEAR) onto other financial services companies including insurers.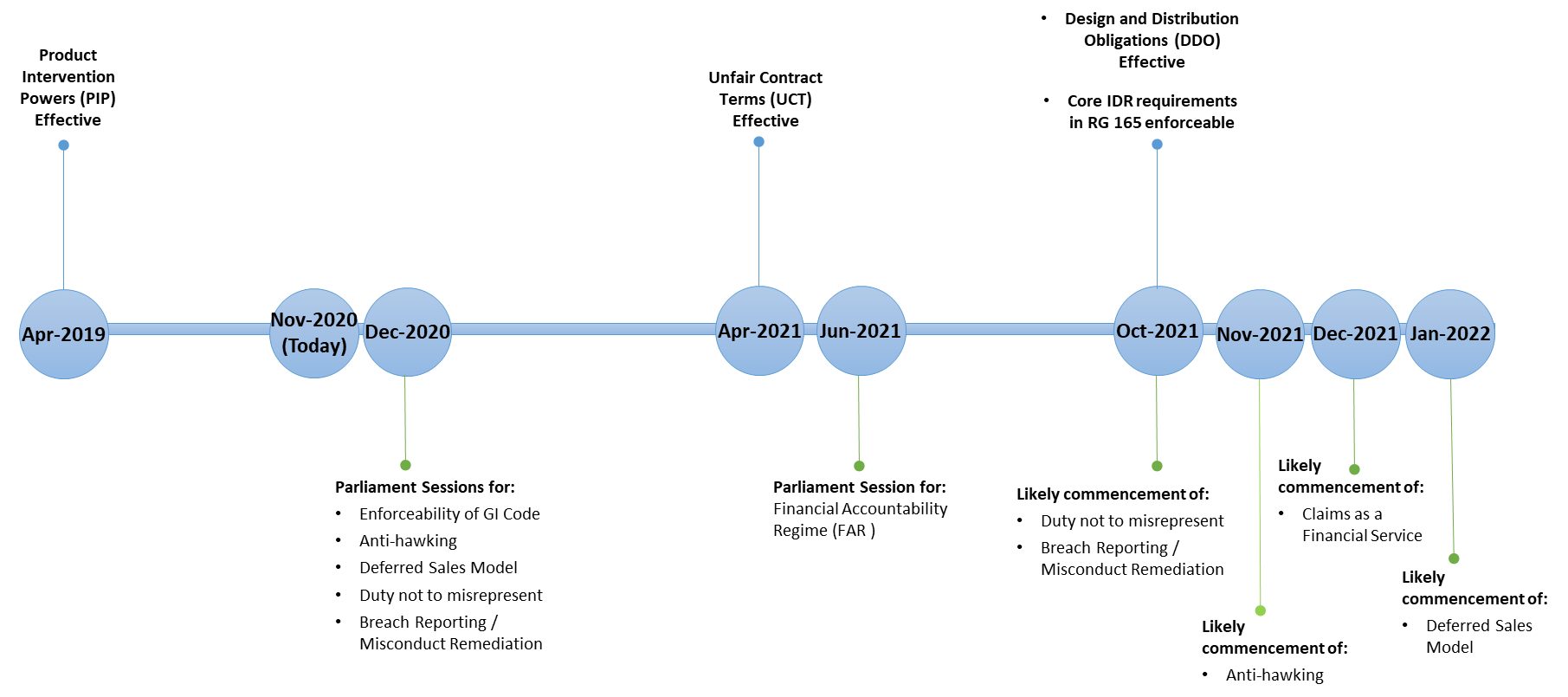 Finally, the General Insurance Practice Committee (GIPC) and other Actuaries Institute committees have submitted a number of responses to consultation papers related to new and/or changing insurance laws. These submissions can be found here.
If you have any further questions, please don't hesitate to reach out to Mathew Ayoub, your Insurance Regulations member of GIPC.
CPD: Actuaries Institute Members can claim two CPD points for every hour of reading articles on Actuaries Digital.