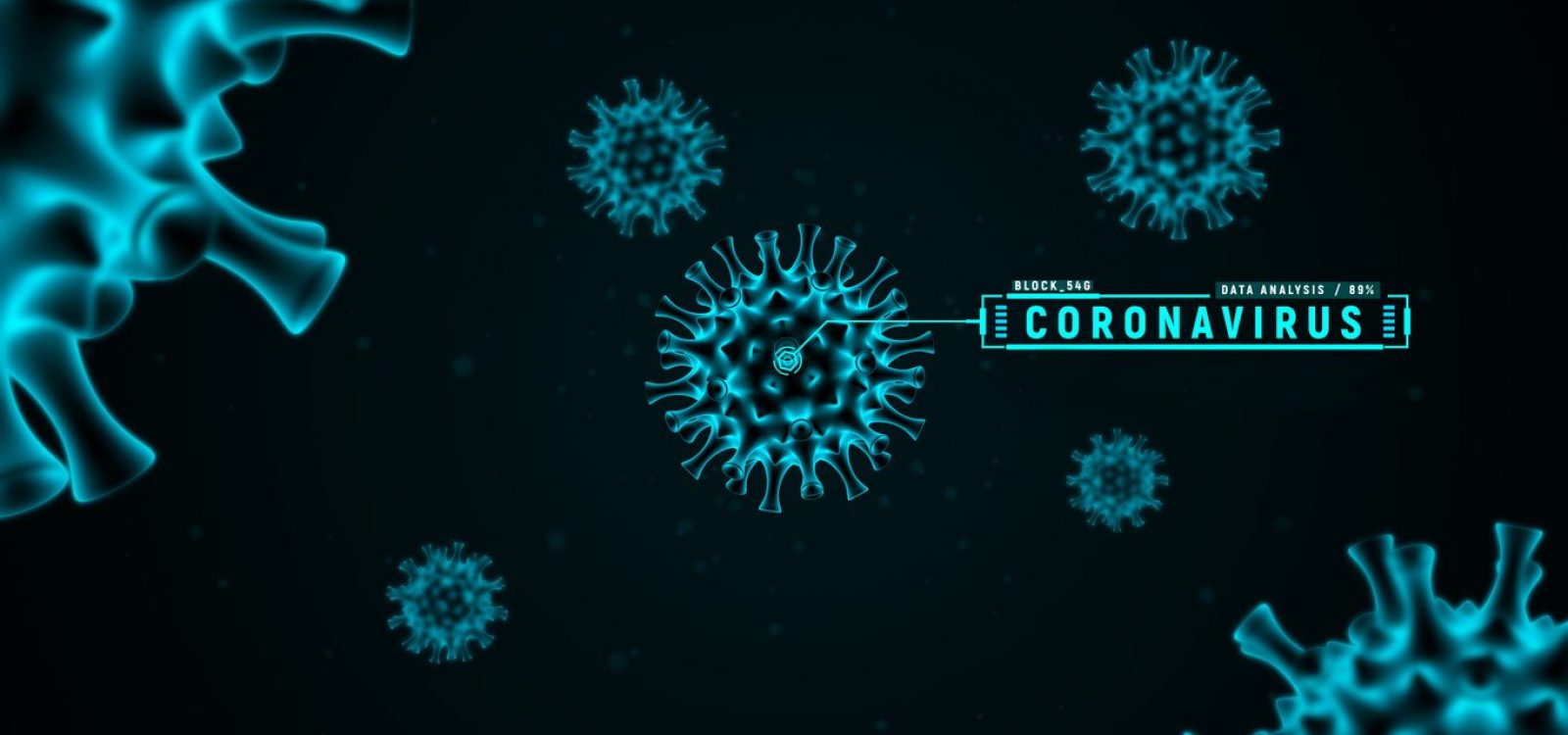 Covid-19 Blog
COVID-19 BLOG #1 – Author: Alex Stitt
As the nation steps up in tackling the Covid-19 situation, this dedicated blog series will cover updates of the pandemic as well as related issues that may impact our industries.
Welcome to this blog, which attempts to pull together relevant and current information about the COVID-19 disease outbreak.
A particular focus is information that risk managers should be aware of as they help guide their organisations through the outbreak. The blog is written from a specifically Australian point of view, but much of the observations are universal.
NO-ONE IS RESPONSIBLE! – DISCLAIMER
Just to state the obvious, the information in this blog is sourced on a best endeavours / good faith basis (and in a hurry), but the author-of-the-day takes no responsibility for the veracity of that information.
Further, the opinions and assertions made in this blog by the author-of-the-day are theirs, and theirs alone and do not necessarily reflect the opinions of other individuals or organisations, particularly not the Actuaries Institute.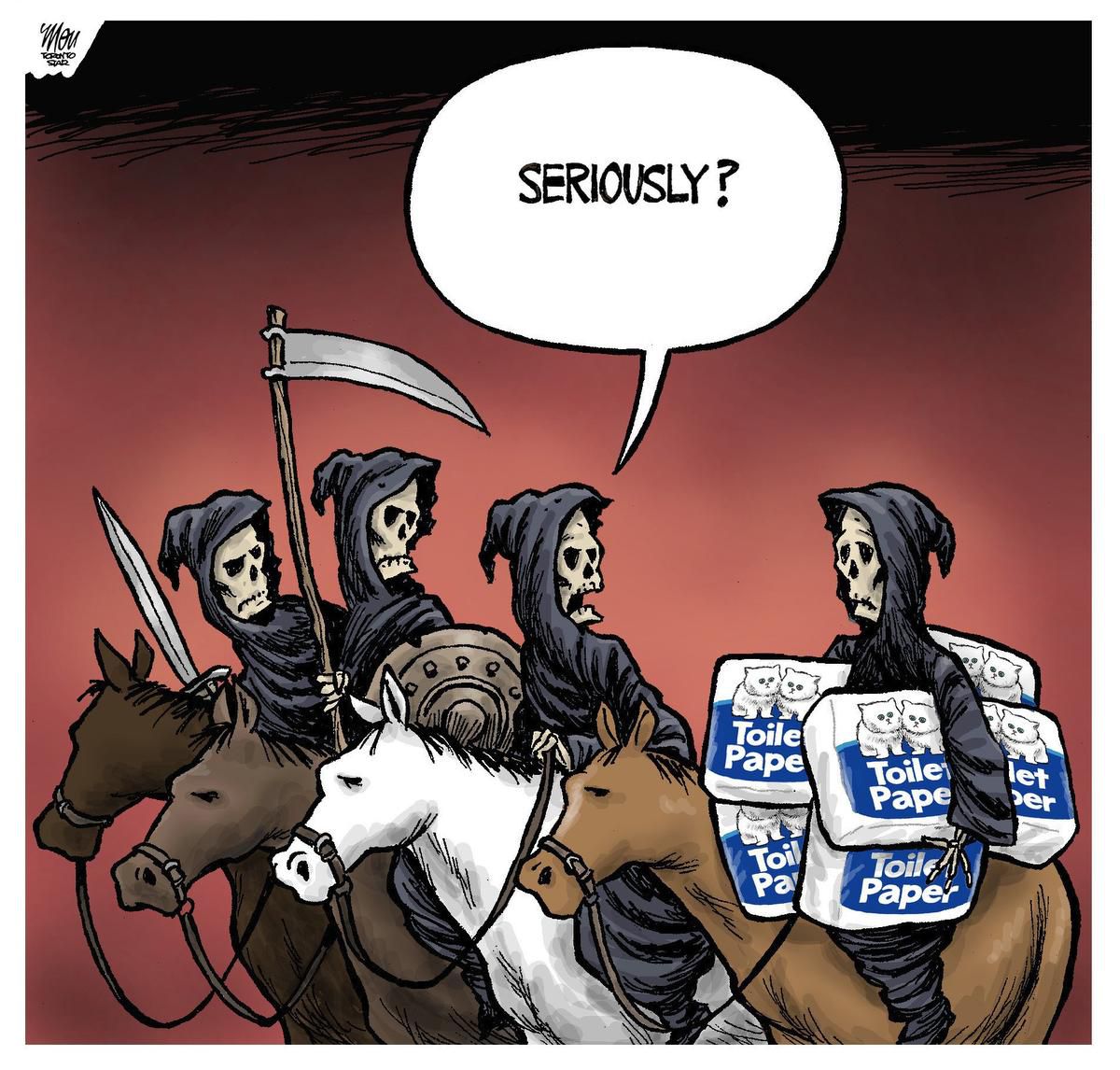 Love the way the cartoonist got the colours of the horses directionally correct – look it up. But even better is the bored look on all the horse's faces – except the one who's found something actually interesting elsewhere. Check out his ears.
Source: Theo Moudakis – The Star, Toronto, Canada
A RECAP
I had an article published in ACTUARIES DIGITAL on 13 February based on data from 11 February.  The now-irrelevant crux of that article was that you should act quickly to review your pandemic plan. Was I Cassandra?
The article also pointed to several useful Australian Government or WHO sites where more information could be obtained, and it pointed back to a 2006 Pandemic paper by me that had useful sections regarding the mix of risks that financial services organisations might have. That paper also had some disease dynamics numbering that could be relevant to considering the potential impact of COVID-19 on your organisation.
On 9 March ACTUARIES DIGITAL published a Status Update by me based on 4 March data. From today's perspective, its observations on age-specific and condition-specific –mortality, and -morbidity dynamics remain relevant and largely unchanged – although some better information is just starting to emerge.
WHAT'S GOING TO BE IN THIS BLOG?
Circumstances will dictate. And we'll be avoiding repetition. But topics we're expecting will appear consistently are:
Thumbnail figures of the outbreak's progression across the globe.
Latest relevant news.
Updates on disease dynamics as they emerge: Infectivity, morbidity, mortality.
(Useful) prognostications on the economic impact of the outbreaks.
Lessons we can infer from experiences elsewhere.
UP FRONT APOLOGY
It's very unlikely any blog post after this will be anywhere near as long. There's a bit of catch up needed in this first blog post, hence the length and the apology.
12 MARCH STATUS UPDATE
Two milestones of sorts were passed on 12 March.
WHO finally declared this is a pandemic. I'm not sure why 118 affected countries isn't a pandemic while 122 affected countries is a pandemic. However, one of WHO's reluctances to declare "pandemic" is the need for countries to continue to focus on suppression and containment, rather than moving to mitigation.
The number of cases outside China passed 50% of the number of cases in China.
15 MARCH STATUS UPDATE
Overnight, the number of cases and deaths outside China both overtook those in China.
I've been using this site: www.worldometers.info/coronavirus/ for much of my tracking and reporting. In my experience, it's been a bit ahead of the curve of the official WHO reporting and It has lots of adjunct news, links and analysis, all usually well-sourced.
By its 15 March 23:25 GMT numbers:
158 countries plus the Diamond Princess have confirmed cases. i.e. only 38 countries do not have any confirmed cases.
14 of those with confirmed cases have more than 1000 cases (confirmed and active), another 18 have more than 200 cases (including Australia), another 15 have 100 or more cases. You can bet your best socks that all those counts will be much larger when I look at the numbers tomorrow morning!
IS THIS OUR 1918? OUR "SPANISH" FLU?
On the surface, the answer might be "Yes". A virulent disease with zero prior human immunity that has gone pandemic.
I think a better answer is "Probably no", not only at this point, but looking forward. My reasons are:
In 1918, the "germ theory of disease" was not long established, the province of a select few and general public knowledge of hygiene in the face of an aggressive infector was very limited. So much so that, as I understand it, US troops mobilising in Kansas for deployment in Europe hatched the "Spanish" flu and their ignorant masters promptly shipped them, sick or not, to Europe where many died of the flu before seeing action, but not before infecting their hosts, thus leaving Spain with the ignominy of "owning" that pathogen in the popular imagination. In 2020, we understand germs and viruses – sort of.
In 1918, concepts of containment and suppression were limited and often derided. "Google" Philadelphia's WWI parade for a case study in how to cripple your hospital system and decimate your population. In 2020, even the laggards are preaching containment and suppression.
In 1918, there was extremely limited prophylaxis of any disease, let alone a virulent mutant. In 2020, we have already sequenced the genome of COVID-19, and clever people the world over are furiously working on developing vaccines. Plus we have highly sophisticated in-hospital care that will help many critically sick pass through their illness. It will be months until a vaccine is available, but you can bet any of those best socks you have left that a vaccine will be developed. It took nearly 2 years for multiple waves of the "Spanish" flu to inflict all their carnage.
In 1918, the flu hit the young and fit hard, fast and fatally. In 2020, COVID-19 has very different characteristics. If you're under 60, there's probably not a lot to fear. [BTW, I'm not under 60. And for my sins, I have some of the worrying co-morbidities.]
In 1918, the case fatality rates were very high. We don't have good actual rates and the rates varied widely between locations, but we do know they were very high. In 2020, we don't yet know COVID-19s CFR, but expert opinion has it materially lower than "Spanish" flu.
WHAT ARE NATIONS DOING?
Mostly, suppression and containment.
Why?
Because it works!
Or rather, it works better than the alternative.
Everyone's wholly legitimate fear is that COVID-19 will overwhelm healthcare systems, most of which are (my local observation) not far from a JIT system which is not always coping well with the normal flows and variations in flow of the day-to-day needs of their communities.
Any steps which can slow the emergence of COVID-19 and reduce its prevalence will massively lighten the burden on healthcare systems and the front-line warriors who run it; and so this is, rightly, the focus.
How do we know it works? China, South Korea, Japan and Singapore are all valid case studies (in my view) of reasonably successful suppression and containment.
On January 29, Singapore reported 10 cases. 46 days later, on 15 March they're reporting 226 cases. Singapore is only a small country, but is also a very high density country. Their measures appear to have kept their outbreak to an infection rate of 39 per million persons.
On January 29, South Korea reported four cases. By 20 days later, it was still only 51 cases. By 30 days later, it had exploded to over 3000 cases and they were reporting nearly 1000 new cases a day. And by 40 days later they had over 7000 cases but were reporting only around 100 new cases a day. They have the 6th highest infection rate per million but their measures appear to have brought the new infection rate way down.
After a massive and extensive outbreak which dominated all the outbreak statistics until now, China has reported low and diminishing new cases for the last 13 days or so. It has won this through an aggressive suppression and containment strategy at the most culturally sensitive time (Chinese New Year).
Conversely, we know the alternative doesn't work. China and Italy are my exemplars here.
Yes, I know I'm playing China on both teams. Their weak response to the initial emergence of COVID-19 created a massive problem for them (and the world) that still has them with 50% of all cases and nearly 50% of deaths-to-date. It's very likely that a more effective initial response from them would have slashed spread, cases and deaths. To overcome that initial failing, they have had to implement measures that many other more open countries will struggle to emulate.
Italy's (and, in fairness, other countries') slowness to respond to the emerging situation in Italy has resulted in much of Europe and many other locations gaining multiple cells of emerging infection.  That was visible on February 28, but it took Italy another 11-odd days to implement robust containment measures. As a result, Italy has the highest reported infection rate, 409 per million – and that's not counting their exports!
Despite now being dated, the following really good chart from the 12 March Sydney Morning Herald illustrates my points.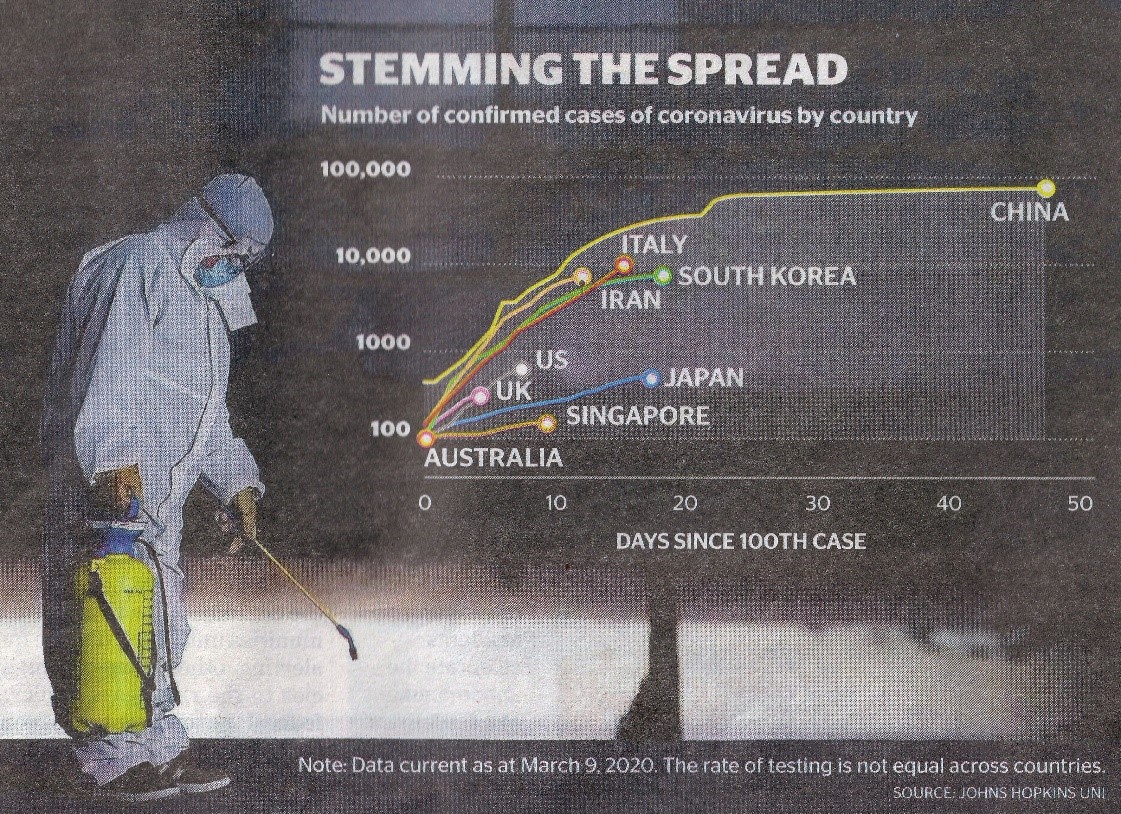 This site, shows, for each country, both how many days it's taking for cases in that country to double, and a small chart of the progression of cases in each country. As of this morning:
| | |
| --- | --- |
| DAYS TO DOUBLE CONFIRMED CASES | NUMBER OF COUNTRIES* excludes those with <10 cases. |
| 1 day | 11 – Mostly with very low cases. |
| 2 days | 8 – Again mostly with very low cases. |
| 3 days | 26 – Includes Scandinavia, much of Europe and USA. |
| 4 days | 6 – Includes Australia. |
| 5 days | 7 – Now includes Italy. A harbinger of hope? |
| 7 ~ 9 days | 10 – Includes Japan. |
| 11 ~ 18 days | 6 – includes S. Korea and Singapore. |
| 33 days | China. |
WHAT SHOULD YOU AND YOUR ORGANISATION BE DOING?
You and your organisation have three important roles to play in managing this outbreak. Those roles have degrees of overlap:
Keep your staff and customers / members safe.
Aggressively contribute to suppression and containment.
Keep your part of the economy functioning.
All three roles will require knowledge, hygiene, responsiveness and supplies.
Knowledge: Arm your organisation and your people with knowledge about COVID-19; how it spreads, how to control its spread and how to nurse people who become infected, especially the severely affected.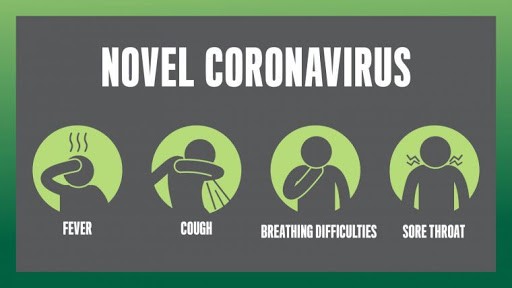 Hygiene: Train your organisation, people and customers into good hygiene practices; clean hands, clean surfaces, safe distances, sensible when sick, droplet control (coughing and sneezing).
Responsiveness: Help your organisation and people behave differently. What was okay yesterday is not okay today; Obsessive hygiene; social distancing, alternative greetings, work from home, etc.
Supplies: This is a two-part issue:

Some of the above practices are strongly bolstered by having the "right" "personal" supplies (sanitisers, disinfectant, masks, tissues, dare-I-speak-its-name?-toilet-paper). If you were not pre-prepared for the need for these supplies, you are probably having difficulty getting them now. Things will improve. And there are alternatives eg soap is a sanitiser, boring as that might sound.
Business inputs. Clearly, you can't produce your material outputs without your material inputs. Unfortunately, this is the time your best-laid plans will be tested.
ARE WE EXPONENTIAL YET?
Up until 11 March, another cause for cautious hope (in my view) was the case progression charts. I've been following these since early February, and they had remained doggedly linear. There's been some bumps and scares along the way, but, so far, it's always settled down. Viewed with a logarithmic scale, it was always wanting to flatten out.
For the last few days, it's not been so reassuring, but my guess is it will flatten out as existing infection cells run their course and containment measures help reduce the number of new infection cells arising.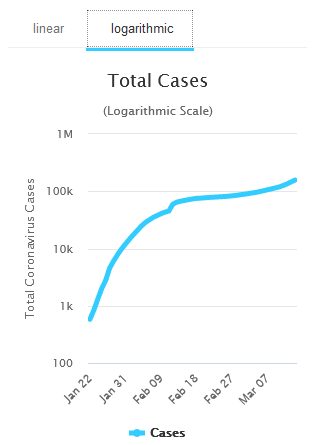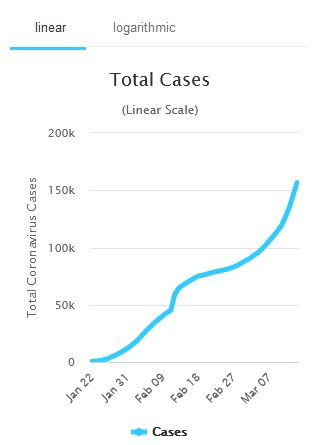 Source: Worldometers.info  15 March 23:25 GMT. Note that these are "all world" charts. Some single country charts can be found on their website, but not currently for Australia.
FACT: It takes just 34 iterations at an infectivity of two (ie each infected person then infects two others) for the number of cases to exceed the world population.
ECONOMIC PROGNOSTICATIONS
The 9 March ACTUARIES DIGITAL article referenced and summarised a Brookings Institute paper modelling possible economic outcomes of a COVID-19 pandemic.  Some of its results were quite severe, but as noted in the summary, the assumptions were of an uncontained pandemic. As I'm arguing above, containment appears to be possible.
On 9 March, McKinsey & company published a paper titled "Covid-19 Implications for business" (thanks to Past President Nicolette Rubinsztein for bringing this to my attention). In that, they explore 3 scenarios for the global economy – quick recovery, global slowdown and global pandemic and recession. My summary of the notable assumptions and results is:
| | | |
| --- | --- | --- |
| Quick Recovery | Global Slowdown | Global pandemic and recession |
| Public health response as effective as China | Public health response less effective than China | Public health response less effective than China |
| Virus is seasonal (ie will die back in warmer weather) | Virus is seasonal | Virus is not seasonal |
| By region, ~0.5 to 1% falls in GDP | By region, 1% to 2% falls in GDP | Global GDP between -1.5% and +0.5% |
MARKETS
On 9 March I was speculating that markets believed that there would be no serious health crisis and no deep economic consequences, having come off only 8% from record highs.
The market has since woken from its slumber and as of today (15 March 11:00 am) is over 25% off its record highs.
So much for the Efficient Market Hypothesis.
The big questions now, are whether this is the overshoot or is there more to come; and how far is the overshoot?
THE ULTIMATE TRADE OFF?
Countries are now having to make decisions that trade-off lives for economic growth.  By and large, they are prioritising lives by taking measures to:
Limit entry to the country, from specific hot-spots and increasingly from anywhere.
In some cases, limit movement within the country.
Impose quarantine on those potentially exposed.
Limit or ban large gatherings.
Encourage social distance.
DISEASE DYNAMICS
Despite several more week's development, the certainty around the disease's dynamics has not much increased. The key facts (to my knowledge) are:
TRANSMISSION

Ready transmission from human to human.
Transmission is believed to be by droplets (from coughs and sneezes) and contact. At this stage aerosol transmission (a by-product of merely breathing) is not thought to be significant.
The typical time from infection to displaying symptoms is around 5 days, but there is wide variation. Most jurisdictions are continuing with a 14-day quarantine period. There are a handful of cases that appear to exceed 14 days from exposure to symptoms. Some may represent a second exposure.
Australia's CMO has confirmed they believe people are infectious only 24 hours before showing symptoms.
In a small study, virus shedding had a range of 17 to 24 days in survivors. The longest observed was 37 days.
It's been established that the virus can survive up to 2 days on semi-hard surfaces eg cardboard.
Where a free-developing outbreak is occurring, there is much speculation that the actual case numbers may be ten times those confirmed.
As a semi-closed system, Diamond Princess is instructive and perhaps represents an upper limit.  696 cases were identified out of 3711 guests+crew – a total infection rate of 19% in what all readily admit is a far from perfect quarantine environment. Note that not all the quarantine for all passengers was spent on board.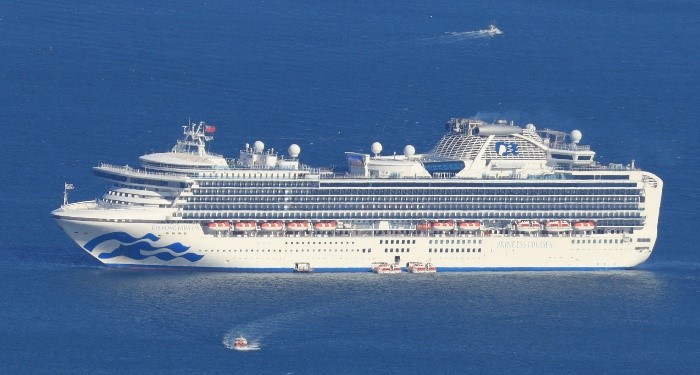 MORBIDITY

In aggregate (across multiple outbreaks at different stages), serious or critical cases has ranged from over 20% to 10%.
The rate will be affected by the robustness of the identification of mild cases.
Good information on the duration of illness is not yet readily available.

An analysis of the Italian authorities' daily reported numbers suggests that the average duration from reporting positive to being cleared appears to be around 10 days.

It's reasonable to assume serious cases last longer, unless terminated by death.

China still has 3,220 serious+critical cases, or 30% of remaining cases.
Diamond Princess still has 15 serious+critical cases, or nearly 8% of remaining cases.

MORTALITY – AGGREGATES

Official views still call the mortality rate at 3.4% (WHO at 3 March), but that's a crude and aggregate rate (deaths-to-date / confirmed cases).
The rate appears to vary widely by locality, e.g. 5.8% in Wuhan and 0.7% elsewhere in China (WHO figures) or 4.9% Wuhan, 3.1% Hubei (includes Wuhan) and 0.16% elsewhere (NHC (China) figures).
The crude death rates in countries where there are more than 399 cases, today are:
Crude CFR

Country

0%

Denmark

1% or less

S.Korea, Netherlands, Switzerland, Belgium, Germany, Sweden, Norway

1%+ to 3%

Japan, Spain, USA, France UK

3.9%

China

4.3%

Iran

6.7%

Italy

It has to be noted that these are early and crude CFRs. When properly calculated after the situation has settled, the real CFRs will almost certainly be less.
MORTALITY – SPECIFICS

No update on the age specific rates – see ACTUARIES DIGITAL 13 Feb and its commentary.
No update on the co-morbidity issue – again, see AD 13 Feb. and its commentary.
It remains an enduring mystery that the very young are the least affected. In China (70,000 cases at the time), about 2% of cases were under 19. Deaths figures are still only February 29, with zero deaths under 10 years old.
EPIDEMIC OUTCOMES
The following table from the US both sums up one expert's view of the disease dynamics and plays that out into nationwide outcomes.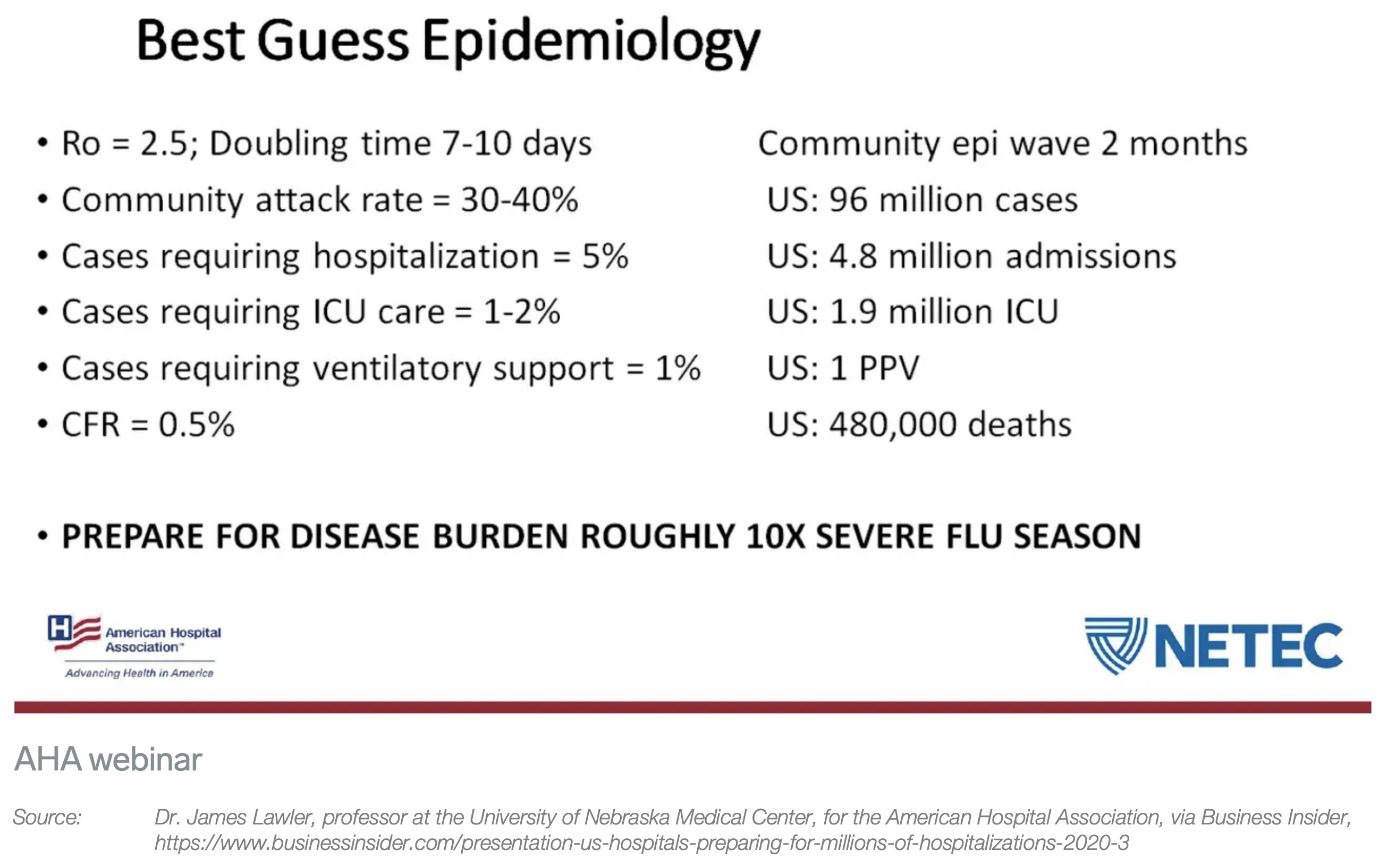 With 7.5% of the US population, and assuming our experience matches this view of best guess US experience, it would mean that, in Australia, once the first wave of the epidemic gets properly underway we might anticipate:
7 million infections.
360,000 hospitalisations.
140,000 requiring intensive care.
75,000 requiring ventilation; and
36,000 deaths.
Australia has under 100,000 hospital beds.
The critical item in the above "best guess" is the community attack rate. This is something each and every one of us and our organisations can contribute to lowering. Every percent the community attack rate is reduced, is less infections, less hospitalisations and less deaths.
LAST WORDS.
Wash your hands.
Keep your distance.
Don't kiss the wildlife.
CPD: Actuaries Institute Members can claim two CPD points for every hour of reading articles on Actuaries Digital.