Education Update
The new Education Program explained
The Actuaries Institute is now in the implementation phase of changes to its Education Program. Education Strategy Project Manager Jenny Lyon outlines the reasons for the changes and progress to date, and reminds Members to be in touch with feedback and questions.
President Nicolette Rubinsztein and Senior Vice President Hoa Bui have recorded a video which explains the benefits of our new education program including the reasons for change and how it will benefit the different stakeholders.
We encourage all members to watch it and understand how your profession is responding to the changing environment.
Following research with a wide range of stakeholders, Council's reasons for change can be summarised as:
Why Change?

The first course, Life Insurance and Retirement Valuation commenced in January 2019 and is now well underway.
A total of 67 students registered and feedback to date on the course content, visuals and teaching has been positive. As expected there have been some slight teething issues with the technology but we are trying to respond to student feedback promptly so please keep any comments coming.
One of the key changes in this course is that the focus is much more principles based, with students learning the underlying principles of valuation rather than focusing on the way in which we operate in Australia.
This should help students learn more deeply and really understand the key drivers.
This approach is also being adopted in the product development course which commences in June. More specific Australian legislation and practice will be covered in the applications subjects.
Students, employers and the profession will benefit from this approach as it should ensure students are more flexible and adaptable in their thinking, more able to transfer their skills globally and may bring new thinking to the local market.
The course is presented online through a learning management system (LMS) and includes:
course notes in modular form;
case studies;
discussion forums;
tutorials (which are held weekly); and
the ability for the course leader (Mike Callan) to communicate directly with students answering their questions and providing suggestions for where they might find other useful material.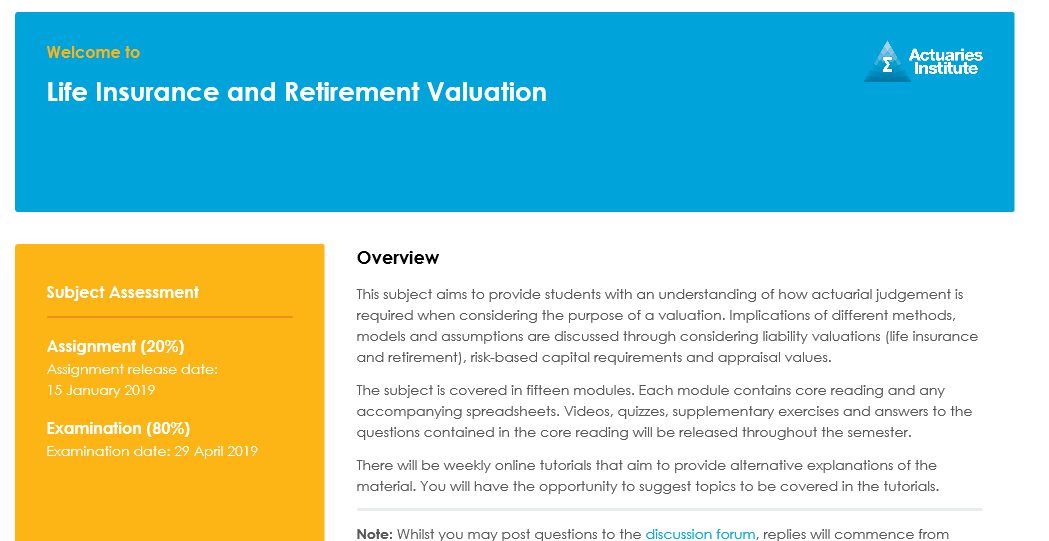 The details of the new program are on the website which has recently been updated to make it easier to find what you need, particularly around transitional arrangements.
We will also be launching an interactive Decision Tree to enable students to understand the alternative pathways and how it impacts them. Any students who have immediate questions should contact the Education Team. 
For those of you who are employers of actuaries, the education system is key to your future actuaries and we welcome you feedback and views.
CPD: Actuaries Institute Members can claim two CPD points for every hour of reading articles on Actuaries Digital.