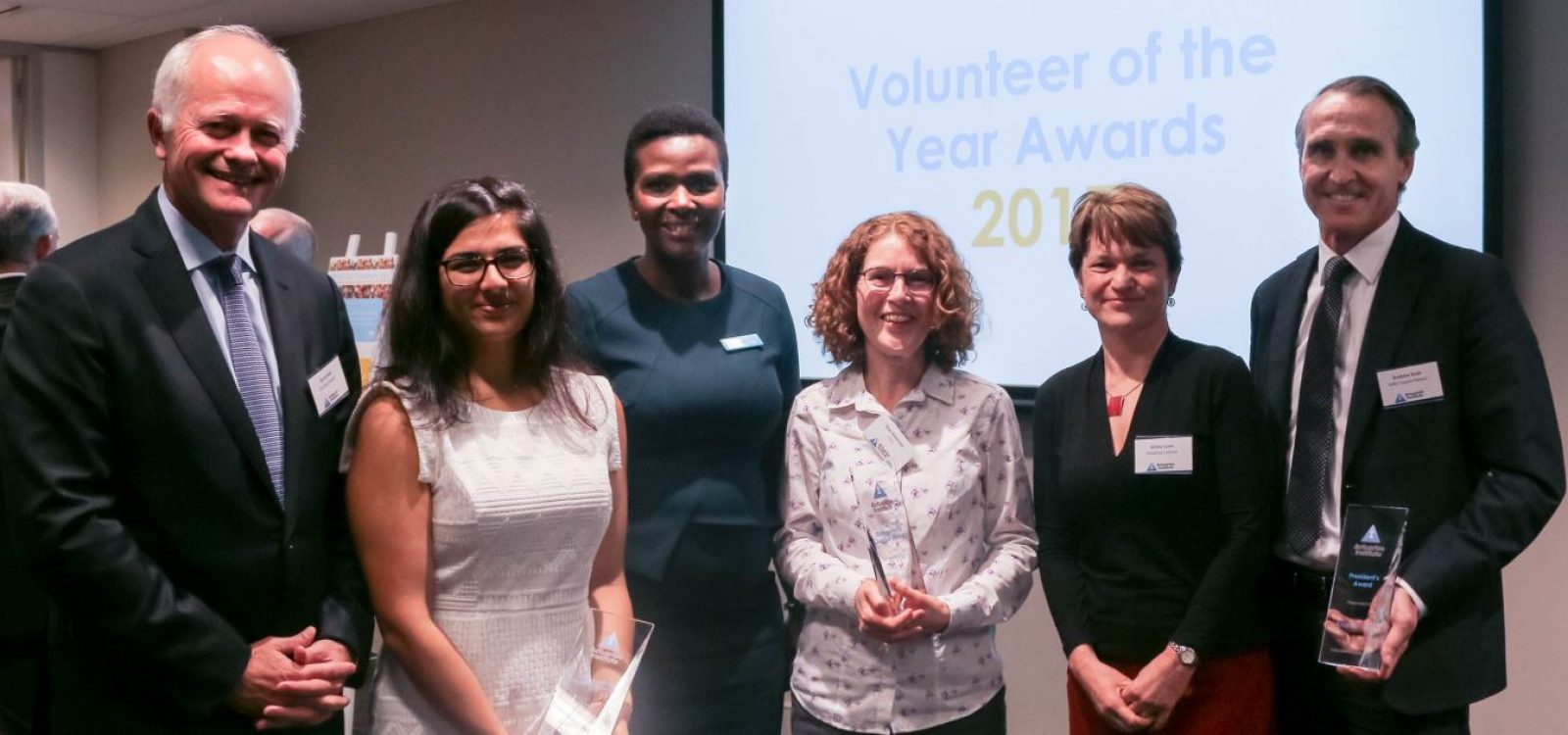 Event Reports
2017 Volunteer Cocktail Parties – Melbourne and Sydney
Committee and Volunteer Engagement Manager, Lily Meszaros reports on the annual Volunteer Cocktail Parties hosted by the Institute in Melbourne and Sydney this June, featuring stand-out recipients of the inaugural Volunteer of the Year Awards.
Firstly, a big thank you to our 600+ volunteers – your contributions to the profession and the Institute are greatly appreciated!
For such a small profession, I am always inspired by the pride our members take in their profession and their willingness to contribute back to their profession.  I was delighted this year to be able to attend both the annual Volunteer Cocktail Parties the Institute hosted in Melbourne on 8 June and Sydney on 21 June. 
We had 30 volunteers turn up for the Melbourne event and although this was quite a small group, the evening went exceptionally well and it was great to see our volunteers connecting and enjoying each other's company.  President Jenny Lyon and Institute CEO David Bell also welcomed the opportunity to meet and personally thank our Melbourne volunteers for their ongoing support of the profession and the Institute. The evening also coincided with my first-year work anniversary at the Institute.
At the Sydney event two weeks later, with 80 volunteers in attendance, I was reminded of a conversation I had with one of our volunteers the year before when I had just commenced in my role.  Following our introductions and during our chat I mentioned that until I started preparing for my interview I had very little knowledge of the profession and that I didn't actually know what an actuary was…  Fast forward to this year's event and the same volunteer followed up with me to enquire whether I was better informed now that I had worked with the Institute for just over a year!  I was both surprised and delighted that he had remembered our conversation and genuinely cared about the work of the Institute and the HQ Team.
For me personally, meeting so many volunteers who contribute in so many ways and hearing about their volunteer experience, reminds me why I love what I do. Working with highly intelligent people who are so generous with their time and always willing to support the profession and the Institute through their volunteering efforts, makes my role very enjoyable and worthwhile. 
The main highlight at the Sydney Cocktail Party was the launch of the Volunteer of the Year Awards. Prior to the announcement of the 2017 winners by President Jenny Lyon, we showed the volunteer videos which had everyone chuckling. The atmosphere was very convivial and everywhere you looked, people were talking and laughing and enjoying the evening.
As the awards ceremony got underway, President Jenny Lyon and CEO David Bell paid tribute to the calibre of the winners in each category.
"The quality of the nominations was very strong. It was a difficult process for the Volunteer Award Selection Panel to shortlist the three finalists in each category, and equally difficult to select a winner. Each nominee demonstrated incredibly high standards of commitment and contribution to their volunteering area. 
"It was particularly pleasing to have one of our winners travel from Melbourne to receive his award."
2017 Volunteer Awards
2017 Volunteer Young Achievement Award – Avanti Patki 
Avanti received this award for her leadership ability and her contribution to the Institute's Young Actuaries Program since commencing her professional working career.  She was also a member of the 2016 GI Glimpse Organising Committee, Climate Change Working Group and 2017 YAP Conference Organising Committee which attracted more than 100 attendees and received a lot of positive feedback from those who attended. 
2017 Distinguished Service Award – Gae Robinson
Gae has been an active volunteer in many capacities since 1991.  As Convenor of the ECC, Gae ensures the Institute's education system is effective, she has been instrumental in driving the change in the Institute's education system despite the operational challenges presented.  Her commitment to, and time contributed to, the Institute's Education Strategy Review has been exceptional.
 "My volunteering experiences with the Institute have been rich and rewarding – I've had the satisfaction of making things happen, as well as working with lots of great people along the way.  I encourage everyone who has time and passion to volunteer in an area that interests them.  I'm honoured to receive the first Distinguished Service Award – which could have gone to so many people!" said Gae in her acceptance speech.
2017 President's Award – Andrew Boal 
Andrew's long-term contribution to the Institute's key volunteer activities and his external positive influence on the profession particularly as a key contributor and commentator in the retirement income policy debates. Andrew was the Convenor for the Superannuation Practice Committee for nine years from 2008 to 2016.  He also served on Council in 2012 and on the HR & Remuneration Council Committee (2012-2015). He is the current Chair of the Retirement Strategy group.  He has been involved in over 140 submissions and two significant White Papers – Australia's Longevity Tsunami, What Should We Do? and For Richer For Poorer, Retirement Incomes.
In his acceptance speech Andrew commented "it is very humbling to receive the President's Award for my volunteer work with the Institute.  The profession has provided me with so many career opportunities, it is a privilege to be able to support the profession in some way in return.  At the same time, being able to influence public policy, especially in such an important area as retirement and the ageing, has been really rewarding for me personally."
I am very much looking forward to next year's events and presentation of the 2018 awards already, and plan to continue to make these celebrations very enjoyable. If you would like to share your volunteer story, have any suggestions or feedback, or want to get involved please visit the website for more information and get in touch with me via  lily.meszaros@actuaries.asn.au
I would love to hear from you!
CPD: Actuaries Institute Members can claim two CPD points for every hour of reading articles on Actuaries Digital.