Uncategorised
War Stories from Life Insurance Actuaries
Rickie Fong and Anna Byrne have prepared a recap of the recent Insights session, 'War Stories from Life Insurance Actuaries', presented by Greg Martin, Richard Lyon and Grant Peters. The three presented a compact survival guide for fighting corporate wars.
It was a cold but sunny day (the last of autumn) when a mixed band of new and seasoned soldiers from the Australian Actuaries Institute Regiment gathered to hear tales of war from three decorated officers: Field Marshall Greg Martin, Admiral Richard Lyon and 10 Star General Grant Peters.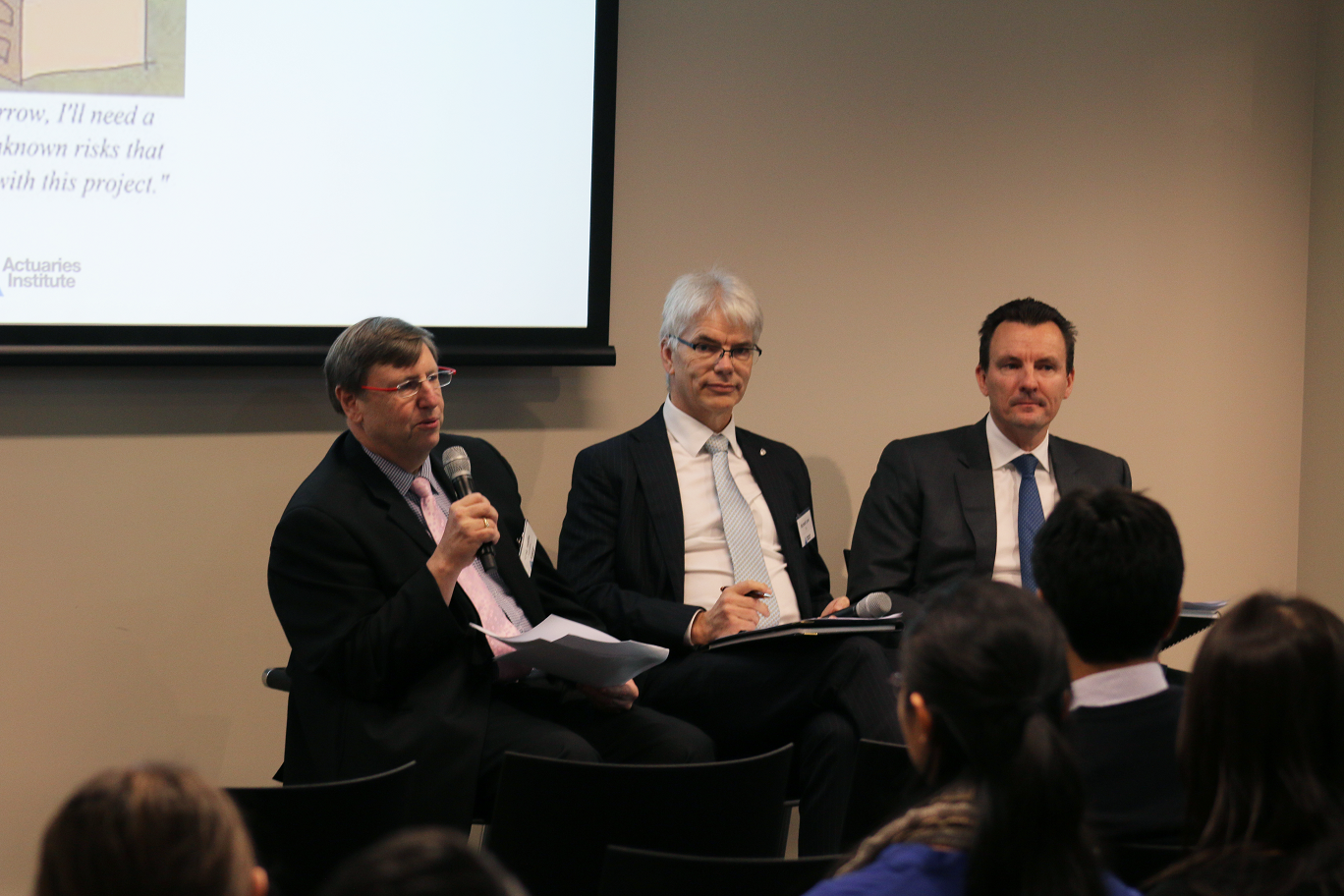 All three looked in marvelous shape, despite having (between them) fought 90 years in the corporate wars. (Though perhaps sometimes the scars of these wars are more internal…)
For 90 minutes our three fearless leaders regaled us with anecdotes, insights and notable quotes. And although none referenced napalm and its smell in the morning, we were still left with some memorable imagery from their presentation. (A 40-ton truck careening down a hill with a frantic driver (in singlet and shorts) madly trying to apply a foot (covered in only a thong) to the brake. And the entire gang of chief underwriters, from the Australian industry, gathered around a dinner table at a friendly local Chinese restaurant.)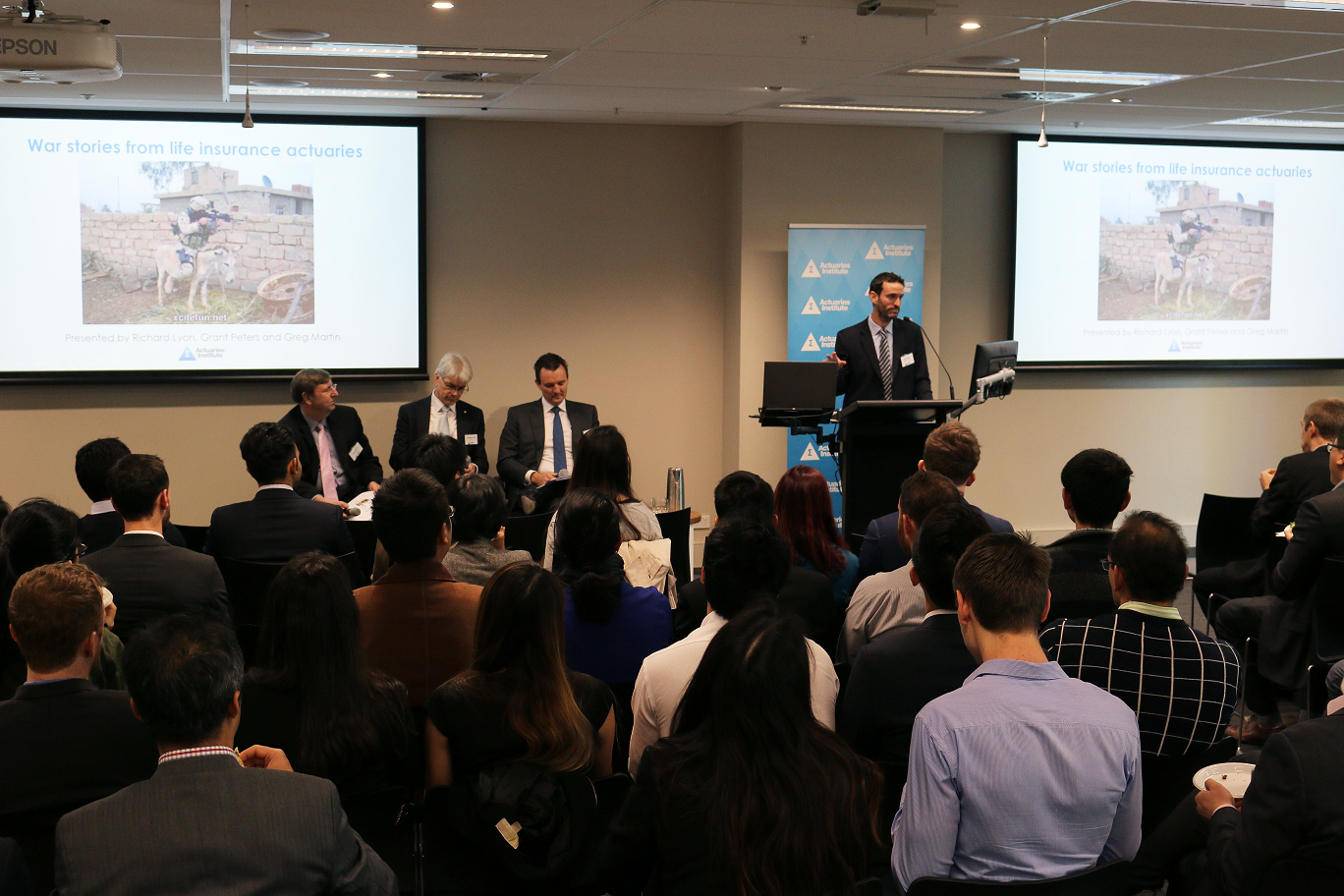 With the publication of a full survival guide still likely to be some time away, we have distilled some of the gems of wisdom into a handy pocket-sized version, small enough to be printed and stored with your other accoutrements of battle.
Are your defenses protecting you or creating complacency? If people know they will be checked by those further up the line it may reduce the care they take with their work.
You may think things are working but they are not: it may be that processes are reconciling because they are being 'forced' to. It is vital to make sure that those responsible for carrying out controls understand the purpose and implications of those controls and do not see them as something to 'get around'.
Get into the trenches: there is no substitute for real business experience – listen to phone calls with customers, talk to financial planners, spend time with your business stakeholders.
One person's trash is another's treasure: the workplace is diverse and tasks that one person finds tedious or easy are guaranteed to be new, challenging or inherently interesting for another. You should always be on the lookout for opportunities to allocate work in the most optimal fashion and get the best from all teams.
Being a leader is NOT the same as being in charge: You don't have to be in charge to be a leader. Leaders are people who act with integrity and behave consistently in good times and bad. Leaders listen, are collaborative and say 'we' not 'they'. Good leaders surround themselves with good people and focus on showcasing their team's abilities. Thus, ensuring necessary development resources are received.
Communicate often and early: Simple and early communication is key, particularly when delivering bad news. Remember that you do not own the bad news and that early communication can prevent it gaining uncontrollable momentum. Downfalls come when 'surprises' happen. Very few actuaries have ever wished they communicated 'less' or 'later'.
Take off the rose-coloured glasses: Don't adjust assumptions to achieve expectations. They are not 'yours' but belong to the business and you should not feel the need to defend them if they are no longer appropriate
Be true to yourself: Integrity is how you handle yourself both when things are going well, and pear-shaped. Be honest and true to your ethos as this will make up your reputation and impact on your journey in the industry.
"I'm trying to keep you out of trouble": Language is important when dealing with conflict. Don't put yourself in the position of 'opposing' senior management. Choose language that shows you are acting in their best interests.
Beware of accepting tickets to the next NRL game: Corruption starts small.
These were not war stories designed to intimidate and scare younger actuaries but rather good reminders of the lessons that have been learnt by others before them.
We thank the panel for their time and generosity in sharing their personal experiences. It is now our responsibility to use these lessons as tools in 'battlegrounds' of our own.
CPD: Actuaries Institute Members can claim two CPD points for every hour of reading articles on Actuaries Digital.