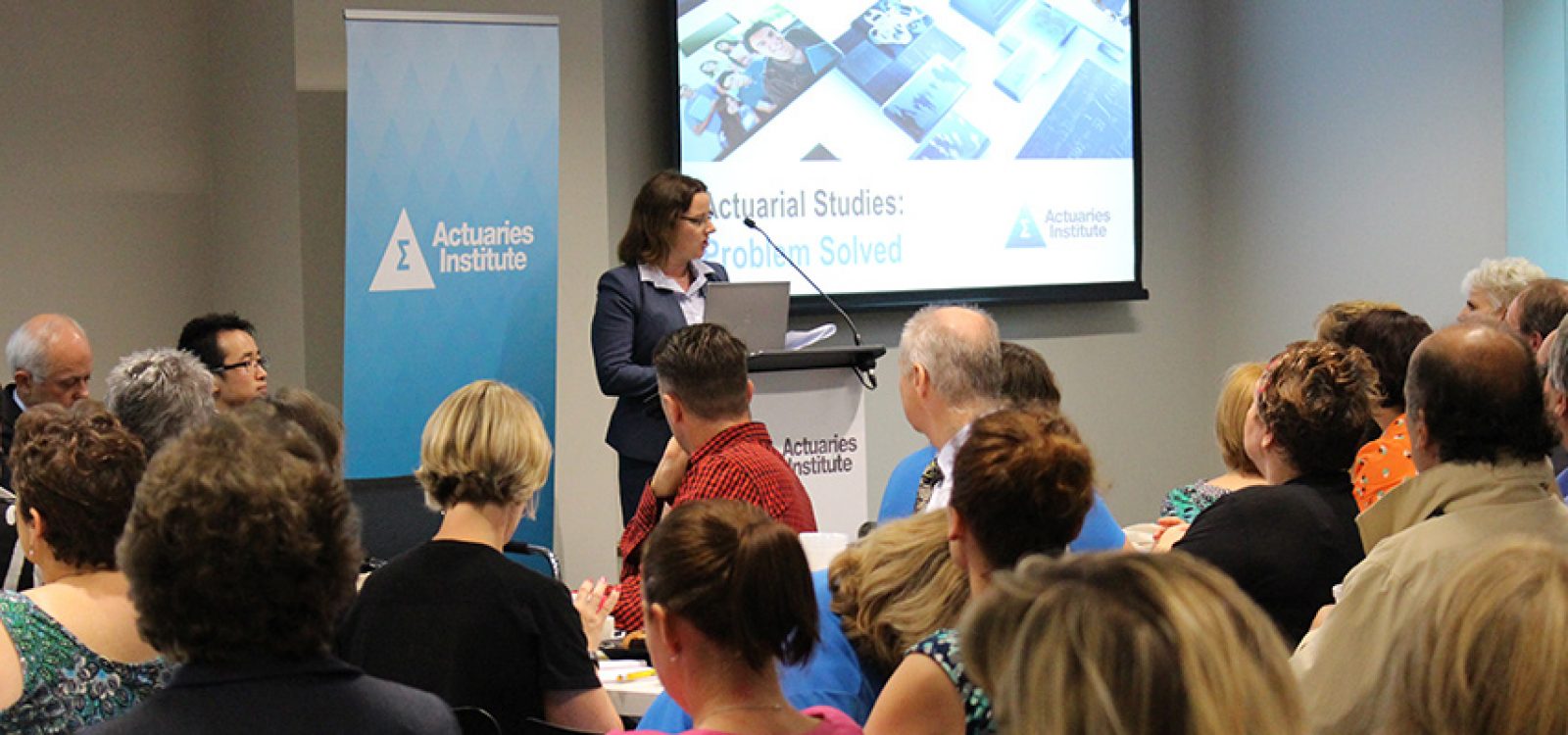 Event Reports
Problem Solved with Careers Advisers
On 22 October 2015, over 150 High School Careers Advisers gathered at Institute HQ to find out more about becoming an Actuary. 
The Careers Advisers Association (CAA) represents Career Education and Careers Advisers in Government, Catholic and Independent Schools in NSW and ACT, as well as other Career Development Practitioners working in associated fields. The CAA promotes career education as a central and vital part of schooling and supports the work of Careers Advisers in assisting young people in making decisions about work, study and training.
As part of the Institute's Strategic Goal 2 (Improve Member and Student Engagement), the Institute hosted an event for the Careers Advisers Association Conference this year. The event was held on 22 October at the Institute's Forum with more than 150 Careers Advisers in attendance. The theme for the event was aligned with the Institute's High School Program – Actuarial Studies: Problem Solved.
The Institute provided in-kind sponsorship including:
venue and equipment (The Forum);
giveaway pack including Institute related information (e.g. Actuarial Studies: Problem Solved collateral and merchandise and See what we see campaign brochure);
guest speakers; and
venue liaison.
The one and a half hour program involved speed information sessions, where actuaries interacted with Careers Advisers on how becoming an Actuary is a brilliant career choice for their talented mathematical students, the educational pathway, the work that actuaries do, the career opportunities and the benefits of joining such a great profession as well as providing the Careers Advisers with the opportunity to ask questions.
Presentations followed with welcome remarks by Deputy CEO and Head of Public Policy, Elayne Grace, the role of the Institute by CEO David Bell, life as an Actuary by Jan Swinhoe and the educational pathway by Brian Chu.
A big thank you to the following actuaries who got involved:
Jan Swinhoe, Company Director and Board Member;
Trang Duncanson, Head of Actuarial, Capital and Risk Management, NAB;
Anthony Lowe, CEO, Prostate Cancer Foundation Australia;
Martin Mulcare, Director, ETIAM;
Wayne Brazel, Consultant;
Brian Chu, Actuarial Studies Faculty, Macquarie University;
Bo Jiang, Actuary, Willis Re; and
Tyson Johnston, Consultant, EY.
As a result of extending our reach to so many careers advisers, we expect an increase in the number of requests for high school visits in 2016 and are currently in the process of locking in 2016 high school visits. If you are interested in getting involved in spreading the word about Actuarial Studies to high school students, we'd love to hear from you. Get in touch via problemsolved@actuaries.asn.au.
"I have just received a great phone call from Gordon Doyle, Careers Adviser at Epping Boys School who attended this morning's very successful Careers Advisers Association Conference held at the Actuaries Institute.
After the event they were travelling on the bus and he said he sat alone and reflected on the material we had given them. He read the see what we see publication from cover to cover and felt compelled to give me a call to say that in more than 20 years as a career adviser it is the most effective promotional marketing material he has seen. The line repeated on every page 'the world isn't black and white, but business decisions are' is marketing genius. The variety of where actuaries work in the publication is absolutely fantastic. It is the most professional material he has seen from any professional organisation – simple and straightforward. He would like 20 copies of the report so he can circulate them further."
– Elayne Grace, Deputy CEO
See what Careers Adviser Gordon Doyle saw and find out more about See what we see, the external campaign to promote the actuarial profession.
CPD: Actuaries Institute Members can claim two CPD points for every hour of reading articles on Actuaries Digital.