Read­ing time:
4
mins
A trio of for­mer work col­leagues 'the Nel­son Boys' have won the lat­est Actu­ar­ies Kag­gle Com­pe­ti­tion to pre­dict the cost of motor vehi­cle acci­dents on Vic­to­ri­an roads.
Geoff Sims, Joel van Veluwen and Luke Hein­rich cre­at­ed the win­ning pre­dic­tive mod­el for the Actu­ar­ies Insti­tute 2016 VicRoads Kag­gle Com­pe­ti­tion to pre­dict the cost of motor vehi­cle acci­dents on Vic­to­ri­an roads, relat­ing to the "road infra­struc­ture" where each acci­dent occurred.
"A big con­grat­u­la­tions to the Nel­son Boys and well done to all the teams," said iRAP CEO Rob McIn­er­ney.
"Road crash­es are the biggest killer of young peo­ple world­wide and cost 2 – 5% of GDP. Inno­v­a­tive new ways to mod­el this unac­cept­able risk and help tar­get action and save lives is so impor­tant. The Actu­ar­ies Insti­tute Com­pe­ti­tion has opened that door and has so much poten­tial for the future."
About the competition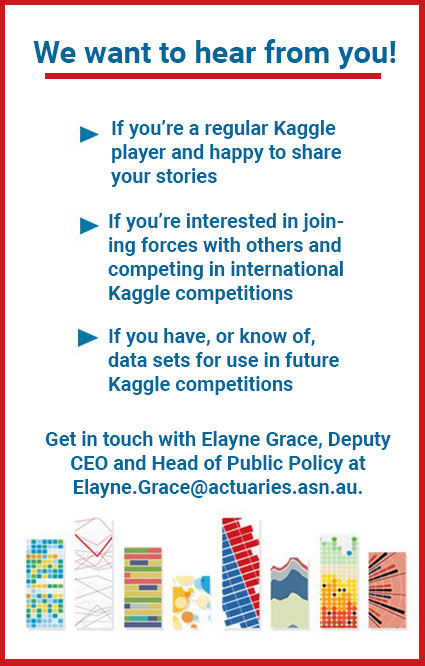 Last year's inau­gur­al Insti­tute Kag­gle com­pe­ti­tion chal­lenged par­tic­i­pants to deter­mine mor­tal­i­ty for each cen­sus dis­trict in Aus­tralia. This year's com­pe­ti­tion was to pre­dict the cost of motor vehi­cle acci­dents on Vic­to­ri­an A, B and C cat­e­go­ry roads relat­ing that cost to the "road infra­struc­ture" on the road on which each acci­dent occurred.
The com­pe­ti­tion specif­i­cal­ly allowed oth­er data to be used in the pre­dic­tive mod­el­ling, expand­ing the com­pe­ti­tion to include find­ing oth­er rel­e­vant data.
Spon­sored by IAG, as part of their ongo­ing pro­mo­tion of road and vehi­cle safe­ty research, the win­ners received $3000. $1000 was also award­ed to the two run­ners up.
VicRoads pro­vid­ed the data for the com­pe­ti­tion which com­bined details of the Infra­struc­ture on Vic­to­ri­an Roads and Data from police reports on acci­dents on Vic­to­ri­an Roads.
iRap was instru­men­tal in gath­er­ing the road data infor­ma­tion that was ulti­mate­ly used in this com­pe­ti­tion.
Con­grat­u­la­tions to all the entrants. Sec­ond Place went to a team includ­ing Peter Rick­wood, Suzanne Pat­ten, Michael Haupt­man and Shiri Shapiro. Third Place went to Oliv­er Cham­bers, who was part of the win­ning team in the inau­gur­al com­pe­ti­tion last year.
XGBoost Model Predicting the Cost of Accidents on Victorian Roads – from the modellers:
Our win­ning mod­el used a com­bined classification/regression mod­el, trained in XGBoost using Python. We believe a good cross-val­i­da­tion strat­e­gy (to ensure mod­el gen­er­al­i­sa­tion), care­ful use of sup­plied data (man­u­al map­ping of every sin­gle road fea­ture), along with rel­e­vant exter­nal­ly sourced data (traf­fic lights, city/town loca­tions & local pop­u­la­tion esti­mates) were respon­si­ble for our vic­to­ry, and we kept things sim­ple by not employ­ing any ensem­bling.
Fea­ture Engi­neer­ing
Road fea­tures – using the sup­plied data, each col­umn was man­u­al­ly inves­ti­gat­ed and either one-hot encod­ed, keyed, or con­vert­ed to a bina­ry rep­re­sen­ta­tion of some descrip­tive com­po­nent, result­ing in around 100 road-lev­el fea­tures.
Weath­er – the sup­plied pre­cip­i­ta­tion data from BOM was aggre­gat­ed up for each sta­tion per quar­ter, and joined to the near­est road­_id. This was our first tem­po­ral fea­ture.
Sea­son­al­i­ty – we built a sim­ple lin­ear regres­sion to mod­el sea­son­al­i­ty, find­ing the aver­age cost per road as a func­tion of year (long term trend) and quar­ter (sea­son­al­i­ty), which was joined on the year-quar­ter as a sort of "meta fea­ture"
Pop­u­la­tion – we sourced pop­u­la­tion esti­mates at an LGA lev­el from the ABS, which we mapped to the near­est road­_id and joined on. Esti­mates for 2016 were not avail­able and were extrap­o­lat­ed using a mov­ing aver­age.
Traf­fic lights & cities – dis­tance of road­_id to near­est traf­fic light, num­ber of traf­fic lights in var­i­ous radii, and dis­tance to the eight largest towns in VIC were joined on a road­_id lev­el.

Model Training
All mod­el­ling was per­formed with XGBoost in Python. We had just over 100 fea­tures (~100 road fea­tures, 1 weath­er fea­ture, 1 sea­son­al stacked metafeature,1 pop­u­la­tion fea­ture, 5 traf­fic lights fea­tures, and 8 dis­tances), and fast opt­ed for a clas­sic "frequency/severity" approach, which both great­ly reduced the amount of data need­ed to mod­el, and decreased iter­a­tion times to under 5 min­utes. Both frequency/severity mod­els used 5 fold cross-val­i­da­tion, with cus­tom spec­i­fied folds such that no block­_id appeared in both train­ing and val­i­da­tion sets, which mim­ics the way the actu­al blind test hold­out was pro­duced.
For the fre­quen­cy mod­el, we used bina­ry clas­si­fi­ca­tion (min­imis­ing logloss) to pre­dict whether or not the road/qtr com­bi­na­tion had an acci­dent or not. We includ­ed all rows where an acci­dent occurred, and ran­dom­ly sam­pled 9x this amount of rows where no acci­dent occurred, such that the pos­i­tive response rate was 10% (we actu­al­ly repeat­ed this 4 times, and aver­aged the results, in a sort of meta-ensem­ble). The final fre­quen­cy prob­a­bil­i­ty was com­put­ed by "unwind­ing" the raw mod­el prob­a­bil­i­ty (using the "pri­or cor­rec­tion" as described by King & Zeng in "Logis­tic Regres­sion in Rare Events Data") to account for the fact we over­sam­pled the response (from 0.27% to 10%). The sever­i­ty mod­el (min­imis­ing rmse) used only the rows where the cost was greater than 0. Mod­el para­me­ters were tweaked man­u­al­ly ini­tial­ly, and the final pre­dic­tion was cal­cu­lat­ed by mul­ti­ply­ing the fre­quen­cy and sever­i­ty pre­dic­tions.
*Note: fea­tures in cap­i­tals were derived from giv­en data, while fea­tures in low­er­case were exter­nal­ly sourced fea­tures
Interesting findings
Gee­long stood out as a huge out­lier in the train­ing set, and the major cen­tral roads did not appear to be in the test­ing set. By clip­ping the our train­ing data to the 99%ile (to account for the fact that the test set had prob­a­bly low­er than aver­age cost), we fur­ther improved our score.
Gee­long Clear­ly stands out as the high­est cost per road "block"
We tried a ton of things which didn't add any val­ue: basic linear/logistic regres­sion (instead of XGB); sea­son­al off­set mod­el­ling; microsea­son­al­i­ty; socioe­co­nom­ic demo­graph­ics; kNN meth­ods; hyper­pa­ra­me­ter optim­sa­tion; and tem­po­ral traf­fic vol­ume. Many of the things we were sure would add val­ue didn't; while some of the oth­er fea­tures we weren't so con­fi­dent in gave large gains.
This work is licensed under a
Creative Commons Attribution-NonCommercial-No Derivatives CC BY-NC-ND Version 3.0 (CC Australia ported licence)
.
CPD Actuaries Institute Members can claim two CPD points for every hour of reading articles on Actuaries Digital.