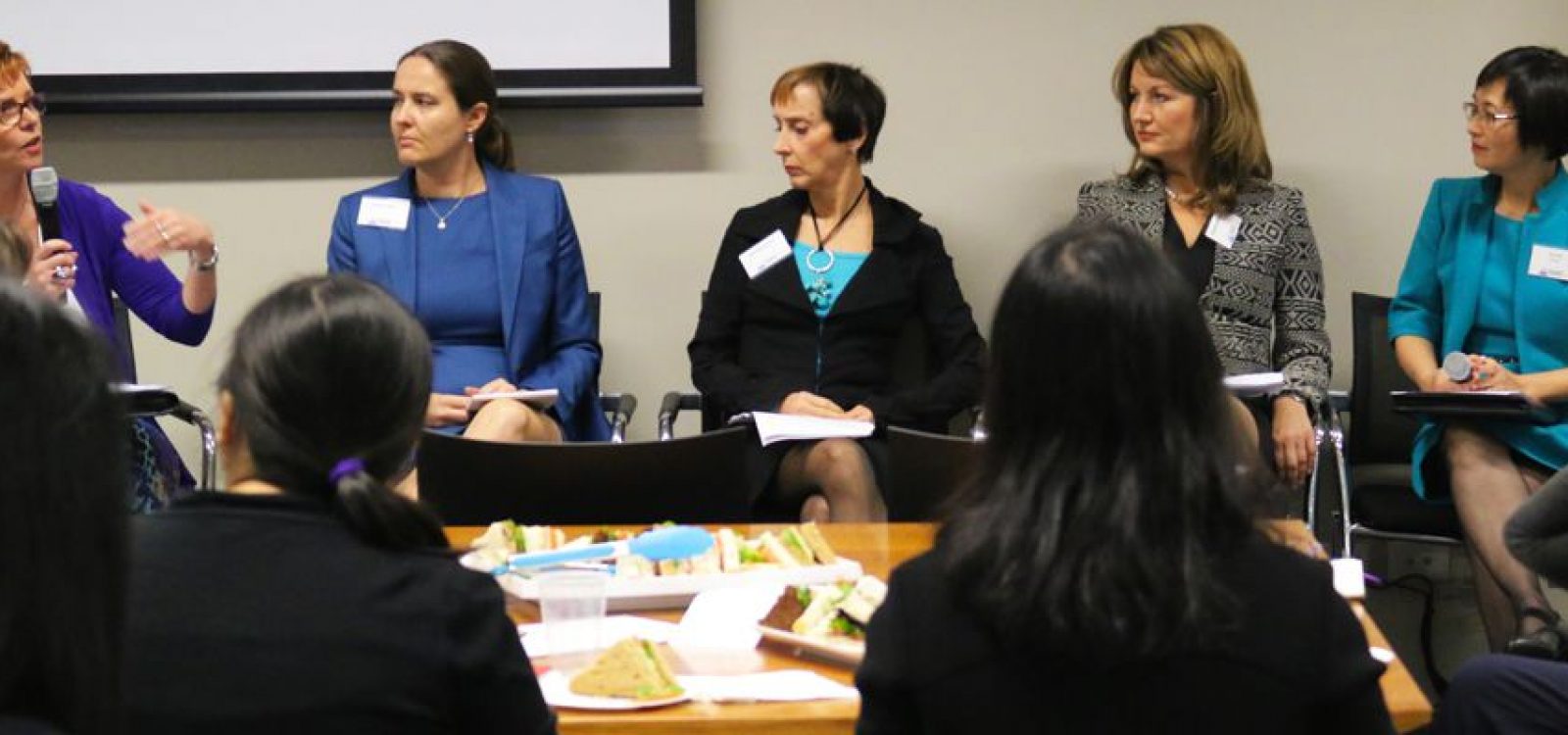 Career
Women's Actuarial Forum
Women face unique career challenges requiring confidence in ability and ambition. At a recent forum, successful Australian business women opened up about their career breaks, challenges and determination to sustain valuable and balanced roles. Angela Tong reports on a sold out event.
On Monday 15 June, the Institute held its inaugural all women's event "Actuarial Women's Forum". Its format was unique, presented by Estelle Pearson as an in-depth interview of five female senior actuaries who are business leaders in their areas – Helen Rowell, Hoa Bui, Meredith Brooks, Noeline Woof and Nicolette Rubinsztein – followed by roundtable discussions facilitated by the panel members. Being the first event of its kind at the Institute, its organiser was eager to find out what the response would be like. This was quickly put to rest when, within the first couple of hours of sending out the email invite, the event sold out, with many signing up to be on the waiting list. (Incidentally, I had also missed out on RSVPing in time. But volunteering to write this article gave me an express pass to the event – one of the perks of being on the Actuaries Digital Editorial Committee.)
I thoroughly enjoyed myself at the event. You can imagine the opinions and discussions that having a big group of female actuaries in a room together would generate! The experiences and perspectives shared, not only by the panellists, but also amongst the audience who ranged from board members, senior actuaries to recently qualified fellows, provided much food for thought.
The discussion began with Estelle presenting thought-provoking statistics about gender diversity in the actuarial field. While most of us might be aware of the low representation of women in areas such as directorship on ASX boards, did you know that:
Below, I reflect on a few topics discussed in the panel interview.
Further (Non-Actuarial) Education
One of the audience members, Elaine Collins, commented that "an actuarial career is a great starting point for a lot of good end points." While becoming a qualified actuary can take many years of studying and hard work, taking further education in a different area such as courses from the Australian Institute of Company Directors (Elaine) or a Masters of Business Administration (Nicolette) can provide a different perspective and a wide focus.
Networking
The negative connotations associated with the concept of networking, and expressed by the panel, are interesting. Perhaps it's the often parodied image of a serial networker who systematically 'works the room' collecting and dispensing business cards in an almost mechanical fashion that we don't like. Panellists all agreed they do not network for the sake of getting their names out there. However, as Meredith pointed out, networking will follow if you are curious and "get out and see what is going on out there". The point here again seems to be to take a wider perspective on things, to have a genuine interest in the people and issues outside your immediate work circle, in the wider community.
Work-life balance
Much of the discussion here drew from the panellists' experiences in juggling the demands of both work and raising a family. Noeline is currently the CRO and Chief Actuary at Allianz Insurance, as well as a mother of two kids. One of the inspiring things I found from her story was that when the position at Allianz was advertised, it was as a full-time role. Although Noeline was (and still is) working a four-day week, she did not see her situation as a barrier to the role. Key to her success in balancing work with family responsibilities is the support of both her husband and a team that shares her values, as well as being firm about boundaries to ensure that work does not encroach on her time reserved for kids and family.
"As one of the panellists reasoned, work-life balance is about making conscious rather than unconscious decisions, and making these without guilt."
Whilst it is common to see women work part-time for family, it was also encouraging to hear of examples of men taking, or intending to take, time off for family or other interests. Whatever the reason, the balancing act can be difficult at times, particularly when others often judge how good a worker/mother/father we are based on their expectations made under their specific situations. As one of the panellists reasoned, work-life balance is about making conscious rather than unconscious decisions, and making these without guilt.
Getting a mentor?
Our panellists were keen to espouse the value of having a mentor. The idea doesn't have to equate to having a formal mentoring relationship but can also extend to less formal learning, such as observing a more senior actuary you respect or in situations like a forum such as this one.
"It is important to realise that the mentee drives the relationship as much as, if not more, than the mentor."
A key point that Hoa made regarding an effective mentoring relationship is the responsibility of the mentee to make decisions for him/herself rather than be reliant on the mentor. It is telling given the great number of young members registering interest for the Actuaries Institute's mentoring program but who, when given the names of three possible mentors, often fail to display the same level of enthusiasm to initiate contact. It is important to realise that the mentee drives the relationship as much as, if not more, than the mentor.
Leaning in
Sheryl Sandberg's (COO of Facebook) 2013 book "Lean In" has sparked much discussion around the progression of women into leadership roles. One of the points that came up in the forum was a concept termed the "confidence gap", which refers to evidence that apparently indicates women are less self-assured than men. The issue with such a concept is that it paints women as the problem. As Meredith points out, the evidence used to support the "confidence gap" might just really be saying that some people are more realistic. The key to being more self-assured then is to not inflate but objectively recognise one's abilities without telling pork pies. Helen pointed out that when she took her role at APRA, it was a "leap of faith" on her part and theirs, but that leap is grounded firmly in her skills.
One point that stood out for me is the advice given by all the panellists that success, in whatever form it takes, has to be unique to each individual. The forum is not meant to be a how-to guide for succeeding in your career and life. Rather it provided me a glimpse into the decision-making processes of some successful female actuaries, the factors that they considered, the attitudes that they held. From these, I hope that I might gain a wider perspective when I come to making decisions in my career and life.
CPD: Actuaries Institute Members can claim two CPD points for every hour of reading articles on Actuaries Digital.